Random Gold
Poets, The Original Systems Thinkers. Poets are the original systems thinkers according to a recent Harvard Business Review piece, which describes the benefits of poetry for professionals.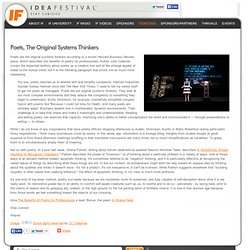 Author John Coleman covers the expected territory about poetry as a creative tool and of the strange appeal of meter to the human mind, but it is the following paragraph that struck me as much more interesting: For one, poetry teaches us to wrestle with and simplify complexity. Visualizing Greatness. The Acute Heptagram of Impact. Not as catchy a title as Maslow's Hierarchy of Needs, but I hope you'll walk through this with me: I can outline a strategy for you, but if you don't have the tactics in place or you're not skilled enough to execute, it won't matter if the strategy is a good one.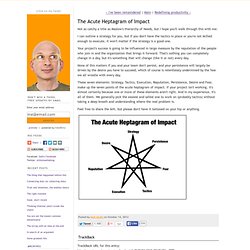 Your project's success is going to be influenced in large measure by the reputation of the people who join in and the organization that brings it forward. That's nothing you can completely change in a day, but it's something that will change (like it or not) every day. How to Do What You Love. January 2006 To do something well you have to like it.
That idea is not exactly novel. We've got it down to four words: "Do what you love. " But it's not enough just to tell people that. Doing what you love is complicated. List of eponymous laws. A Random Act Of "Wow" I was pretty exhausted when I checked into the Embassy Suites hotel in Maryland last night.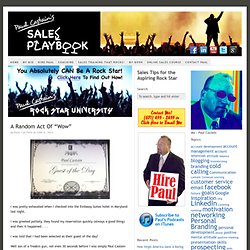 I was greeted politely, they found my reservation quickly (always a good thing) and then it happened . . . I was told that I had been selected as their guest of the day! How Powerful Companies Got Their Names (14 pics. The Science of Procrastination - And How To Manage It. Desire path. A typical desire line A desire path (also known as a desire line, social trail, goat track or bootleg trail) can be a path created as a consequence of foot or bicycle traffic.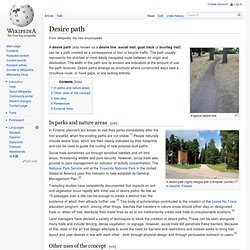 The path usually represents the shortest or most easily navigated route between an origin and destination. The width of the path and its erosion are indicators of the amount of use the path receives. Desire paths emerge as shortcuts where constructed ways take a circuitous route, or have gaps, or are lacking entirely. 20 Ways to Find Your Calling. The 50 Cutest Things That Ever Happened. Private Language and Marketing-Speak. Marketing is, to a large extent, about communication.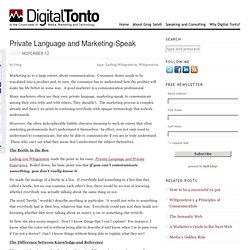 Consumer desire needs to be translated into a product and, in turn, the consumer has to understand how the product will make his life better in some way. A good marketer is a communication professional. Many marketers often use their own private language, marketing-speak, to communicate among their own tribe and with others. Val Patterson Obituary: View Val Patterson's Obituary by Salt Lake Tribune. The Courage to be Afraid. The Courage to be Afraid I'm afraid.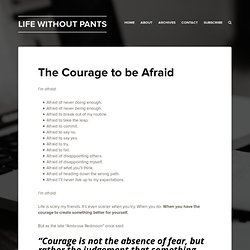 Afraid of never doing enough.Afraid of never being enough.Afraid to break out of my routine.Afraid to take the leap.Afraid to commit.Afraid to say no.Afraid to say yes.Afraid to try.Afraid to fail.Afraid of disappointing others.Afraid of disappointing myself.Afraid of what you'll think.Afraid of heading down the wrong path.Afraid I'll never live up to my expectations. Life is scary my friends. It's even scarier when you try. When you do. Henri, The Cat (Tribute) *NEW* The Gervais Principle, Or The Office According to "The Office" My neighbor introduced me to The Office back in 2005.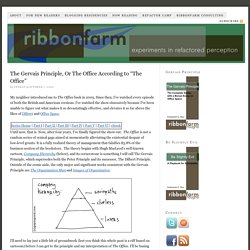 Since then, I've watched every episode of both the British and American versions. I've watched the show obsessively because I've been unable to figure out what makes it so devastatingly effective, and elevates it so far above the likes of Dilbert and Office Space. Until now, that is. Comic strip for 07/25. Professor Stephanie Hemelryk Donald. I am a long way from Australia at present.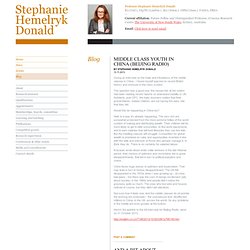 I am based in Amsterdam, and have been travellin in Lithuania and a quick trip to Karlsruhe. But I was asked to write something about Australian democracy, which I found difficult to be frank. Remembering Steven R. Covey with Timeless Insights from The 7 Habits of Highly Effective People. By Maria Popova "Sow a thought, reap an action; sow an action, reap a habit; sow a habit, reap a character; sow a character, reap a destiny."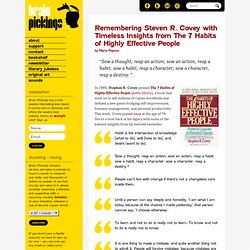 In 1989, Stephen R. Covey penned The 7 Habits of Highly Effective People (public library), a book that went on to sell millions of copies worldwide and defined a new genre bridging self-improvement, business management, and personal productivity. This week, Covey passed away at the age of 79. Here's a look back at his legacy with some of the keenest insights from his beloved bestseller. This is Why I'll Never be an Adult. I have repeatedly discovered that it is important for me not to surpass my capacity for responsibility. Over the years, this capacity has grown, but the results of exceeding it have not changed. Normally, my capacity is exceeded gradually, through the accumulation of simple, daily tasks. Ever Imagined a World Without Internet? [INFOGRAPHIC] Steve Carrell may be seeking a friend for the end of the world, but here at Mashable, we're more concerned with the end of the Internet.
Can you imagine it? Instead of an iPad, you'd be clutching a weighty $1,200 Encyclopedia Brittanica as you rock yourself to sleep. A Father's Advice: F. Scott Fitzgerald on What to Worry About. In the hundreds of letters authored by F. Scott Fitzgerald that have been collected, we have this one dated August 8, 1933. In it, he offered the following advice to his 11-year-old daughter Scottie, while she was away at camp. It is still good advice today. I feel very strongly about you doing duty. Leading Blog: A Leadership Blog. This is a post by David Dotlich, Chairman and CEO of Pivot Leadership. He is a co-author of The Unfinished Leader: Balancing Contradictory Answers to Unsolvable Problems with Peter Cairo and Cade Cowan. To be a leader today in almost any organization means you are daily, if not hourly, bombarded with problems and challenges that don't have clear-cut "right" answers. Or, even more confounding, there are many "right" answers, depending on your perspective.
Such challenges include meeting contradictory needs (for example, tending to your "stars" while building the team as a whole), delivering quarterly results while investing for the future, maintaining consistent standards and policies while accommodating unique customer requirements, or staying focused on results while adhering to your company's purpose and values. The list goes on and on. New Social Network Uses Kindness As Its Currency, Encourages Giving. Impossible is a new "social network" built around the concept of people doing simple favors for one another. The minimal site, currently in beta, simply lets participants select from a series of small tasks that they need done or would like to do for others. These tasks range from "I wish to find someone who needs help looking after an animal" to "I wish to help someone learn a language" and others simple acts in fitness, business, and home care. The initiative has high-profile backing – driven by actress / activist Lily Cole, Impossible has gathered financial support from Wikipedia founder Jimmy Wales and others at Google, Wolff Olins and Ethical Markets.
The team describes their mission on the bare-bones site: Imagine if kindness was currency. An Open Letter To Anyone Ever Laid Off. Abigail R. Gehring: Odd Jobs: 9 Weird Careers That Can Make You Money. Mapping the world of thinking. Wiping Out $90,000 in Student Loans in 7 Months - Real Time Economics. Meet the Urban Datasexual | Endless Innovation. A LIFE ON FACEBOOK by Alex Droner. Never Give up: Inspirational video. Beyond the Comfort Zone. Life lessons for the office.
Marcel Kampman » Quotes. This Inspiring Note Greets Apple's New Hires on Their First Day. Mostly About Chocolate. Ending "Business As Usual": 10 Insights on Rethinking Work. 25 Quotables from the 99% Conference. How to browse the Web anonymously. Shut up! Announcing your plans makes you less motivated to accomplish them. Fan Power: Hunger Is Not a Game, Revisited.
Blogs. The evolution of death. #ideachat. Tara Sophia Mohr: 12 Questions to Make 2012 Your Best Year Yet. How Iceland Is Rebuilding Its Economy With Social Media. 携帯にヤキモチを焼く猫 Jealous cat to mobile. A Year Later, Undertaker's Story Offers Japan Hope.
Whales Give Dolphins a Lift. Upside of Irrationality Chapter 1: Paying More for Less. The Temptation of Free. Cat Naps On Router, ISP Provides Decoy Router In Exchange For Cat Pictures. Sorry, We're Closed: The Rise of Digital Darwinism. The Employees First Effect. The Right Age To Be Amazing. Sometimes the most simple graphic makes the biggest impact. Brain study finds what eases pain of financial loss. Tony Hsie on corporate storytelling. @Raesmaa. At This School, the Tutor Speaks Cabby. What Paulo Coelho Can Teach You About Storytelling & Writing. Mad Men - The Carousel (Higher Quality) The eye sheds a tear to find its focus... · iain2008. Stacy Green, Will You Marry Me? [INFOGRAPHIC] Stats About Porn That U Didn't Know [Infographics]
Articles » Gig Review: Laneway Festival @ Sydney College Of The Arts » Polaroids Of Androids.
---