Random Gold
Visualizing Greatness
Not as catchy a title as Maslow's Hierarchy of Needs, but I hope you'll walk through this with me:
The Acute Heptagram of Impact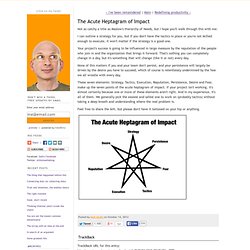 January 2006 To do something well you have to like it. That idea is not exactly novel. We've got it down to four words: "Do what you love." But it's not enough just to tell people that. Doing what you love is complicated.
This list of eponymous laws provides links to articles on laws , adages , and other succinct observations or predictions named after a person. (It does not refer to eponymous statutes such as Laura's Law .) In some cases the person named has coined the law – such as Parkinson's law .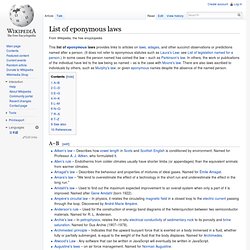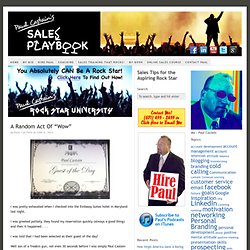 A Random Act Of "Wow"
I was pretty exhausted when I checked into the Embassy Suites hotel in Maryland last night. I was greeted politely, they found my reservation quickly (always a good thing) and then it happened . . . I was told that I had been selected as their guest of the day!
How Powerful Companies Got Their Names (14 pics
A typical desire line A desire path (also known as a desire line , social trail , goat track or bootleg trail ) can be a path created as a consequence of foot or bicycle traffic. The path usually represents the shortest or most easily navigated route between an origin and destination. The width of the path and its erosion are indicators of the amount of use the path receives. Desire paths emerge as shortcuts where constructed ways take a circuitous route, or have gaps, or are lacking entirely.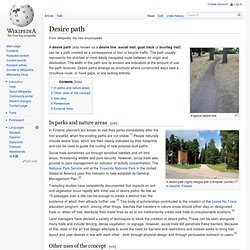 Desire path
20 Ways to Find Your Calling
Marketing is, to a large extent, about communication. Consumer desire needs to be translated into a product and, in turn, the consumer has to understand how the product will make his life better in some way. A good marketer is a communication professional. Many marketers often use their own private language, marketing-speak, to communicate among their own tribe and with others.
Private Language and Marketing-Speak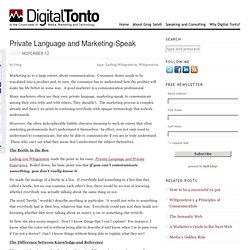 Val Patterson Obituary: View Val Patterson's Obituary by Salt Lake Tribune
The Courage to be Afraid | Life Without Pants
Henri, The Cat (Tribute) *NEW*
Email This Post Print This Post My neighbor introduced me to The Office back in 2005. Since then, I've watched every episode of both the British and American versions.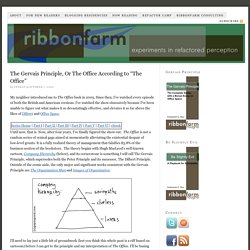 comic strip for 07/25
I am a long way from Australia at present. I am based in Amsterdam, and have been travellin in Lithuania and a quick trip to Karlsruhe. But I was asked to write something about Australian democracy, which I found difficult to be frank.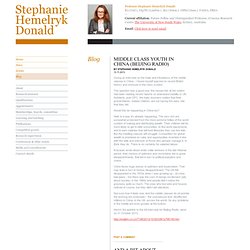 Professor Stephanie Hemelryk Donald
by Maria Popova "Sow a thought, reap an action; sow an action, reap a habit; sow a habit, reap a character; sow a character, reap a destiny." In 1989, Stephen R. Covey penned The 7 Habits of Highly Effective People ( public library ), a book that went on to sell millions of copies worldwide and defined a new genre bridging self-improvement, business management, and personal productivity. This week, Covey passed away at the age of 79. Here's a look back at his legacy with some of the keenest insights from his beloved bestseller.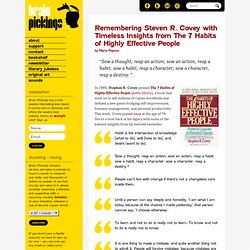 Remembering Steven R. Covey with Timeless Insights from The 7 Habits of Highly Effective People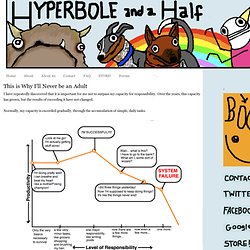 I have repeatedly discovered that it is important for me not to surpass my capacity for responsibility. Over the years, this capacity has grown, but the results of exceeding it have not changed. Normally, my capacity is exceeded gradually, through the accumulation of simple, daily tasks.
Steve Carrell may be seeking a friend for the end of the world, but here at Mashable , we're more concerned with the end of the Internet. Can you imagine it? Instead of an iPad, you'd be clutching a weighty $1,200 Encyclopedia Brittanica as you rock yourself to sleep.
Ever Imagined a World Without Internet? [INFOGRAPHIC]
A Father's Advice: F. Scott Fitzgerald on What to Worry About
In the hundreds of letters authored by F. Scott Fitzgerald that have been collected, we have this one dated August 8, 1933. In it, he offered the following advice to his 11-year-old daughter Scottie, while she was away at camp. It is still good advice today. I feel very strongly about you doing duty.
Tipping Sacred Cows by Jake Breeden is one of those bring-you-back-to-reality must-read books. It is about how we undermine ourselves and our organizations and get ourselves into comfortable ruts, by blindly following seemingly virtuous traits. It's often about taking our strengths too far or misapplying them. Our values give us life and direction on one hand, "and on the other hand can steal our energy, effectiveness, and success. Like rocks in a river channel, these unexamined values can get in our way, impede our efforts, and even capsize us," writes Breeden. Julian was given the reins of a company and immediately set about cutting waste and inefficiency—his core value.
New Social Network Uses Kindness As Its Currency, Encourages Giving
Impossible is a new "social network" built around the concept of people doing simple favors for one another. The minimal site, currently in beta, simply lets participants select from a series of small tasks that they need done or would like to do for others. These tasks range from "I wish to find someone who needs help looking after an animal" to "I wish to help someone learn a language" and others simple acts in fitness, business, and home care. The initiative has high-profile backing – driven by actress / activist Lily Cole , Impossible has gathered financial support from Wikipedia founder Jimmy Wales and others at Google, Wolff Olins and Ethical Markets. The team describes their mission on the bare-bones site: Imagine if kindness was currency.
An Open Letter To Anyone Ever Laid Off
The lone inventor myth is really good at selling T-shirts but it's a poor understanding of history. Wisdom on life and art from legendary painter Agnes Martin , born 101 years ago today. Some timeless advice on finding what you were born to do here and here . My inspiration to invent and redesign is fed through frustration. I spend a lot of time taking things apart and putting them back together, considering how they work and how they might work better. Observation is important.
Explore
Abigail R. Gehring: Odd Jobs: 9 Weird Careers That Can Make You Money
Mapping the world of thinking.
Wiping Out $90,000 in Student Loans in 7 Months - Real Time Economics
Meet the Urban Datasexual | Endless Innovation
A LIFE ON FACEBOOK by Alex Droner
Never Give up: Inspirational video
Beyond the Comfort Zone
Life lessons for the office
Marcel Kampman » Quotes
This Inspiring Note Greets Apple's New Hires on Their First Day
Mostly About Chocolate
Ending "Business As Usual": 10 Insights on Rethinking Work
25 Quotables from the 99% Conference
How to browse the Web anonymously
Fan Power: Hunger Is Not a Game, Revisited
The evolution of death
#ideachat
Tara Sophia Mohr: 12 Questions to Make 2012 Your Best Year Yet
How Iceland Is Rebuilding Its Economy With Social Media
携帯にヤキモチを焼く猫 Jealous cat to mobile
A Year Later, Undertaker's Story Offers Japan Hope
Speech ideas/ material/ vignettes
Whales Give Dolphins a Lift
Upside of Irrationality Chapter 1: Paying More for Less
The Temptation of Free
Cat Naps On Router, ISP Provides Decoy Router In Exchange For Cat Pictures
Sorry, We're Closed: The Rise of Digital Darwinism
The Employees First Effect
The Right Age To Be Amazing
Sometimes the most simple graphic makes the biggest impact. on Twitpic
Brain study finds what eases pain of financial loss
Tony Hsie on corporate storytelling
@Raesmaa
0
At This School, the Tutor Speaks Cabby
What Paulo Coelho Can Teach You About Storytelling & Writing
Mad Men - The Carousel (Higher Quality)
The eye sheds a tear to find its focus... · iain2008
Stacy Green, Will You Marry Me? [INFOGRAPHIC]
Stats About Porn That U Didn't Know [Infographics]
Articles » Gig Review: Laneway Festival @ Sydney College Of The Arts » Polaroids Of Androids