My Blog
Futurist 40 Years Later: Possibilities, Not Predictions
Ability to Learn Is Affected by the Timing of Sleep: Scientific American Podcast
Mind & Brain::60-Second Mind::March 24, 2012:: ::Email::Print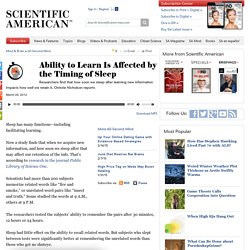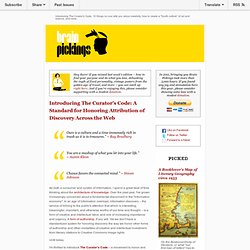 Hey Maria!
Introducing The Curator's Code, 10 things no one tells you about creativity, the "fourth culture," and more
Photo: James Duncan Davidson Just a moment ago Sherry Turkle's daughter texted her: "Mom, you will rock." Turkle loved it, she says.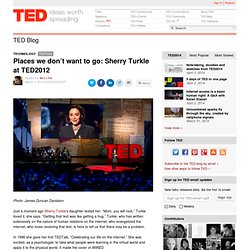 Places we don't want to go: Sherry Turkle at TED2012
How are you?……Busy! | front foot consulting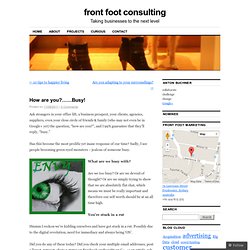 Ask strangers in your office lift, a business prospect, your clients, agencies, suppliers, even your close circle of friends & family (who may not even be in Google+ yet) the question, "how are you?"
The Innovator's Perspective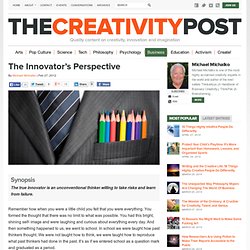 0Share Synopsis The true innovator is an unconventional thinker willing to take risks and learn from failure.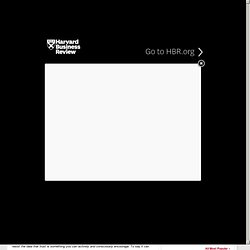 by Linda Hill & Kent Lineback | 11:33 AM March 2, 2012 When we talk to managers, we often ask, "Do your people trust you?" Most are taken aback. It's not something they're often asked or a question they've even asked themselves. After some thought, most eventually say something like, "Well, I think so. I hope so.
Do Your People Trust You? - Linda Hill & Kent Lineback
Is Social Media Actually Making Us Less Connected?
How your brain works - at work
the-demand-for-curiosity-creativity-and-innovation from innovationexcellence.com
Curiosity, Creativity and Innovation have become sexy topics in the business community, business schools and the business press over the past decade. Following are a handful of examples from some recent articles: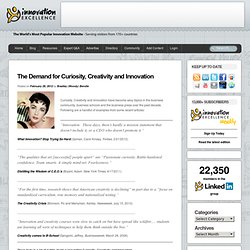 A Precious Hour — some good advice for the creative-minded
Be Square: Social Squared, That Is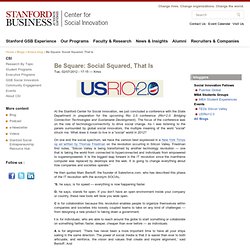 At the Stanford Center for Social Innovation, we just concluded a conference with the State Department in preparation for the upcoming Rio 2.0 conference (Rio+2.0: Bridging Connection Technologies and Sustainable Development).
You may be stuck in a job you don't like, where you feel like you don't have any control. That's okay, you don't have to be a high-powered executive to do some good.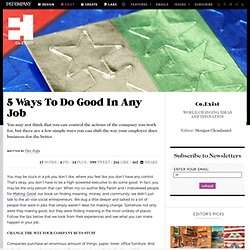 5 Ways To Do Good In Any Job
The Secrets of Successful WordPress Sites with Joost de Valk
New video: TeleMedia Futures presentation at Total Telecom 2011 (London)
Quick Blogging Tips For Newbie Bloggers - Successful Blogging Advice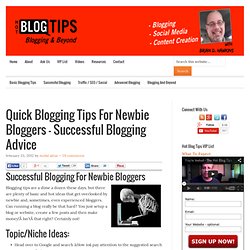 Successful Blogging For Newbie Bloggers Blogging tips are a dime a dozen these days, but there are plenty of basic and hot ideas that get overlooked by newbie and, sometimes, even experienced bloggers. Can running a blog really be that hard?
Start Making
Start Making
Schumpeter: Enterprising oldies
The Social Media Maven Daily
Katie Morell chats with Richard Saul Wurman about his view of innovation and entrepreneurship. February 14, 2012 It's early one morning in mid-January when I call up Richard Saul Wurman, founder of TED Conferences.
TED's Founder on Reinventing the Conference : Innovation Re-inventing the Conference
Biz Stone, co-founder of Twitter, ironically told attendees at a conference this week that users should be careful not to spend hours on the social media site because it's "unhealthy". In addition to co-founding Twitter, Stone helped launch Blogger, Odeo, Xanga and the Obvious Corporation (a group that helps build and invest in new technology).
Twitter Co-Founder Says it is Unhealthy to Stare at Twitter for Hours
Disconnect Revolution