JOBS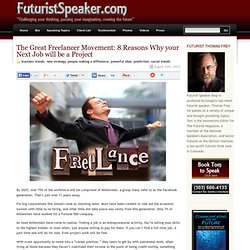 By 2025, over 75% of the workforce will be comprised of Millennials, a group many refer to as the Facebook generation. That's just over 11 years away. For big corporations this should come as shocking news. Most have been content to ride out the economic turmoil with little to no hiring, and what little did take place was rarely from this generation. Only 7% of Millennials have worked for a Fortune 500 company.
The Great Freelancer Movement: 8 Reasons Why your Next Job will be a Project
6 Ways To Save U.S. Startups And Jobs From Death By Regulation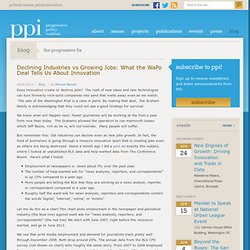 Declining Industries vs Growing Jobs: What the WaPo Deal Tells Us About Innovation : Progressive Policy Institute
Does innovation create or destroy jobs? The rush of new ideas and new technologies can turn formerly rock-solid companies into sand that melts away even as we watch. The sale of the Washington Post is a case in point. By making that deal, the Graham family is acknowledging that they could not see a good strategy for survival.
10 Surprising Marketing Job Titles For The Next 10 Years
The Rise of the Supertemp
Ed Trevisani hangs with his young sons when they come home from school. He volunteers as a Boy Scout leader, serves on nonprofit boards, and teaches management at Philadelphia-area universities. He's even been known to sit on the back porch in the middle of the workday. Not bad for a guy who's still pulling down as much as he did when he was a partner with IBM and PricewaterhouseCoopers.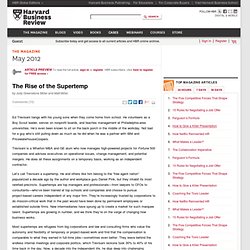 But that was in 1978. Now, thanks to advances in artificial intelligence, "e-discovery" software can analyze documents in a fraction of the time for a fraction of the cost. In January, for example, Blackstone Discovery of Palo Alto, Calif., helped analyze 1.5 million documents for less than $100,000. Some programs go beyond just finding documents with relevant terms at computer speeds.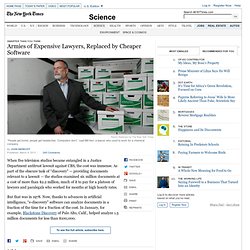 Armies of Expensive Lawyers, Replaced by Cheaper Software
by Bill McBride on 9/07/2012 08:30:00 AM From the BLS : Total nonfarm payroll employment rose by 96,000 in August, and the unemployment rate edged down to 8.1 percent, the U.S. Bureau of Labor Statistics reported today. Employment increased in food services and drinking places, in professional and technical services, and in health care. ... Both the civilian labor force (154.6 million) and the labor force participation rate (63.5 percent) declined in August.
August Employment Report: 96,000 Jobs, 8.1% Unemployment Rate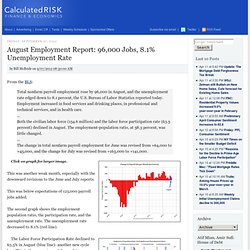 Choosing-a-career-Large.jpg 2,338×1,800 pixels
When it comes to getting a job, the USA has bifurcated into two employment worlds, the digital world and the brick and mortar world. The brick and mortar world is everything you physically touch. Its manufacturing. Its retail sales.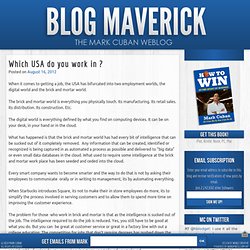 Which USA do you work in ?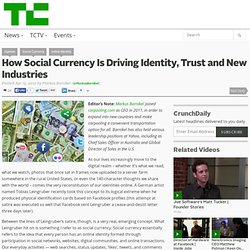 How Social Currency Is Driving Identity, Trust and New Industries
Editor's Note: Markus Barnikel joined carpooling.com as CEO in 2011, in order to expand into new countries and make carpooling a convenient transportation option for all. Barnikel has also held various leadership positions at Yahoo, including as Chief Sales Officer in Australia and Global Director of Sales in the U.S. As our lives increasingly move to the digital realm – whether it's what we read, what we watch, photos that once sat in frames now uploaded to a server farm somewhere in the rural United States, or even the 140-character thoughts we share with the world ­­– comes the very reconstitution of our identities online.
Meet the man who wants to create architecture that understands everything about us – down to our emotional states – and learns from its mistakes. It doesn't take much to be considered smart if you're a building. Add some lights that turn themselves off when nobody is around or install an "intelligent" air conditioning system to regulate the ambient temperature and you're well on your way. But compared to the living buildings proposed by Akira Mita, today's smart buildings are the architectural equivalent of single-celled organisms.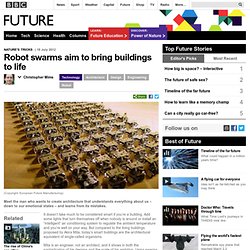 Future - Technology - Robot swarms aim to bring buildings to life
What Does Work Look Like When Half of Americans Are Not In A Job?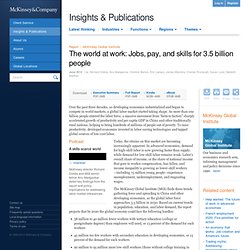 The world at work: Jobs, pay, and skills for 3.5 billion people | McKinsey Global Institute | Labor Markets
Over the past three decades, as developing economies industrialized and began to compete in world markets, a global labor market started taking shape. As more than one billion people entered the labor force, a massive movement from "farm to factory" sharply accelerated growth of productivity and per capita GDP in China and other traditionally rural nations, helping to bring hundreds of millions of people out of poverty. To raise productivity, developed economies invested in labor-saving technologies and tapped global sources of low-cost labor. Podcast A skills-scarce world
The End of a Job as We Know It
Le concept d'emploi, tel que nous le connaissons, est en train de disparaître. Lors de l'année 2011, j'ai eu l'occasion de m'entretenir avec de nombreux leaders du monde de l'entreprise et des RH. Ils ont tous entendu parler d'une thématique commune : nous avons besoin de rendre nos organisations plus agiles.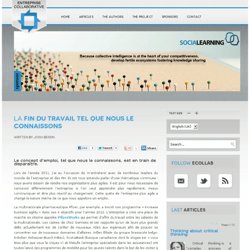 Is Your Job Robot-Proof?
OK, this isn't working anymore. Too many people either don't have a job or the ones that do are predominantly dissatisfied . We've been talking about networked organisations and distributed work for decades, but productivity gains have been dim the past ten years. Everything worked just well enough to not think about structural changes. We tried to apply collaboration and fancy search platforms like new paint on a crumbling house that could be fixed. But because neither renovation nor innovation did catch up at the speed of our economic development, we crashed.
The Long March from Crowdsourcing to a Global Meritocracy
by Morten T. Hansen and Scott Tapp | 8:59 AM October 11, 2010 Companies need an executive responsible for integrating the enterprise — a Chief Collaboration Officer (CCO). Increasingly, companies are embracing collaboration as part of their strategy to grow, by cross-selling products to existing customers and innovating through the recombination of existing technologies. But this won't work unless employees work effectively across silos — across sales offices, business units, sales, product development, and marketing.
Who Should be Your Chief Collaboration Officer? - Morten T. Hansen and Scott Tapp
Collaboration. It's a $1 billion industry, according to an ABI Research study on worker mobility and enterprise social collaboration . And it's projected to grow to $3.5 billion by 2016.
The Global Talent Crisis
By Edward Gordon The Futurist, September-October 2009 Contrary to popular opinion, there are plenty of open jobs. What's missing are candidates with skills. We are in the midst of a global job and talent upheaval, the most remarkable of any job and talent change since the Industrial Revolution and encompassing every aspect of the global economy. The dawning of a new industrial age, a period characterized by a growing need for highly skilled technical workers, is driving this revolution.
How To Find Meaningful Work
It's a phenomenon that has become increasingly apparent over the last five years: For many people, the ideal job has morphed from one that offers lots of money to one that offers meaning--and a competitive salary doesn't hurt, either. It isn't just that people are rejecting jobs at large financial institutions with questionable morals (see this New York Times article on Wall Street's campus recruiting crisis). Jobseekers today want a position that makes them feel good inside. ReWork , a startup that came out of the 2011 Unreasonable Institute , may be the first company that places young professionals directly with " disruptive, world changing organizations "--including non-profits and all manner of triple-bottom-line businesses. Anyone interested in getting a job through ReWork fills out an application on the website.
A Jobs Compact for America's Future
Call in the sensemaker, the future isn't working
For London Youth, Down and Out Is Way of Life
Will these 10 jobs disappear in 2012?
One Week Job | discover your passion
2 Billion Jobs to Disappear by 2030
Jobs Outlook 2012: Careers Headed For The Dustbin
Disappearing Middle-Class Jobs