Drinking ideas
Frozen Coconut Limeade gets me singing. Put the lime in the coconut and mix it all up? Or put the coconut in the lime and stir it all together? Nope, put the lime and the coconut in the blender and blend it all up. And that's all she wrote.
Frozen Coconut Limeade | She Wears Many Hats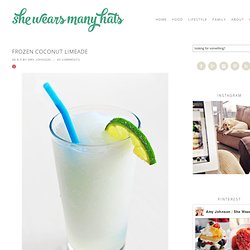 10 Jello Shots Worth the Hangover | Yummly
50 Smoothies : Recipes and Cooking : Food Network
Stocking a Home Bar on a Budget - KitchenDaily
Getty Images When it comes to spirits smarts, LeNell Smothers is your go-to gal: She's a former liquor store owner and the author of our sister site Slashfood's LeNell It All drinks column. We asked LeNell to share her expert advice for getting the most from your booze-buying buck and stocking your bar lavishly -- even if you're on a shoestring budget. No matter if you've got $500, $200 or only $100 to spend, you can still get a bottle each of vodka, gin, rum, tequila, whiskey and basic liqueurs, and still have change left over for olives.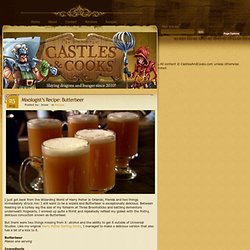 I just got back from the Wizarding World of Harry Potter in Orlando, Florida and two things immediately struck me: I still want to be a wizard and Butterbeer is exceptionally delicious. Between feasting on a turkey leg the size of my forearm at Three Broomsticks and battling dementors underneath Hogwarts, I worked up quite a thirst and repeatedly refilled my goblet with the frothy, delicious concoction known as Butterbeer. But there were two things missing from it: alcohol and the ability to get it outside of Universal Studios. Like my original Harry Potter Sorting Shots, I managed to make a delicious version that also has a bit of a kick to it. ButterbeerMakes one serving Ingredients 6 oz club soda 1 oz butterscotch schnapps 1 oz dark simple syrup
Mixologist's Recipe: Butterbeer | Castles & Cooks
What's more fun than hanging out with your friends, getting plastered, and making an ass of yourself? Playing drinking games, hanging out with your friends, getting plastered, and making an ass of yourself. I'm sure in your years of wisdom and experience, you've come across a few drinking games. Here are some of your favorites and most likely some you've never seen.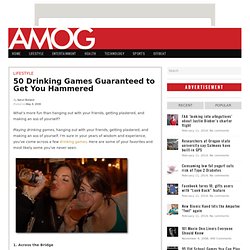 - StumbleUpon
7UP Mixers
Skittles Vodka (with instructions) | Flickr - Photo Sharing! - StumbleUpon