Funny Stuff
I am —- the difference between past and future. I am —- the space between up and down left or right. I am —- the belief of things unseen and the promise of things to come. I am —- the earth tones that reach you with melodies to sooth your soul.
Messages From Match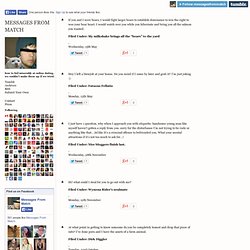 A(n)nals of Online Dating - Page 1 of 28
Anger Management
I was sitting at my desk when I remembered a phone call I had forgotten to make. I found the number and dialed it. A man answered, saying, "Hello." I politely said, "This is Jason Braemore. Could I please speak with Rachel Carter?" Suddenly, the phone was slammed down on me - I couldn't believe that anyone could be so rude.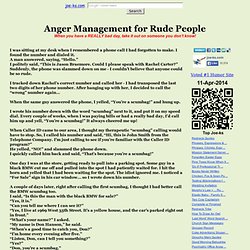 Todd Lamb Notes From Chris
Welcome to the " Notes From Chris" gallery. These are notes that I post around New York City from a mysterious man named Chris. Chris wants to do tedious things with people. He also has lots of problems. " Notes From Chris" is a project started by Todd Lamb in 2008.
Best Of DYAC
World Beard and Moustache Championships - in pictures | World news
YTMND - Breakup Letter, Dramatic reading
Shall I go to the pub?
That's Vaginal - Join the movement to place one incredible word in its rightful place of superiority over all other words.