DIY Projects
Paper Flower Key Holder / Mark Montano. Difficulty Rating: Beginner Tags If you need a quick 'just because' gift for someone, this is it!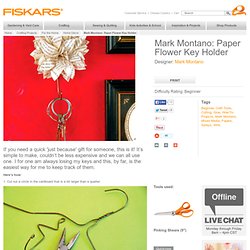 It's simple to make, couldn't be less expensive and we can all use one. Fabric Earing Buttons. Button earrings have become super popular in the past few years and I myself have had tons of fun making them.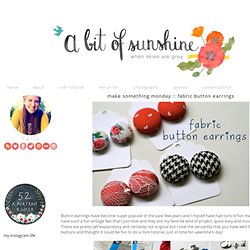 They have such a fun vintage feel that I just love and they are my favorite kind of project, quick easy and instantly gratifying. These are pretty self explanatory and certainly not original but I love the versatility that you have with fabric covered buttons and thought it could be fun to do a mini tutorial- just in time for valentine's day! I keep a big jar of different sized button blanks on hand at all times. You can find them at almost any craft store in teeny tiny to really big sizes. Feather Hair Extensions. +++Updated+++ Hello girlies!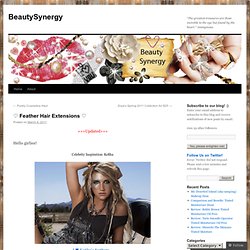 Celebrity Inspiration: Ke$ha I got feather extensions on my hair today! Peacock Feather Earrings. Tiny Polaroid Magnets. Hi there!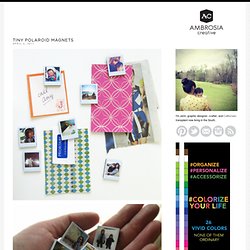 It's felt like forever since I've last blogged, and has felt like an eternity since I've done anything crafty and nifty. Since my morning sickness has gone into full speed (yes, we're expecting our third this fall!) I haven't felt like myself. But nothing like inspiration to wake one out of a reverie — or nightmare, in my constantly sick state. Mason Jar Key Hook.
Hey guys!
Hope you all had a great Wednesday I have a fun project to share today! I started with a 1×8 board from Lowe's that I cut to about 2′ long. I used a different paint method on this board and I love how it turned out so I am going to share it with you in my next post. Craftgawker. Dry Erase Board. 133.2K Flares Twitter 7 Facebook 69 Pin It Share 3.9K 3K+ StumbleUpon 129.2K Filament.io Made with Flare More Info 133.2K Flares × I purchased a few cheap 12×16 picture frames from Wal-mart for $3.00 a piece and brought them home, cut out scrapbook paper and attached it to the inside of the frame.
I used double sided tape to stick the 12×12 sheets together then just cut off the remaining amount of paper before I attached it to the inside of the frame. I have seen these all over lately and decided to make a few. I have seen them used for grocery lists, caledars, or just for a Honey do list I added some ribbon and rosettes just to spice them up a little bit. Crayon Nibbles. Pottery Barn. Butterfly Life List. We started this business last year with the tag line: "Live life the way you picture it.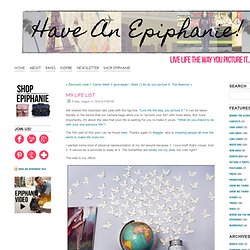 " It can be taken literally in the sense that our camera bags allow you to "picture your life" with more ease. But more importantly, it's about the idea that your life is waiting for you to make it yours. "What do you intend to do with your one precious life"? The first part of this post can be found here. Thanks again to Maggie, who is inspiring people all over the world to make life more fun. Reconstructed T-Shirt. Measure the circumference of your chest.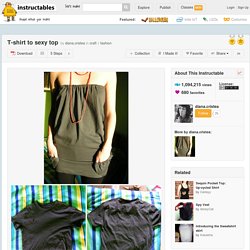 Cut a piece of elastic that matches your measurements. Turn the shirt inside out and cut a small opening on the bottom hem. Use a safety pin to attach one end of the elastic and insert the pin through the small opening. Pass the safety pin (and the elastic) inside the hem until you reach the other end. Mason Jar Key Hook. Collection of Projects. Soap Recipes. Fire Pit. We all are impressed by fire pits that we can find in stores.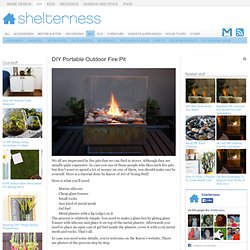 Although they are usually quite expensive. In case you one of those people who likes such fire pits but don't want to spend a lot of money on one of them, you should make one by yourself. Clothespin Schedule. Take Note Don't spend money on a corkboard -- instead turn an artist's canvas into a practical memo board.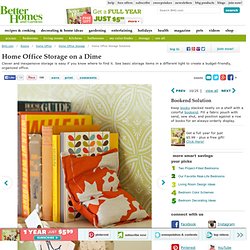 For a magnetic surface, attach a sheet-metal square. Hang it above your desk to keep important items visible. Antique Office Storage Repurpose flea market dishes as office organizers. Paperclip Earings. So today I thought it would be a fun challenge to work with paperclips. You can't get much more mundane than a paperclip! After much thought, I came up with paperclip earrings. Crayon Monogram.
Earing Display. This fun little shabby chic earring stand, made from an altered picture frame, is a great way to hang and display all your beautiful, dangling earrings. I had the idea for this project after we talked about my love affair with dangly earrings and how to display them. I don't know about you, but I just love seeing them all hanging in a row! :) The next day I made this earring frame, and it was so quick, easy, and inexpensive to put together, I knew I had to share it with you! Fabric Flower Clip.
29 May 2010 These elegant fabric flowers are very simple to make . . . and only take a few basic supplies. The finished product is delightfully lovely, and at times can look like a real flower! Apron Pattern. I had such a great response when I asked about Aprons I am thinking about doing "Apron week" the first week in January. If you like this idea let me know AND email me a picture or link to any aprons you would like ot see made and I will tackle it! I love a challenge! Graphic Art Soap.
---