Photo-shop
BLOG - architectural rendering and illustration blog. MIR. The 100 Most Popular Photoshop Tutorials 2008. Under Articles Sometimes, you may find it difficult to look for some of the highest quality photoshop tutorials using search engines.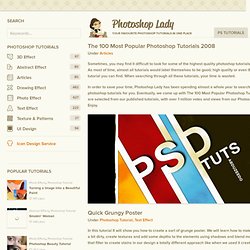 As most of time, almost all tutorials would label themselves to be good, high quality or even the best photoshop tutorial you can find. When searching through all these tutorials, your time is wasted.
People. Patterns. Pavement. Panoguide: the guide to panoramas and panoramic photography. Flickr Color Selectr. Photoshop. Collage.
---