Posterous
Twitter has acquired blogging platform Posterous, and the latter's engineers, product managers and other staff members will soon be joining the existing Twitter teams so they can "make Twitter even better". In what very much appears to be a talent acquisition, existing Posterous bloggers should seriously consider moving their content to another blogger platform as soon as possible. While Twitter have given assurances that Posterous Spaces will remain up and running without disruption for now, reading between the lines in the various statements that have been made it's fairly obvious that these services will not continue indefinitely, certainly as they are now.
Twitter Buys Posterous (So You'd Better Move Your Content To Tumblr ASAP)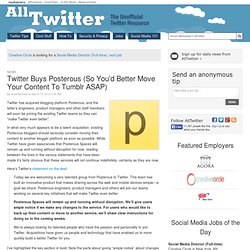 Twitter acquires blogging platform Posterous
Posterous , a blogging platform that embodies Tumblr's simplicity, if not its stylishness, announced today it has been acquired by microblogging giant Twitter. Posterous announced the acquisition Monday in a blog post. For now, Posterous will remain the same and the "Spaces," or blogs, you've created will still be active until future notice.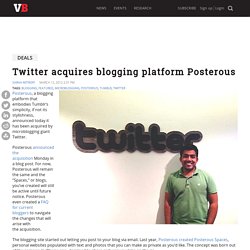 We're super-excited to announce the launch of Posterous Spaces. It's our brand new service for the Web, iPhone and Android that replaces the current service. Why did we create it? Simple – because we think you should be able to share online like you do in real life. That's why you'll find Posterous Spaces has intuitive privacy controls that make it a breeze to share with the right people, every time. Whether you want to create a public blog, a private place to share family vacation photos or start a group for your classmates to stay in touch, you can create a Space for it.
Woo-hoo! Introducing Posterous Spaces Since the Change with #Posterous, Umm new #Tumblr themes
anisesmith.amplify
If you use #Posterous, check this out…
#Twitter Your Resume = #Twitume! Guess What? That ROCKS! This is the NEW way to create your job opportunity! - anisesmith's posterous
anisesmith's posterous - Home
60 signs that you are ADDICTED to #SocialMedia: Is there an App for that? #JustSaying - anisesmith's posterous
Tips for Hosting a Hip Holiday Celebration I passed on the HUGE holiday recipe post yesterday, thought I would pass on something to wash it down. :-) YUM! - anisesmith's posterous
This PHONE is Amazing and is officially on my SANTA PLEASE List - anisesmith's posterous
Inbound Marketing - It Works - Wired to Share
Digital Marketing #jobs REBOUNDING! #SocialMedia jobs up 15% - anisesmith's posterous
#SocialMedia meets #QR code: Make your code, then I'll put them on your T-shirts, Totebags & Mugs..then go! - anisesmith's posterous
Tech Promos - anisesmith's posterous