Blog
Using Keywords in Blog Posts. One thing among my blogging clients, more than any other thing will set off a huge discussion – talking about SEO.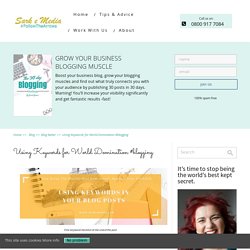 About 10 years ago, before WordPress was invented, it was tougher to do SEO with very little technical knowledge. Today it's not so tough and it really isn't that hard unless you are in a room of SEO companies and they are making you feel the pain to buy their services… Tips for the Traveling Blogger. Tips for the traveling blogger.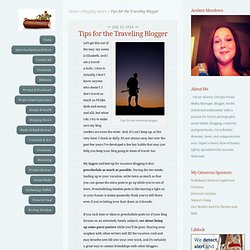 Let's get this out of the way: my name is Elisabeth, and I am a travel-a-holic. I love it. Actually, I don't know anyone who doesn't. I don't travel as much as I'd like (kids and money and all), but when I do, I try to make sure my blog readers are none the wiser. And, if I can't keep up, at the very least, I check in daily. 3 blogging tips for heart centered entrepreneurs. I was catching up with one of my favourite blogs all about blogging and I came across this article which was based on a Twitter comment by someone.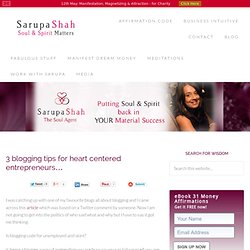 Now I am not going to get into the politics of who said what and why but I have to say it got me thinking. Is blogging code for unemployed and skint? Is being a blogger a way of pretending you are busy so you can kid yourself you are working. I have to say in the past, in my early blogging days when I was a blogspot blogger, I was under the illusion that wow now I am on the world wide web I have access to the billions who use it and my work will be magically found.
Blogging Basics: Editing is Evil But Necessary in Blogging. About Us Pages. Plugin Conflict. 5 Qualities to Look For in Top SEO Companies #SEO #Blogging. When looking at SEO companies, the key to finding the best ones is to look at the different core qualities of each of those companies.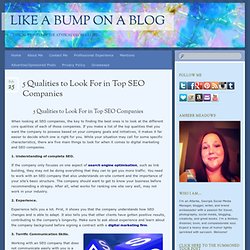 If you make a list of the top qualities that you want the company to possess based on your company goals and initiatives, it makes it far easier to decide which one is right for you. While your situation may call for some specific characteristics, there are five main things to look for when it comes to digital marketing and SEO companies. 1. Understanding of complete SEO. If the company only focuses on one aspect of search engine optimisation, such as link building, they may not be doing everything that they can to get you more traffic.
Why I Recently Enabled Blog Comments #relationships #blogging. Why I recently enabled blog comments, after much thought.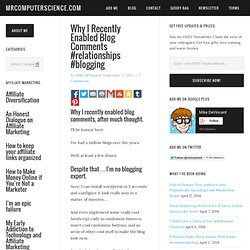 I'll be honest here. I've had a million blogs over the years. Well; at least a few dozen. Despite that… I'm no blogging expert. How to Attract more Readers to your Blog via Social Media. G+ Communities. Bloggy Conference and Health Advocacy #WeGoHealth #BloggyCon. Blogging Basics: Paying Attention to Your Demographics is Critical. Welcome back for part 16 of the Blogging Basics Series!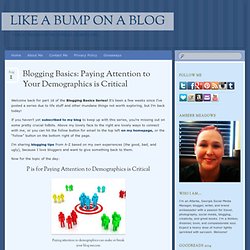 It's been a few weeks since I've posted a series due to life stuff and other mundane things not worth exploring, but I'm back today! If you haven't yet subscribed to my blog to keep up with this series, you're missing out on some pretty crucial tidbits. Above my lovely face to the right are lovely ways to connect with me, or you can hit the follow button for email to the top left on my homepage, or the "follow" button on the bottom right of the page.
I'm sharing blogging tips from A-Z based on my own experiences (the good, bad, and ugly), because I love bloggers and want to give something back to them. How to write an effective link post for your blog. 5 Jewels of Blogging Who Will Make You Better Bloggers. Welcome back for part 10 of the Blogging Basics Series!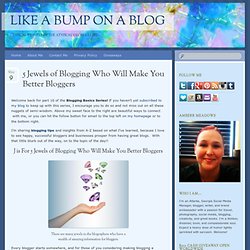 If you haven't yet subscribed to my blog to keep up with this series, I encourage you to do so and not miss out on all these nuggets of semi-wisdom. Above my sweet face to the right are beautiful ways to connect with me, or you can hit the follow button for email to the top left on my homepage or to the bottom right. I'm sharing blogging tips and insights from A-Z based on what I've learned, because I love to see happy, successful bloggers and businesses prosper from having great blogs. Different Types of Blogs and the Many Facets of Blogging. Tim Arends is here with a great blogging guest post to explore the different types of blogs people create and the many joyous facets of blogging.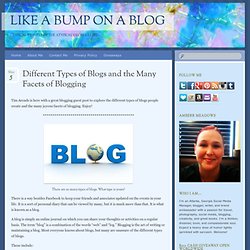 Enjoy! There are so many types of blogs. What type is yours? There is a way besides Facebook to keep your friends and associates updated on the events in your life. It is a sort of personal diary that can be viewed by many, but it is much more than that. Get Famous-Chapter 1 Blogging Basics. The Power of WordPress Weblog CMS. My name is Berrie Pelser, since 1999 co-owner of Ber|Art Visual Design V.O.F.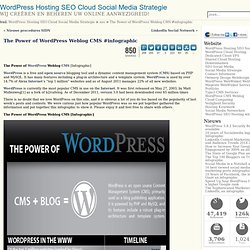 Our company is been grown to a full service bureau for complete managed business internet sites that we are hosting in our own secure and fast Cloud. We are specialized in WordPress, search engine optimization, social media integration and social media strategy. I co-founded my company, Ber|Art Visual Design, in 1999 as a web design firm. It has since grown into a full-service agency for maintaining complete corporate websites hosted by Ber|Art in a secure and fastcloud environment.
I Might Disappoint You. #BlogChat - My buddy, #DadChat and "A Dad's Point-of-View" Radio Host Bruce Sallan wrote a post about disappointment the other day.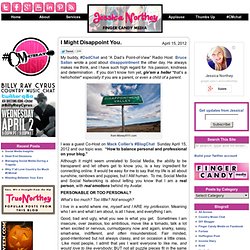 He always makes me think, and I have such high regard for his passion, kindness and determination . If you don't know him yet, giv'em a heller *that's a hello/holler* especially if you are a parent, or even a child of a parent. 6 quick writing tips for #blogging. 3.4K Flares Twitter 381 Facebook 56 Google+ 6 StumbleUpon 2.9K Pin It Share 3 3 LinkedIn 72 inShare72 Email -- Email to a friend Buffer 13 3.4K Flares × If you want to be a good blogger it is important to develop your writing skills so that you can not only write better, but write faster.
The more content you can get up on your blog, the better for traffic, and the happier your viewers will be. Here are some methods you can use to help you write your blog faster without giving up quality posts. How To Promote Your Blog Effectively. Nowadays, there are many people, in the world, who are writing blogs and some of these have the passion for it in order to express their feelings to the world in words. This is a very interesting and beneficial work to do. You can earn by writing blogs too if you do it right. 20 Things You Should Share On Social Media. I recently participated on a marketing panel where the discussion topic was titled "Digital and Online. What's Next" and a lot of the discussion and questions were about social media and social media marketing. Zemanta. How To Attract More Eyeballs To Your Website.
18 Ways to Promote Your Blog Offline | Social Media Optimization & Search Engine Optimization. The Blog is the key to the Search Engines | The Write word. 2012 Future Of Marketing Blogging And Social Media Infographic | Social Media Optimization & Search Engine Optimization. 7 Reasons to Rethink Your Blogging Strategy: New Research | Social Media Optimization & Search Engine Optimization. 8 Best Blogging SEO Tips and Get Off to a Great Start With These Blogging Tech Tips - - SEO Tips | Social Media Optimization & Search Engine Optimization.
Blog SEO 101 - Using Google Webmaster Tools | Social Media Optimization & Search Engine Optimization. A Blog is NOT Optional: Whatcha' waiting for? Start #Blogging. How Video Can Boost Your Blog Traffic, Sales, and Brand | Social Media Optimization & Search Engine Optimization. 6 Easy Ways to Find Compelling Content for Your Blog | Social Media Today | SOCIAL MEDIA, what we think about! Six Alternatives to a Traditional Blog. Andrew Sullivan on the art of blogging [Video] What Tumblr's Success Means For The Future Of Blogs and Twitter ... | Semantic Web and the Future of Technology. #Blogging is the KEY 2 growing your biz. Anisesmith.amplify.
Other Blog Posts. Posterous. Turn you #Facebook profile into a Mini #Blog. Anise Smith 1/24/2011 - Andrea Fields | Internet Radio.
---