Parametric design
Yong Ju Lee « Pattern Redux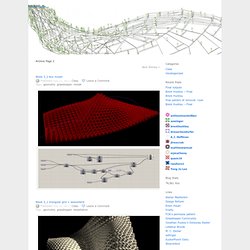 Pattern Redux Archive Page 2 Next Entries »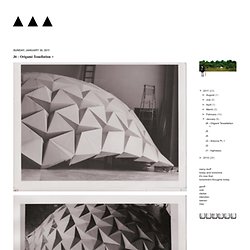 I have debated with myself and friends over the legitimacy and practice of parametric design with "good" architecture.
J6 - Origami Tessellation +
Star Twist Tessellation v2.1 | Origami Tessellations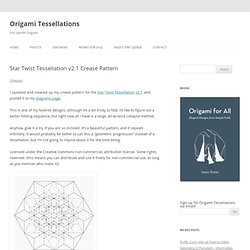 I updated and cleaned up my crease pattern for the Star Twist Tessellation v2.1, and posted it to my diagrams page. This is one of my favorite designs, although it's a bit tricky to fold.
This morning we found, through a tweet from our friend @digitag the work of Ron Resch, a visionary mathematician and designer who was one of first to explore the architectural potential of 3D tessellated structures in the 1960's and 70's. His work around paper tessellation is amazing and we can find his influence in the current works of Chris Bosse, FOA and many other architects that design with digital tools and parametric architectural forms.
Ron Resch | Paper Folding – Origami Tessellation « arkinet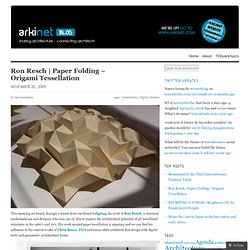 www.origamitessellations.com/docs/Tessellation_Basics_Eric_Gjerde.pdf
Tony Robbin's Art Page
Art
art We design and build works of art created by artist Tony Robbin. Robbin successfully combines art, science, and mathematics.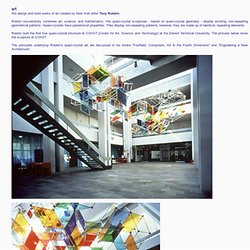 AAC : Selected Student Reports
Architecture
Parametric Design for Sustainable Skyscraper in Brazil
Team: Patrick Bedarf, Tomas Kozelsky & Dimitrie Stefanescu. This Parametric Green design for Sustainable skyscraper designed by the team: Patrick Bedarf, Tomas Kozelsky & Dimitrie Stefanescu, for the Evolo 2011 competition. Their main goal was to push parametric design techniques as much as possible into an as experimental direction as they could allow.
3rd Place 2009 Skyscraper Competition Eric Vergne United States
Vertical Farm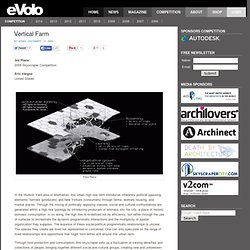 Capital Gate: Parametric Design Results in Worlds Steepest Leaning Building
Capital Gate is a new building forming the entrance to Capital Centre, a major development project in Abu Dhabi and is designed by RMJM Architects.