Legal
LII | LII / Legal Information Institute. UK Police Adopt New System to Extract Data from Phones. Police in London have adopted a new system that will allow them to quickly extract data from suspects' phones.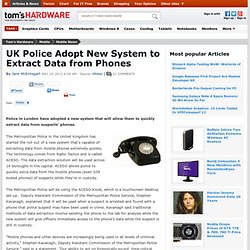 The Metropolitan Police in the United Kingdom has started the roll out of a new system that's capable of extracting data from mobile phones extremely quickly. The technology comes from Radio Tactics and is called ACESO. Researchers Turn Graphene into Photo Detector Material. A group of researchers has discovered a way to potentially use graphene for photo detectors in future products such as digital cameras or night vision goggles.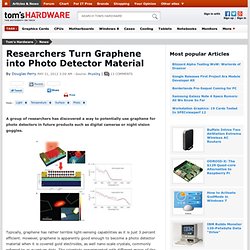 Typically, graphene has rather terrible light-sensing capabilities as it is just 3 percent efficient. However, graphene is apparently good enough to become a photo detector material when it is covered gold electrodes, as well nano-scale crystals, commonly referred to as quantum dots. International Economic Law and Policy Blog: Overlapping NAFTA/WTO Environment Claims: Ontario's Renewable Energy Policies. A WTO panel was established today in the Canadian "Feed in Tariff" case (DS412).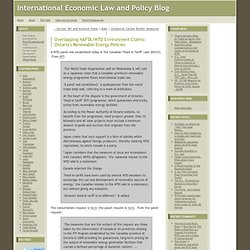 From AFP: The World Trade Organization said on Wednesday it will rule on a Japanese claim that a Canadian province's renewable energy programme flouts international trade law. "A panel was established," a spokesperson from the world trade body said, referring to a team of arbitrators.At the heart of the dispute is the government of Ontario's "feed in tariff" (FIT) programme, which guarantees electricity prices from renewable energy facilities.According to the Power Authority of Ontario website, to benefit from the programme, wind projects greater than 10 kilowatts and all solar projects must include a minimum amount of goods and services that originate from the province.Japan claims that such support is a form of subsidy which discriminates against foreign producers, thereby violating WTO regulations, to which Canada is a party. "
---