DIY Projects
Make an album cover. There is another goofy but fun thing going on on Facebook.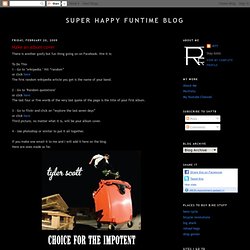 Hre it is: To Do This 1 - Go to "wikipedia. " Hit "random" or click here The first random wikipedia article you get is the name of your band. 2 - Go to "Random quotations" or click here The last four or five words of the very last quote of the page is the title of your first album. 3 - Go to flickr and click on "explore the last seven days" or click here Third picture, no matter what it is, will be your album cover. 4 - Use photoshop or similar to put it all together. DIY Glitter Vases. Inspired by many reader requests for a DIY tutorial to recreate the glittery mason jar vases from this New Year's Eve party, today we're playing with glitter.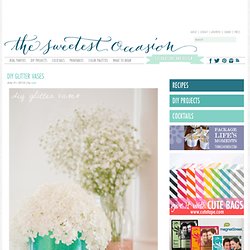 A whole lot of glitter! I whipped up two different versions of these glitter vasses, both of which are quick and easy. They're perfect for parties, weddings or just to add a touch of sparkle to your dining room table. How to cut glass. I posted a picture about 1 week ago on Instagram, Facebook and Twitter of me cutting glass using just string.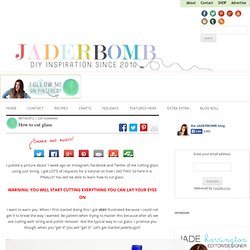 I got LOT'S of requests for a tutorial on how I DID THIS! So here it is. FINALLY! You will be able to learn how to cut glass. I want to warn you. Boden Boulevard Necklace Knockoff. Did you know Mother's Day is about a week and half away??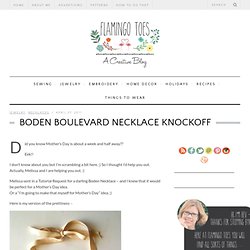 Eek!! I don't know about you but I'm scrambling a bit here. ;) So I thought I'd help you out. Actually, Melissa and I are helping you out. :) Melissa sent in a Tutorial Request for a darling Boden Necklace – and I knew that it would be perfect for a Mother's Day idea. Or a "I'm going to make that myself for Mother's Day" idea. ;) Paper Toys - Paper Cut-Outs - FREE at PaperToys.com.
Gift Ideas for Poor Creative Souls (12) Posted by: Cathy on Jun 03, 2012 Tagged in: Untagged Summer Lights Garland.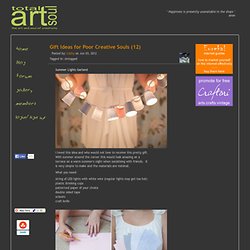 PocketMod: The Free Recyclable Personal Organizer. Hand Embroidered Cards. Look what I found in my desk drawer!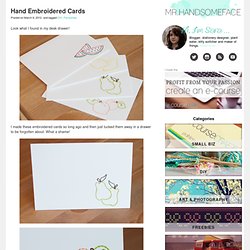 I made these embroidered cards so long ago and then just tucked them away in a drawer to be forgotten about. What a shame! I thought these cards would make a great DIY for the blog because they're easy and fun to make, and you probably have all the supplies on hand already. If you're anything like me you have waaaaay too many colors of embroidery floss tucked away somewhere. Circle Knit Shirt Tutorial. So.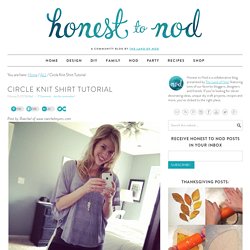 I have a favorite shirt. I'll be honest, it's probably my favorite because it's the most comfortable shirt I own, AND my husband bought it for me and he thinks I look cute in it. Fancy Pants aka Stretch Lace Panties. If you've never attempted sewing your own panties, I urge you to give it a try.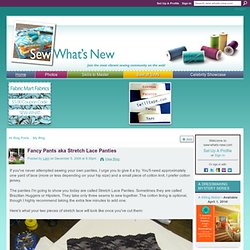 You'll need approximately one yard of lace (more or less depending on your hip size) and a small piece of cotton knit. I prefer cotton jersey. The panties I'm going to show you today are called Stretch Lace Panties. Sometimes they are called Brazilian Huggers or Hipsters. They take only three seams to sew together. 428 Gift Patterns For Sewing Addicts : Posted on | December 9, 2010 | No Comments I posted this list of sewing links a few weeks ago.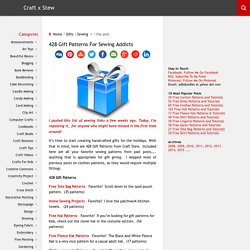 Today, I'm reposting it, for anyone who might have missed it the first time around! It's time to start creating handcrafted gifts for the holidays. DIY Découpage Floral Bag. When H&M asked us to DIY a boho-inspired item for their summer issue, découpage was the first thing that came to mind.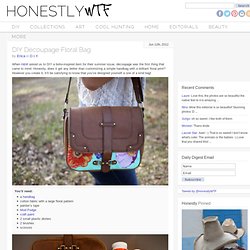 Honestly, does it get any better than customizing a simple handbag with a brilliant floral print? However you create it, it'll be satisfying to know that you've designed yourself a one of a kind bag! 1181-1340220830-6.jpg (JPEG Image, 500 × 1221 pixels) - Scaled (44. 20 Awesome Do It Yourself Projects. Thursday, June 14, 2012 4:30 am, Posted by Chris Groves | Internet 20 Awesome Do It Yourself Projects Topics: At Home Project Ideas , Creative DIY Home Projects , Do It Yourself Projects for 2012 , Fun How To Projects , What to Do with Extra Stuff Are you bored and have a bunch of extra little items hanging around here and there?
Well we were in the same boat so we decided to round up 20 different awesome at home projects you can do. Things i'd like to make: wrapped bracelet - maggie makes. DIY Macrame Bracelet. Growing up by the beach in Southern California, the ability to knot a macrame bracelet was practically a right of passage.
Although those days are long behind us, we've never forgotten the ever-so-simple square knot technique. This time, however, we're replacing hemp and wooden beads for more updated elements like colorful nylon cord and glossy metal charms. Happy knotting! You'll need: Start by cutting the knotting cord into two 30 inch, two 20 inch and one 10 inch lengths. Fun with Foam Printing - Easy Tutorial.
I loved this idea because not only can you recycle these horrid polystyrene containers, but the process is really simple. You could even use tracing paper and trace your design so you don't even need to be able to draw. You could make a whole series of cards like this or just a colorful print to hang on your wall and cheer up the place. Tutorial: How to Make a Pomander Flower Ball. Pomanders, or "Flower Kissing Balls" are gorgeous floral decorations at parties and weddings. It's name is from the French pomme d'ambre or apple of amber – a ball of perfume. They were carried to protect against infections and diseases by modifying bad smells. Interesting huh? Well, today they're used as a beautiful, hand-made decoration! Friendship Bracelets. Macraméd friendship bracelets were all the rage when I was growing up in the eighties.
All the girls at my school would obsessively make them for one another in a dizzying variety of colors, widths, and patterns. It's amazing, thinking back, that such young girls could make such beautifully intricate accessories. I, of course, tried my hand at making them as well. Water Blob: Tutorial. DIY: Banana Republic Braided Neck Tee Shirt. HOW TO: Create a Home Made Wax Seal (16 Pics.
10 Affordable DIY Modern Wall Art Projects! DIY Fire & Ice Lanterns ~ MAD IN CRAFTS. Gleeful Things » Tutorial Round Up. Zipper Card Pouch. 31 Insanely Easy And Clever DIY Projects.
---