Arduino
BaptisteGaultier.fr. Ethernet Shield / Exemple d'utilisation avec Pachube. Bonjour, Suite à une demande ce jour, je viens de re-dérouler la procédure d'envoi de données sur internet récoltées grâce au couple arduino + ethernet shield officiel je m'appuie sur la page avec une traduction libre et les modifs que j'ai apporté pour que l'ensemble fonctionne A.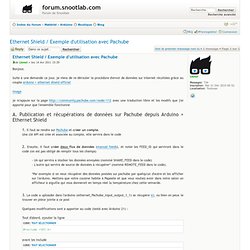 Spooky Projects – Introduction to Microcontrollers with Arduino. Spooky Projects is a set of four 3-hour classes in October 2006 hosted by Machine Project and taught by Tod E.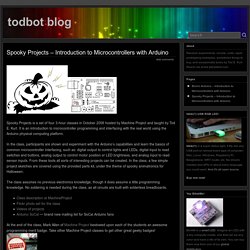 Kurt. It is an introduction to microcontroller programming and interfacing with the real world using the Arduino physical computing platform. HomePage. Déjà 4655 visites sur cette page.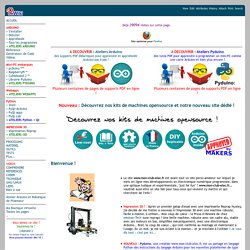 Bienvenue ! Soutenez le site www.mon-club-elec.fr ! MacOSX. This document explains how to connect your Arduino board to the computer and upload your first sketch. 1 | Get an Arduino board and USB cable In this tutorial, we assume you're using an Arduino Uno, Arduino Duemilanove, Nano, Arduino Mega 2560 , or Diecimila.
---