iPads_Resources
iPad Educational Resources
iPad EdResources
0 Comments January 11, 2012 Jan 11
- From the Classroom: Best Tech Practice Video of the Week - iPad Workshop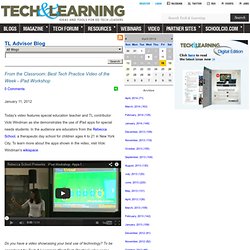 5 Great iPad Apps for Early Childhood Teachers | Certification Map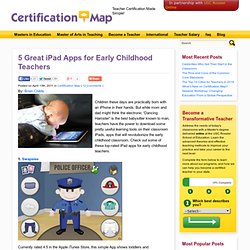 Children these days are practically born with an iPhone in their hands.
0 Comments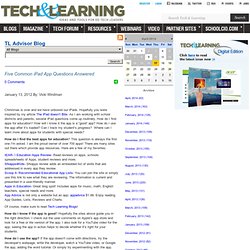 - Five Common iPad App Questions Answered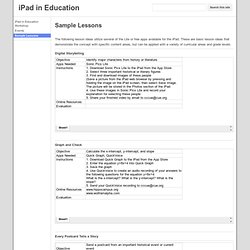 The following lesson ideas utilize several of the Lite or free apps available for the iPad. These are basic lesson ideas that demonstrate the concept with specific content areas, but can be applied with a variety of curricular areas and grade levels. Digital Storytelling
- From the Classroom: Best Tech Practice Video of the Week - iPad Workshop
iPad for Teaching & Learning
Check out appoLearning.com, because your kids deserve the very best educational apps! With the advent of the 2011/2012 school year, teachers who have access to mobile technology are scrambling to find the best education apps for the iPod Touch, iPad and iPhone. Educators use apps for everything from communicating with students to inspiring creativity to dissecting virtual frogs. Luckily, we have lots of educators (including Apple Distinguished Educators) on Appolicious who share their lists of the best education apps for elementary, middle school, junior high, and high school. These are the education apps most listed by educators on Appolicious. 1. 3D Brain (iPad, iPhone.