SVT
Le Service École Média encourage depuis un certain temps les enseignants à produire et mettre à disposition leurs documents d'enseignement sous une license "Créative commons" CC, qui protège à la fois l'auteur contre le plagiat tout en facilitant la diffusion des documents au sein de la communauté. Roger Raynal, un professeur de SVT de Toulouse très actif sur internet depuis de nombreuses années comme le montre son blog, a franchi le pas en proposant deux cours complets correspondant au programme de SVT de 3e ( qui comprend la génétique, le monde microbien et l'évolution) et de 2e année en France. Il justifie ainsi sa démarche : "Ayant rédigé une quarantaine d'articles scientifiques ces dernières années, j'ai décidé en 2008, au vu de l'inadaptation des manuels envers les élèves et connaissant la charge financière que représente l'achat de milliers de manuels, de rédiger le premier manuel, en français, libre et gratuit, de SVT troisième."
Des manuels de SVT libres et gratuits, sous créative commons - BIOTIQUES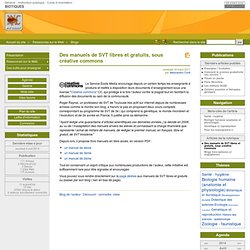 Télécharger Connais-tu l'anatomie - gratuit -
The Tree of Life Web Project (ToL) is a collaborative effort of biologists and nature enthusiasts from around the world. On more than 10,000 World Wide Web pages, the project provides information about biodiversity, the characteristics of different groups of organisms, and their evolutionary history (phylogeny). Each page contains information about a particular group, e.g., salamanders, segmented worms, phlox flowers, tyrannosaurs, euglenids, Heliconius butterflies, club fungi, or the vampire squid. ToL pages are linked one to another hierarchically, in the form of the evolutionary tree of life.
Une quinzaine d'enseignants et de parents de toute l'Europe se donnent la main pour créer ensemble un site Internet d'anatomie. Et lorsque que l'on sait qu'ils ne communiquent que par courrier électronique, que la plupart ne se sont jamais rencontrés et que le projet a été réalisé pour le plaisir de travailler ensemble ; on devine vite qu'il s'agit d'une belle histoire ! Et en quelques mois un site interactif d'évaluation des connaissances en anatomie humaine est né ! Le site, essentiellement réalisé en Flash, propose différentes planches anatomiques (squelette, appareil respiratoire, appareil digestif…) où l'élève pourra tester et acquérir ses connaissances par le glissement d'étiquettes aux endroits correspondants.