ALVARO SIZA VIEIRA
Álvaro Siza. Catalogue | Order | Feedback | Home | Siza | Moura | Tavora | Links "Tradition is a challenge to innovation" Due to the untimely demise of our newly updated server, our "Recent News" section is anything but recent.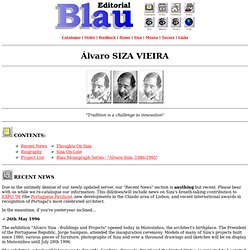 Alvaro Siza. Alvaro Siza (b.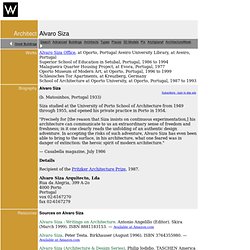 Matosinhos, Portugal 1933) Siza studied at the University of Porto School of Architecture from 1949 through 1955, and opened his private practice in Porto in 1954. "Precisely for [the reason that Siza insists on continuous experimentation,] his architecture can communicate to us an extraordinary sense of freedom and freshness; in it one clearly reads the unfolding of an authentic design adventure.
Alvaro Siza : architect biography. Alvaro Siza Portuguese architect Alvaro Siza (Alvaro Joaquim Melo Siza Viera), is one of the best-known Portuguese architects of the 20th century.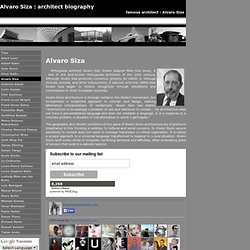 Although Alvaro Siza produced numerous projects for clients in Portugal (houses, schools, and other instututions), it was not until the 1980s that Alvaro Siza began to recieve recognition through exhibitions and commissions in other European countries. Alvaro Siza's architecture is strongly rooted in the Modern movement, but incorporates a subjective approach to concept and design, seeking alternative interpretations of modernism. Alvaro Siza has stated, "Architecture is increasingly a problem of use and reference to models...
My architecture does not have a pre-established language and does not establish a language. ALVARO SIZA. Alvaro Siza Vieira est né en 1933 au Portugal à Matosinhos ; il est l'une des grandes figures de l'architecture contemporaine.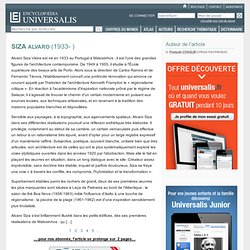 De 1949 à 1955, il étudie à l'École supérieure des beaux-arts de Porto. Alors sous la direction de Carlos Ramos et de Fernando Távora, l'établissement connaît une profonde rénovation qui amorce ce courant appelé par l'historien de l'architecture Kenneth Frampton le « régionalisme critique ». Alvaro Siza. Alvaro Siza. Un article de Wikipédia, l'encyclopédie libre.
Pour les articles homonymes, voir Álvaro. Álvaro Joaquim de Melo Siza Vieira, né le 25 juin 1933 à Matosinhos dans la banlieue de Porto (Portugal), est un architecte portugais. ALVARO SIZA. Architect Alvaro Siza Homepage. ALVARO SIZA, architecte portugais, Projets, 1961-1999 à Bruxelles. Bruxelles - L'éclosion de l'architecture portugaise aux lendemains de la révolution des œillets en 1974 a fait connaître Alvaro Siza à la communauté architecturale internationale.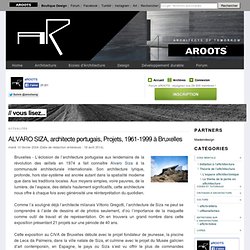 Son architecture lyrique, profonde, hors star-système est ancrée autant dans la spatialité moderne que dans les traditions locales. Aux moyens simples, voire pauvres, de la lumière, de l'espace, des détails hautement significatifs, cette architecture nous offre à chaque fois avec générosité une réinterprétation du quotidien. Comme l'a souligné déjà l'architecte milanais Vittorio Gregotti, l'architecture de Siza ne peut se comprendre à l'aide de dessins et de photos seulement, d'où l'importance de la maquette comme outil de travail et de représentation.
---