Music
The Hive | Electronic Music
Yes you read that title correctly, Daft Punk have decided to put their full album out on iTunes and you can stream all seventy-four minutes of it for free. We don't know whether this was another pre-planned decision of their marketing team to bring more hype for the album or a response to the album's leaking. Regardless of their intentions, you can give Random Access Memories a listen at the link below, stay tuned for a review once we hit the album's proper release date on May 21st . Stream Random Access Memories | Preorder mostlyjunkfood.com
itstheBino
Gin In Teacups: sessions, interviews and documentaries... with an extra-zing!
Apr 11, 2014 Bands like Superchunk and Stephen Malkmus & The Jicks have taken the notion that punk is for the young and spit in its face. Apr 9, 2014 It's time to build that record collection, one ABBA 7" at a time. Apr 10, 2014 ...but you can't take the house party out of the band.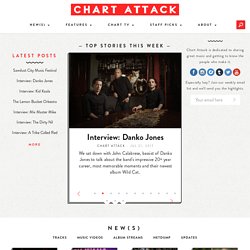 Checking your Google account... Checking your Facebook account... Everyone's Mixtape's celebrates the art of creating mixtapes. You can add to an existing mix, or start one of your own. Share with the world, your friends, or that girl from science class. Everyone's Mixtape is not about adding songs and hitting shuffle.