Videos
Video: See French producer Madeon mashup 39 pop songs | The Strut. Madeon is only 17 years old, but he has skills far beyond his years.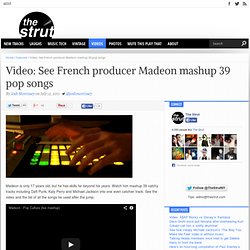 Watch him mashup 39 catchy tracks including Daft Punk, Katy Perry and Michael Jackson into one even catchier track. See the video and the list of all the songs he used after the jump. Track List: Alphabeat – Boyfriend Alphabeat – Fascination Bag Raiders – Shooting Stars Black Eyed Peas – Gotta Feeling Britney Spears – …Baby One More Time Capsule – Can I Have A Word Chromeo – Mamma's Boy Coldplay – Viva La Vida Daft Punk – Aerodynamic Daft Punk – Around The World Deadmau5 – Raise Your Weapon (Madeon Remix) Deadmau5 – Right This Second Ellie Goulding – Starry Eyed ELO – Mr. I/O Brush. This Clip Is Proof That Birds Are Secretly Composers. A normal person sees these birds perched on electrical wires and worries about getting crapped on.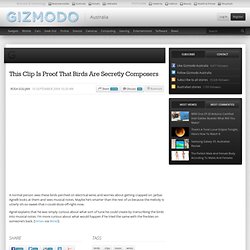 Jarbas Agnelli looks at them and sees musical notes. Maybe he's smarter than the rest of us because the melody is utterly oh-so-sweet-that-I-could-doze-off-right-now. Agnel explains that he was simply curious about what sort of tune he could create by transcribing the birds into musical notes. I'm more curious about what would happen if he tried the same with the freckles on someone's back. The Fox Is Black » Bach's Cantata 147, 'Jesu, Joy of Man's Desiring' Played On a Giant Wooden Xylophone In a Forest. This is probably the largest, least creative title for a post ever, but it's also one of the most descriptive as well.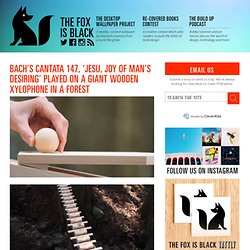 The video is a commercial by DOCOMO for the Touch Wood SH-08C, a limited edition phone of which there are only 15,000 being made. But honestly I could care less about the phone, this commercial is a thousand times more cool. SUPAKITCH & KORALIE - VÄRLDSKULTUR MUSEET GÖTEBORG.
---