Code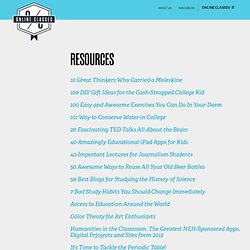 While there is much to be learned from taking a course or finding a professional tutor, there are many tools out there that can help you learn just about anything you'd like to entirely on your own. With a little elbow grease, trial and error and dedication, these online tools can help guide you through the learning process step-by-step. Whether you want to learn how to renovate your kitchen or the intricacies of calculus, you'll find the assistance you need through these resources. General These tutorial-filled sites offer instruction on a wide variety of topics. eHow : Formerly Expert Village, this site it full of detailed instructions and videos that will take you through the basics of activities in categories like health, food and drink, legal, parenting and more.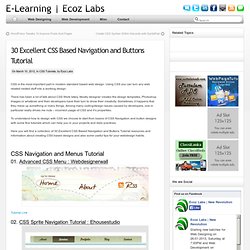 30 Excellent CSS Based Navigation and Buttons Tutorial
CSS is the most important part in modern standard based web design. Using CSS you can turn any web related nested stuff into a working design. There has been a lot of talk about CSS Work lately.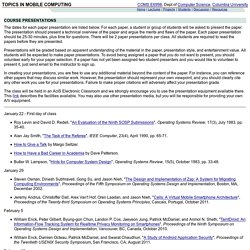 The dates for each paper presentation are listed below. For each paper, a student or group of students will be asked to present the paper. The presentation should present a technical overview of the paper and argue the merits and flaws of the paper. Each paper presentation should be 25-30 minutes, plus time for questions. There will be 2 paper presentations per class. All students are required to read the papers before they are presented.
Make your webpages interactive using JavaScript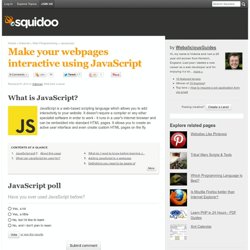 JavaScript is a web-based scripting language which allows you to add interactivity to your website. It doesn't require a compiler or any other specialist software in order to work - it runs in a user's internet browser and can be embedded into standard HTML pages. It allows you to create an active user interface and even create custom HTML pages on the fly. JavaScript is such a broad topic that I can't possibly cover everything in one page. In fact, entire books have been written about JavaScript, hundreds of pages long. So, I will aim to give a general overview of JavaScript and the basic concepts of the language.
CodeLesson - Instructor-led online technology learning for professionals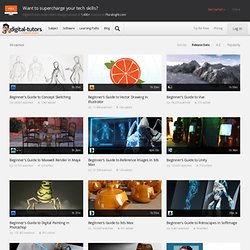 1h 31m 9171 9,171 views 1h 33m
Why all Web Designers, Web Producers, and Web Devleopers Should Code by Hand
If you're serious about reaching your full potential as a web page designer / producer, I believe you need to learn to code your sites by hand. Coding your site in HTML/CSS by hand will eventually give you a great understanding of key web design skills and set you on your way to becoming a better web designer. Now I admit I've always hand-coded web sites. While I have tried to use Dreamweaver and other WYSIWYG ("What You See Is What You Get") editors, I may not be best positioned to judge the relative merits of each method completely fairly. However, I'm convinced that hand-coding is an essential skill for all web designers and producers.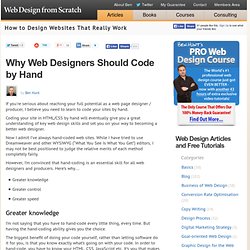 Note: If you know anything at all about HTML and CSS, don't bother reading this, it's a guide for the uninitiated, technophobes, luddites, computer-illiterates, anyone who is more comfortable with a pen and paper than a keyboard and mouse. If making a web page seems like brain surgery to you, then this is the article for you. What you need to know The only prior knowledge I will assume is that you've used a computer before, you're familiar with using a keyboard and a word processor, and you've at least seen a website. Other than that, I assume you are completely ignorant!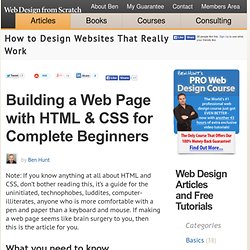 Tutorials | Tuts+ Premium | The best way to learn creative and technical skills.