Transcendentalism
The Emerson-ThoreauCorrespondence: The Dial Period By F.B.
Emerson-Thoreau Correspondence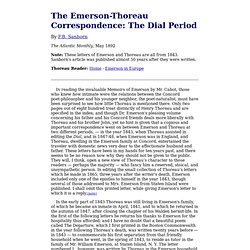 Twenty-one years ago this month, on September 6, 1992, the decomposed body of Christopher McCandless was discovered by moose hunters just outside the northern boundary of Denali National Park. He had died inside a rusting bus that served as a makeshift shelter for trappers, dog mushers, and other backcountry visitors. Taped to the door was a note scrawled on a page torn from a novel by Nikolai Gogol: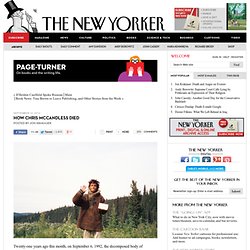 Apple - Think Different with Steve Jobs narration
American Romanticism (or the American Renaissance ) Ann Woodlief's Introduction For many years, this period and these writers were known as the American Renaissance, a coin termed by F.O.
Intro to American Romanticism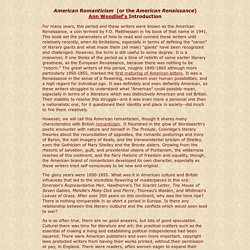 American Renaissance & Romanticism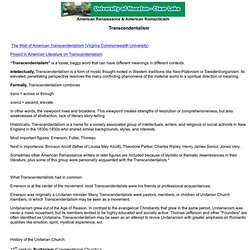 American Renaissance & American Romanticism
Romanticsm/Transcendentalism « Ms. Mason\'s Class Blogs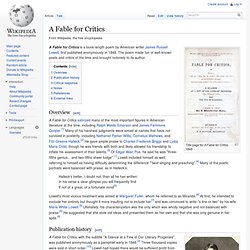 A Fable for Critics
A Fable for Critics is a book-length poem by American writer James Russell Lowell , first published anonymously in 1848.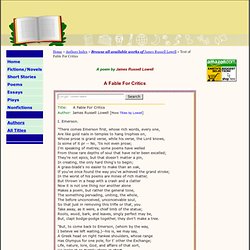 James Russell Lowell's poem: A Fable For Critics
________________________________________________ Title: A Fable For Critics Author: James Russell Lowell [ More Titles by Lowell ] I.
The Transcendentalists - including Ralph Waldo Emerson - Henry David Thoreau - Others - Dial Magazine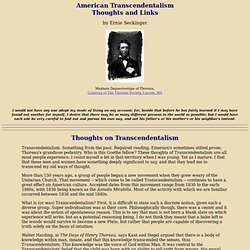 American Transcendentalism
Transcendentalism. Something from the past.