E-books
20,000 Free e-Books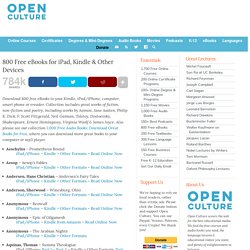 Download 600 free eBooks to your Kindle, iPad/iPhone, computer, smart phone or ereader. Collection includes great works of fiction, non-fiction and poetry, including works by Asimov, Jane Austen, Philip K. Dick, F. Scott Fitzgerald, Neil Gaiman, Tolstoy, Dostoevsky, Shakespeare, Ernest Hemingway, Virginia Woolf & James Joyce. To learn how to load free ebooks to your Kindle using the links below, please watch the video.
300 Free eBooks
Free-eBooks
New Kindle Fire Review Before you buy: Read our Webmaster's review of the new Kindle Fire. Some of Our Latest Books Welcome Project Gutenberg offers over 45,000 free ebooks: choose among free epub books, free kindle books, download them or read them online.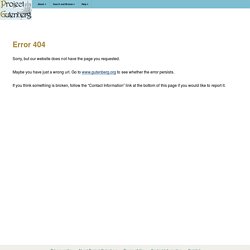 Project Gutenberg - free ebooks
Smithsonian Institution Libraries Homepage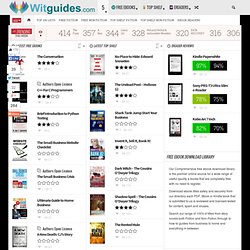 Free Ebook Download Library Our Comprehensive free ebook download library is the premier online source for a wide range of useful qaulity e-books that are completely free with no need to register. Download ebook titles safely and securely from our directory each PDF, iBook or Kindle book that is submitted to us is reviewed and licensed tested for content, spam and viruses.
Witguides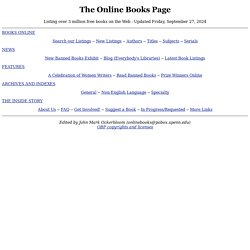 Listing over 1 million free books on the Web - Updated Friday, April 18, 2014 Search our Listings -- New Listings -- Authors -- Titles -- Subjects -- Serials A public domain metadata gift for our 20th birthday -- Blog (Everybody's Libraries) -- Latest Book Listings
The Online Books Page
Google Books
BUBL home page
450 Free Audio Books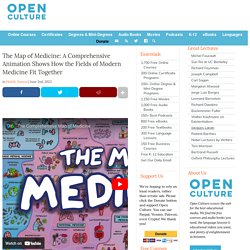 "Our independence from Spanish domination did not put us beyond the reach of madness," said Gabriel García Márquez in his 1982 Nobel Prize acceptance speech. García Márquez, who died yesterday at the age of 87, refers of course to all of Spain's former colonies in Latin America and the Caribbean, from his own Colombia to Cuba, the island nation whose artistic struggle to come to terms with its history contributed so much to that art form generally known as "magical realism," a syncretism of European modernism and indigenous art and folklore, Catholicism and the remnants of Amerindian and African religions.
Open Culture
E-Books and Libraries: 25 Resources
Online viewer for PDF, PostScript and Word