E-books
20,000 Free e-Books. 300 Free eBooks. Download 600 free eBooks to your Kindle, iPad/iPhone, computer, smart phone or ereader.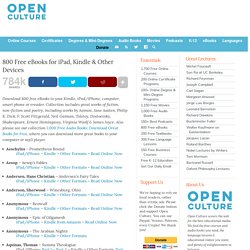 Collection includes great works of fiction, non-fiction and poetry, including works by Asimov, Jane Austen, Philip K. Dick, F. Scott Fitzgerald, Neil Gaiman, Tolstoy, Dostoevsky, Shakespeare, Ernest Hemingway, Virginia Woolf & James Joyce. To learn how to load free ebooks to your Kindle using the links below, please watch the video.
Free-eBooks. Project Gutenberg - free ebooks. Smithsonian Institution Libraries Homepage. Witguides. The Online Books Page. Google Books. BUBL home page. 450 Free Audio Books. Open Culture. E-Books and Libraries: 25 Resources. Online viewer for PDF, PostScript and Word.
---