Investments
Xρηματιστήριο Αθηνών
NOMURA | Home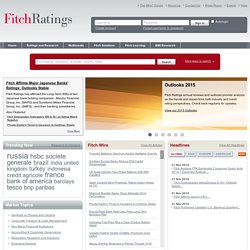 Why Are Some States Still Struggling? Laura Porter, Managing Director for Fitch Ratings, discusses why some states across the nation are still struggling. Watch the video at The Why?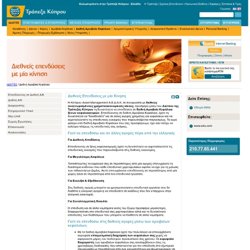 Διεθνή Αμοιβαία Κεφάλαια - Bank of Cyprus Country Greece
Διεθνείς Επενδύσεις με μία Κίνηση Η Κύπρου Asset Management Α.Ε.Δ.Α.Κ. σε συνεργασία με διεθνώς αναγνωρισμένους χρηματοοικονομικούς οίκους, προσφέρει μέσω του Δικτύου της Τράπεζας Κύπρου τη δυνατότητα να επενδύσετε σε διεθνή Αμοιβαία Κεφάλαια ξένων κεφαλαιαγορών. Επενδύοντας σε διεθνή Αμοιβαία Κεφάλαια, έχετε τη δυνατότητα να "διεισδύσετε" και σε άλλες αγορές χρήματος και κεφαλαίων και να εκμεταλλευτείτε τις επενδυτικές ευκαιρίες που παρουσιάζονται παγκοσμίως.
XE Trade XE Trade propose des devis en ligne simples et transparents, des taux compétitifs et des possibilités de transferts d'argent gratuits à l'international. En outre, nos services s'adaptent sans problème à votre banque actuelle. Nos fonctionnalités avancées vous permettent de définir des alertes par e-mail sur les taux, de transférer de l'argent depuis votre téléphone portable, de réserver un cours acheteur à votre taux préféré afin que vous n'ayez pas à surveiller le marché ou de réserver un contrat à terme pour vous aider à réduire les incertitudes relatives à la volatilité du marché.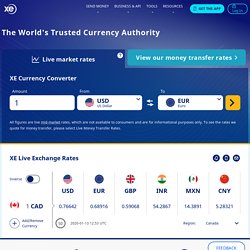 The World's Favorite Currency and Foreign Exchange Site
in Greece - Greece
Home