Hacker's homepages
Larry Wall's Home Page. Howdy, world!
This website is under construction. (Did you ever see a website that wasn't under construction?) Yes, I'm afraid chartreuse is one of my favorite colors... No, I'm not going to change it just because it's not your favorite... Larry Wall. Larry Wall (/wɔːl/; born September 27, 1954) is a computer programmer and author, most widely known as the creator of the Perl programming language.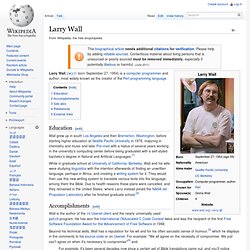 Education[edit] Wall grew up in south Los Angeles and then Bremerton, Washington, before starting higher education at Seattle Pacific University in 1976, majoring in chemistry and music and later Pre-med with a hiatus of several years working in the university's computing center before being graduated with a self-styled bachelor's degree in Natural and Artificial Languages.[1] While in graduate school at University of California, Berkeley, Wall and his wife were studying linguistics with the intention afterwards of finding an unwritten language, perhaps in Africa, and creating a writing system for it.
Richard Stallman. Richard Matthew Stallman (born March 16, 1953), often known by his initials, RMS,[1] is an American software freedom activist and computer programmer.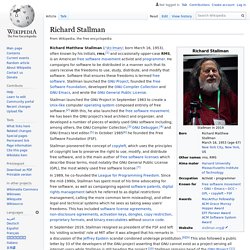 He campaigns for software to be distributed in a manner, such that a user receiving it, likewise receives with it the freedoms to use, study, distribute and modify that software: software that ensures these freedoms (on receipt) is termed free software. He is best known for launching the GNU Project, founding the Free Software Foundation, developing the GNU Compiler Collection and GNU Emacs, and writing the GNU General Public License.
Stallman launched the GNU Project in September 1983 to create a Unix-like computer operating system composed entirely of free software.[2] With this, he also launched the free software movement. Richard Stallman's Personal Page. Linus Torvalds. Linus Benedict Torvalds (Swedish: [ˈliːn.ɵs ˈtuːr.valds] ( Biography[edit] Early years[edit]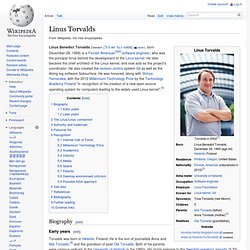 Wau Holland. Holland also co-founded the CCC's hacker magazine Datenschleuder in 1984, which praised the possibilities of global information networks and powerful computers, and included detailed wiring diagrams for building your own modems cheaply.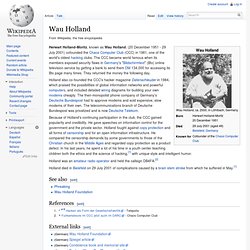 The then-monopolist phone company of Germany's Deutsche Bundespost had to approve modems and sold expensive, slow modems of their own. The telecommunications branch of Deutsche Bundespost was privatized and is now Deutsche Telekom. Because of Holland's continuing participation in the club, the CCC gained popularity and credibility. IHS | Archive | Long Journey To Africa. The Keep is the restaurant we started in Jinja, Uganda as a way to support our work on the ground here.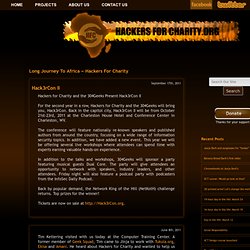 It's also been a great way to network with folks here and connect with individuals and organizations that need our help. Live music performance really fit the vibe of The Keep. The acoustics in our place are amazing, and it's an intimate venue. Since we don't serve alcohol, we also draw those who are a bit more serious about hearing good music. But the connection with the artists was unexpected. Crack Windows Passwords. Have you ever tried to log into a Windows computer for a few minutes and you finally realize that you forgot the password?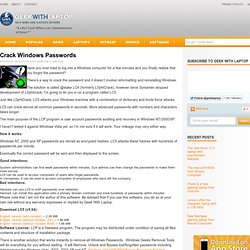 There's a way to crack the password and it doesn't involve reformatting and reinstalling Windows. The solution is called @stake LC4 (formerly L0phtCrack), however since Symantec stopped development of L0phtcrack, I'm going to let you in on a program called LC5. Just like L0phtCrack, LC5 attacks your Windows machine with a combination of dictionary and brute force attacks. Eric S. Raymond's Home Page.
Welcome to my piece of the Web.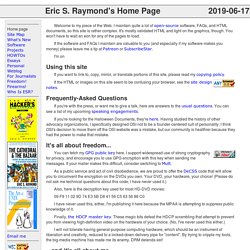 I maintain quite a lot of open-source software, FAQs, and HTML documents, so this site is rather complex. It's mostly validated HTML and light on the graphics, though. Bruce Perens - Bruce Perens. Peter Norvig. Bruce Eckel's MindView, Inc. ::: Exceptional Learning Experiences. Virtual Domicile of Steven K. Baum. Uri Raz's Home Page.
---