Computers
Jun 15, 2010 Ahoy hoy friends! Here's my first attempt at the ever-popular infographic. I really wanted it to be helpful and informative. I figured that any tips that can save you time and make you more efficient is a beautiful thing!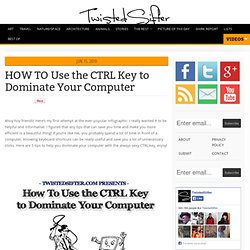 Your friends, files and digital life on any computer
The Cloud Web Desktop that was formerly known as icloud.com has been available through the CloudMe service for a transition period in order to not interrupt anything for its users. It has now been time for the WebOS to find a new home and the CloudTop company has taken over the popular desktop. For you as a user, this means that there is one dedicated company that will give the virtual desktop and online computer the full attention it deserves. Everything is different Nothing has changed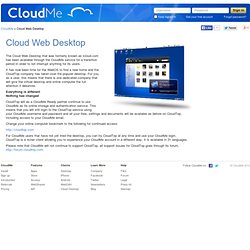 Browse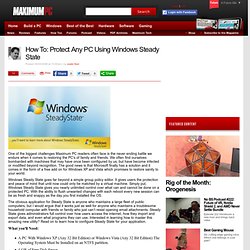 How To: Protect Any PC Using Windows Steady State - Page 1 | Maximum PC
One of the biggest challenges Maximum PC readers often face is the never ending battle we endure when it comes to restoring the PC's of family and friends. We often find ourselves bombarded with machines that may have once been configured by us, but have become infected or modified beyond recognition. The good news is that Microsoft finally has a solution and it comes in the form of a free add on for Windows XP and Vista which promises to restore sanity to your world.
Are you annoyed and frustrated with Megavideo's time limit? Don't worry, I'll show you how you can bypass that limit and let you enjoy watching your video or movie without any interruptions. Megavideo is one of the best and one of the most popular video sharing sites in the Internet. The problem about watching movies on Megavideo is that there is a 72-minute time limit and once you hit the limit, the video stops and you get this message: Some movies are more than 72 minutes long, some are even 2-3 hours long so once you hit the time limit, you can't continue watching the movie anymore. Sucks doesn't it?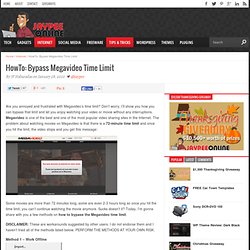 SExpand Over the past year, we've featured gobs of great desktops submitted by our readers to the Lifehacker Desktop Show and Tell group on Flickr. In the process, we've seen beautiful desktop transformations that have ranged in difficulty from a few simple tweaks to extreme desktop makeovers that transcend operating systems. Let's take a look back at the most popular reader-submitted desktops of 2008 and bask in the glow of their customizing prowess. NOTE: Click the image for larger pictures of each desktop and the original description, complete with more details on how each desktop was accomplished.
Most Popular Desktops of 2008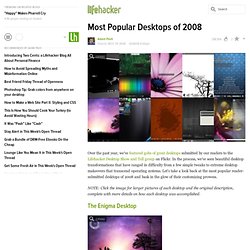 SExpand Sure we like our chocolate bunny ears, but around these parts the best easter eggs aren't painted pink and stuffed with jelly beans—they're the undocumented and unexpected fun features hidden deep inside various software apps. While new software Easter eggs don't come around often, there's still a basket full of classics we love. After the jump, get roundup of our favorite software Easter eggs. 10.
Top 10 Software Easter Eggs Old Laptop Upgrades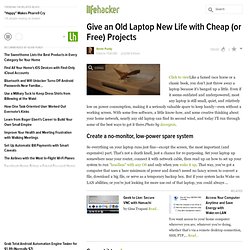 SExpand Click to viewLike a famed race horse or a classic book, you don't just throw away a laptop because it's banged up a little. Even if it seems outdated and underpowered, most any laptop is still small, quiet, and relatively low on power consumption, making it a seriously valuable spare to keep handy—even without a working screen. With some free software, a little know-how, and some creative thinking about your home network, nearly any old laptop can find its second wind, and today I'll run through some of the best ways to get it there.Photo by daveynin. Create a no-monitor, low-power spare system So everything on your laptop runs just fine—except the screen, the most important (and expensive) part.
Help Key: How to Idiot-Proof Your Parents' Computer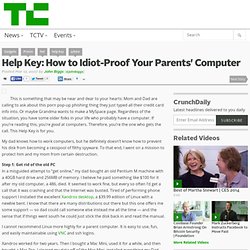 This is something that may be near and dear to your hearts: Mom and Dad are calling to ask about this porn pop-up phishing thing they just typed all their credit card info into. Or maybe Grandma wants to make a MySpace page. Regardless of the situation, you have some older folks in your life who probably have a computer. If you're reading this, you're good at computers.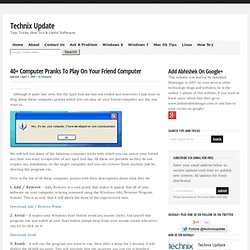 Advertisement Although it quite late now, but the April fool day has not ended and moreover I just want to blog about these computer pranks which you can play on your friend computer any day you want to. We will tell you some of the hilarious computer tricks with which you can annoy your friend any time you want irrespective of any april fool day. All these are portable so they do not require any installation on the target computer and you can remove them anytime just by deleting the program exe.
40+ Computer Pranks To Play On Your Friend Computer
edna -- an MP3 server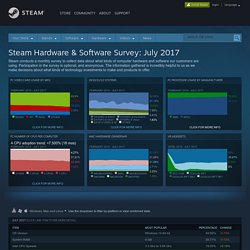 Steam conducts a monthly survey to collect data about what kinds of computer hardware and software our customers are using. Participation in the survey is optional, and anonymous. The information gathered is incredibly helpful to us as we make decisions about what kinds of technology investments to make and products to offer. PC Video card usage by mfg
Steam Hardware & Software Survey
If you use a lot of online services it also means that you have got a lot of passwords and usernames to remember. Aware of this issue, all Internet browsers have got a special feature which, as soon as you login your email account for example, prompt you to save password and username so that, next time you will use the service again, the browser will fill in the login interface for you. However, while the username is fully displayed, the password is hidden by asterisks. Now, if for any reason you don't remember such a password you won't have any way to recover it. Usually, to get it back, you will have to buy a special piece of software.
View topic - OVER 10,000 SERIALS! Part 1/10
Computer Software Reviews