Python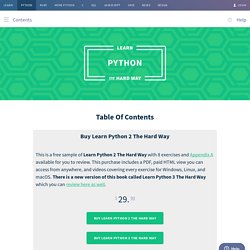 How long does this course take? You should take as long as it takes to get through it, but focus on doing work every day. Some people take about 3 months, others 6 months, and some only a week. I can do it in about 4 hours or less if I hurry and don't do the Study Drills. What kind of computer do I need?
Below is a collection of 10 great Python programming books that are available online in full, completely free of charge: Dive into Python This is a fantastic book that is also available in print . It covers everything, from installing Python and the language's syntax, right up to web services and unit testing. This is a good book to learn from, but it's also excellent to use a reference.
10 Free Python Programming Books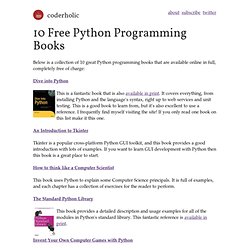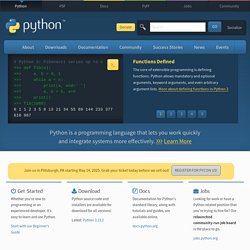 Get Started Whether you're new to programming or an experienced developer, it's easy to learn and use Python. Start with our Beginner's Guide Download
A Python Book: Beginning Python, Advanced Python, and Python Exercises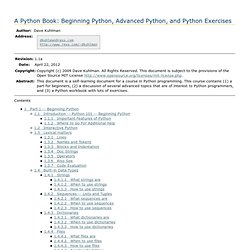 2.2 Regular Expressions For more help on regular expressions, see: 2.2.1 Defining regular expressions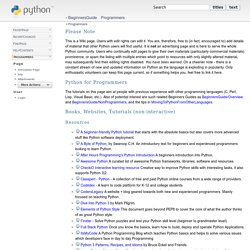 Python for Programmers The tutorials on this page are aimed at people who have previous experience with other programming languages (C, Perl, Lisp, Visual Basic, etc.). Also of potential interest are such related Beginners Guides as BeginnersGuide/Overview and BeginnersGuide/NonProgrammers, and the tips in MovingToPythonFromOtherLanguages. Books, Websites, Tutorials (non-interactive)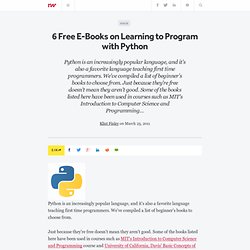 6 Free E-Books on Learning to Program with Python
Python is an increasingly popular language, and it's also a favorite language teaching first time programmers. We've compiled a list of beginner's books to choose from. Just because they're free doesn't mean they aren't good. Some of the books listed here have been used in courses such as MIT's Introduction to Computer Science and Programming course and University of California, Davis' Basic Concepts of Programming course.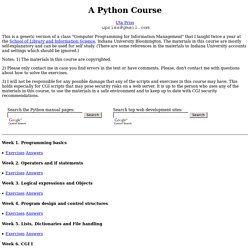 Uta Priss This is a generic version of a class "Computer Programming for Information Management" that I taught twice a year at the School of Library and Information Science, Indiana University Bloomington. The materials in this course are mostly self-explanatory and can be used for self study. (There are some references in the materials to Indiana University accounts and settings which should be ignored.) Notes: 1) The materials in this course are copyrighted.
Audio Podcasts from PyCon 2009 ShowMeDo's Learning Path Tutorials Setting Up Python Beginning Python Programming Intermediate Python Python for Strong Pythonistas Full Projects in Python pyGame for Python Games Python 3.0 Introduction Scientific Python Programming Python GUI Programming Beginner Python Web Programming Beginner Django Programming Python IDEs and Tools New Stuff Create Python GUIs using HTML Online Videos from PyCon 2009 Functional Testing of GUI Applications Metaclasses in Five Minutes Easy AI with Python by Richard Hettinger Generator Tricks for Systems Programmers A Curious Course on Coroutines and Concurrency Monads in Python Python 3.0 Tutorial Short Intro to Python by Alex Martelli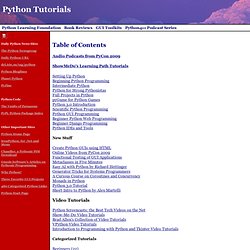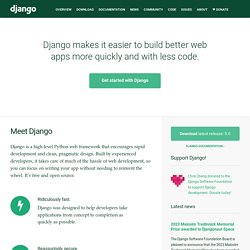 Django is a high-level Python Web framework that encourages rapid development and clean, pragmatic design. Developed by a fast-moving online-news operation, Django was designed to handle two challenges: the intensive deadlines of a newsroom and the stringent requirements of the experienced Web developers who wrote it. It lets you build high-performing, elegant Web applications quickly. Django focuses on automating as much as possible and adhering to the DRY principle. Dive in by reading the overview →