Music
Linkin Park - In The End. Francis Cabrel -Assis sur le rebord du monde. Hindi Zahra - Stand Up. Set me free - Hindi Zahra. Asa - Dreamer Girl. Asa - Fire on the Mountain. Asher Lane - New days. The National and St. Vincent - Sleep All Summer (Crooked Fingers Cover) The Sundays - Wild Horses. Chico Hamilton - Nice Day. Take That - Greatest Day. Maxence Cyrin - Where Is My Mind (The Pixies Piano Cover) Music For A Found Harmonium. Amélie Poulain-Sur le fil. Gustavo Dudamel at the Proms - Arturo Márquez - Danzón Nº 2. Kate nash - Nicest Thing Lyrics. Moombahton! by :Dface. Tonga - 'Iongi Bros - Manatu Ki Polinisia. Two Drum and Bass Songs | Videoclipuri HD si Versuri | TrueMusic.ro. 0 Flares Twitter 0 Facebook 0 Google+ 0 Email 0 Email to a friend Pin It Share 0 0 Flares × Nu mă pot lăuda că sunt un fan vechi al Drum & Bass-ului, dar în acest an, am fost pur şi simplu vrăjit de un număr mare de piese ce aparţin acestui gen muzical.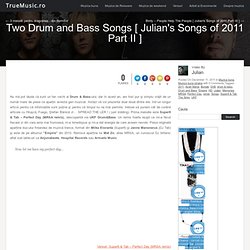 Astăzi vă voi prezenta doar două dintre ele, într-un singur articol pentru că informaţiile sunt puţine şi pentru că timpul nu ne mai permite, trebuie să punem cât de curând articole cu Hruşcă, Fuego, Ştefan Bănică Jr… SPREAD THE LER ! ( just kidding). Prima melodie este Super8 & Tab – Perfect Day (MRSA remix), descoperită via UKF Drum&Bass. Un remix foarte reuşit ce mi-a făcut fiecare zi din vara asta mai frumoasă, m-a binedispus şi mi-a dat energia de care aveam nevoie.
Tipper - Illabye. Dave Brubeck - Take Five. [613] MY FUNNY VALENTINE - JANCSI(JANCY) KOROSSY. Parov Stelar - Silent Snow. MARIA RADUCANU QUARTET, "Cristina", Mezzo Voce. Opis Band &Vox Artis (1) Les Triplettes de Bellevile. Les Ogres de Barback - Au café du canal. Tryo - Cabaret Sauvage - 07 - La misère d'en face.
Oh Land- Wolf & I (Live) Brandon Flowers - Crossfire. Cowboy Bebop AMV - La Découverte by Yann Tiersen. Departures (Soundtrack) - 19 Okuribito (Ending) The Velvet Underground-Sunday Morning. Moshimoss - Slow Days It Was Super. Aaron zigman - main title. Annie Lennox - Why. [OST] Pina - trailer original soundtrack (full length) Thievery Corporation - Sweet Tides. Mujhe Rang De. Hey Bhagwan - The Video. I Am - Horses. Fight Club - Blur - Song 2.
---