Joomla
Travel with Joomla 2.5 Template
Joomla 2.5 is a flexible content management system to create a travel website. There are extensions and components which you can integrate for booking, room reservations. Look-up the Joomla Extension Directory (JED) and customize a bit JA travel template 2.5. Inspire your hotel guests and visitors with your travel website.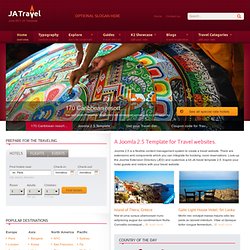 Entertainment Meet David Peterson, who developed Dothraki for Game of Thrones There are seven different words in Dothraki for striking another person with a sword.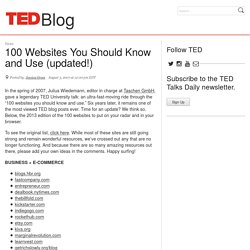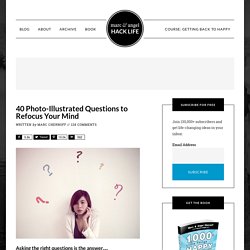 post written by: Marc Chernoff Email Asking the right questions is the answer… It's not the answers you get from others that will help you, but the questions you ask of yourself. Here are 40 thought-provoking questions to help you refresh and refocus your thinking: Please share your thoughts with us in the comments section below.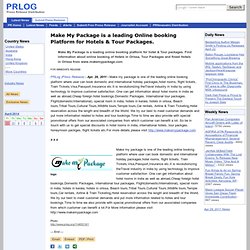 logo PRLog (Press Release) - Apr. 29, 2011 - Make my package is one of the leading online booking platform where user can book domestic and international holiday packages,hotel rooms, flight tickets, Train Tickets,Visa,Passport,Insurance etc.It is revolutionizing theTravel industry in India by using technology to improve customer satisfaction .One can get information about hotel rooms in india as well as abroad,Cheap foreign hotel bookings,Domestic Packages, International tour packages, Flight(domestic/international), special room in india, hotels in kerala, hotels in orissa, Beach tours,Tribal Tours,Cultural Tours,Wildlife tours,Temple tours,Car rentals, Airline & Train Ticketing,Hotel reservation across the length and breadth of the World. We try our best to meet customer demands and put more information related to hotes and tour bookings.Time to time we also provide with special promotional offers from our associated companies from which customer can benefit a lot.
Make My Package is a leading Online booking Platform for Hotels & Tour Packages.
Inc. - Technology Solutions for Travel Suppliers, Travel Agencies and Tour Operators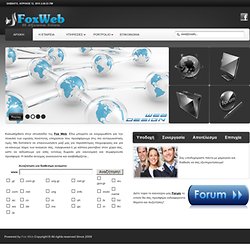 Καλωσήρθατε στην ιστοσελίδα της Fox Web. Εδώ μπορείτε να ενημερωθείτε για την ποικιλία των υψηλής ποιότητας υπηρεσιών που προσφέρουμε στις πιο ανταγωνιστικές τιμές. Μη διστάσετε να επικοινωνήσετε μαζί μας για περισσότερες πληροφορίες και για να κάνουμε λήψη των αναγκών σας, τηλεφωνικά ή με κάποιο ραντεβού στον χώρο σας, ώστε να εκδώσουμε για εσάς εντελώς δωρεάν μία οικονομική και συμφέρουσα προσφορά. Η σελίδα συνεχώς ανανεώνεται και αναβαθμίζεται...
Σχεδιασμός ιστοσελίδων, φιλοξενία ιστοσελίδων, web design, web hosting, Επισκευές - Εμπόριο Η/Υ, Περιφερειακά - Αναλώσιμα, Εμπορικές - Λογιστικές εφαρμογές by Fox Web - Αρχική σελίδα
How to prevent your website from getting hacked. Repair damaged site.
This isn't an attack site... or is it?
Your Membership Information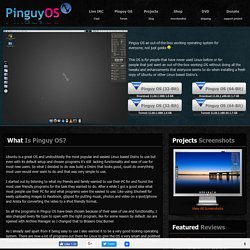 Ubuntu is a great OS and undoubtedly the most popular and easiest Linux based Distro to use but even with its default setup and chosen programs it's still lacking functionality and ease of use for most new users. So what I decided to do was build a Distro that looks good, could do everything most user would ever want to do and that was very simple to use. I started out by listening to what my friends and family wanted to use their PC for and found the most user friendly programs for the task they wanted to do. After a while I got a good idea what most people use their PC for and what programs were the easiest to use. Like using Shotwell for easily uploading images to Facebook, gtkpod for putting music, photos and video on a ipod/iphone and Arista for converting the video to a iPod friendly format.
JA Travel - Best Joomla Travel Template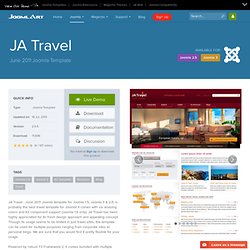 JA Travel - June 2011 Joomla template for Joomla 1.5, Joomla 3 & 2.5, is probably the best travel template for Joomla! It comes with six amazing colors and K2 component support (Joomla 1.5 only). JA Travel has been highly appreciated for its fresh design approach and appealing concept. Though its usage seems to be limited in just travel sites, the template can be used for multiple purposes ranging from corporate sites to personal blogs. We are sure that you would find it pretty flexible for your usage.
S.A.
Entrada has been developed to cover the needs of the industry as it is modulated in the last decades. It is addressed to all the enterprises that want to become competitive in a global environment and to achieve economies of scale and scope in order to reduce transaction costs, increase productivity and gain market power. Entrada is a unique Travel Sales System which enables you to easily manage and promote your own travel services, add more products from other travel providers, expand your sale channels to all Entrada affiliates and increase your bookings instantly without any extra costs!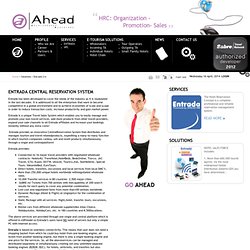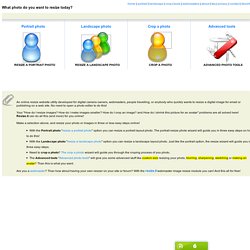 Resize, Shrink, Sketch, Blur, Grayscale and Crop Images or photos online
An online resize website utility developed for digital camera owners, webmasters, people travelling, or anybody who quickly wants to resize a digital image for email or publishing on a web site. No need to open a photo editor to do this! Your "How do I resize images?