Food stuff
Rodale News. Orangette.
Farm-related
The Official Site of Chef Georgia Pellegrini | Food, Travel, Lifestyle, Hunting and Redefining Slow Food. Vanessa Barrington | Writer and Culinary Guide. 18 Reasons | Engaging Our Community Through Food and Art. 101 Cookbooks - Healthy Recipe Journal. Omnivore Books on Food · Events. Author Elizabeth Castoria, the former editorial director of VegNews, offers a useful, friendly introduction to the vegan lifestyle for those who want to dabble or for those already committed to living animal-product-free.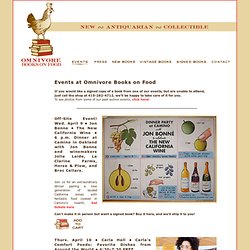 She shows how simple it is to be vegan, from the food (plants, fruits, nuts, and grains all explained) and nutrition (which supplements are needed), to the etiquette (what to do at an omnivore's dinner party), travel (where to find the best vegan airport food in the United States), fashion (there's no need to swear off designer duds), and more. Add this event to your calendar. Can't make it in person but want a signed book?
---