Food stuff
Rodale News
This time last week, I was in a wood stove-heated cottage with no Internet, no telephone, and no television, reading my sixth New Yorker of the day. I am fully caught up with The New Yorker. (!) (!!) Those words may never again be assembled in that order by me, or by anyone, ever. Actually, I should already switch tenses: I was caught up with The New Yorker. Briefly.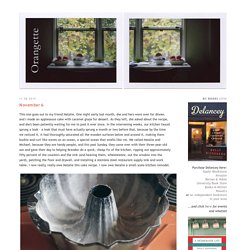 The Official Site of Chef Georgia Pellegrini | Food, Travel, Lifestyle, Hunting and Redefining Slow Food
After a flurry of inspiration and posts over the cooking holidays, I've been remiss about updating my blog lately. But that doesn't mean I haven't been eating (and cooking!), it just means I haven't been cooking anything I'd consider to be necessarily ground-breaking. But yeah, I cook and eat every day, as we all have to do. Here I share a smattering of recipes that indicate the types of dishes I make on regular ole weeknights from common ingredients. The types of dishes that I eat and enjoy thoroughly, but I don't really talk about much.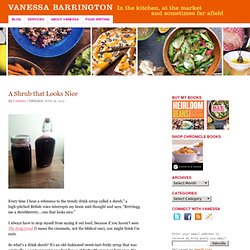 Vanessa Barrington | Writer and Culinary Guide
18 Reasons | Engaging Our Community Through Food and Art
This soup is built on a monster white pepper broth. White pepper with jolts of ginger, and stabs of garlic. I like it just shy of scalding, racing down my throat, sweeping through my sinuses in one boisterous, fragrant swoop. This is a soup I make often, particularly when I need a boost. And, while I float other ingredients in the broth, mostly to make a meal of things, that part of the equation is usually an after thought. For me, this soup is all about the clear strong broth, the invigorating way it makes me feel, and the way it lights up my insides.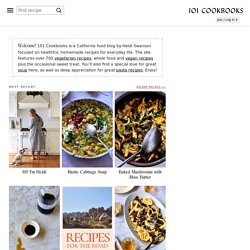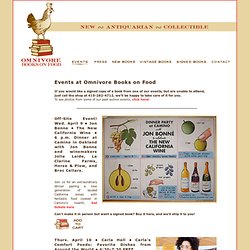 Omnivore Books on Food · Events
Author Elizabeth Castoria, the former editorial director of VegNews, offers a useful, friendly introduction to the vegan lifestyle for those who want to dabble or for those already committed to living animal-product-free. She shows how simple it is to be vegan, from the food (plants, fruits, nuts, and grains all explained) and nutrition (which supplements are needed), to the etiquette (what to do at an omnivore's dinner party), travel (where to find the best vegan airport food in the United States), fashion (there's no need to swear off designer duds), and more. Add this event to your calendar. Can't make it in person but want a signed book?