Second Life
Oculus VR Share (Beta)
03 - Controlando a camera pelos botões de rotação e direcao
02 - Como modificar a qualidade de visualizaçao - qualidade grafica
01 - como entrar em modo avancado
SLOODLE TOUR
Fire Centaur (Paul Preibisch) SLoodle Tour @ SLangauges 2011
warburton.typepad.com/disruptive/documents/SL_handout.pdf
net.educause.edu/ir/library/pdf/ERB0717.pdf
www.abed.org.br/congresso2008/tc/532008123812PM.pdf
net.educause.edu/ir/library/pdf/ERM0850.pdf
Last summer at ISTE 2011 in Philadelphia PA, I was bestowed the title of Lowly High Grand Poohbah of SIGVE. Taking the reigns from Making IT Happen Award Winner and brother by a different mother, Scott Merrick put me in good company, but also gave be me a pair of shoes that were much too big for me. So my goals were to keep it simple: Keep the great format that Scott and the Grand Poohbah's before me had laid out and just let the train keep on rolling.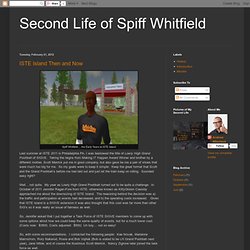 Second Life of Spiff Whitfield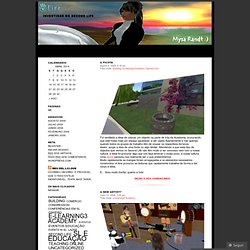 A Picota Foi ventilada a ideia de colocar um objecto na parte de trás da Academia, procurando que este fosse mais um espaço agradável, a ser usado fluentemente e não apenas quando todos os grupos de trabalho têm de ocupar os respectivos terrenos. Assim, surgiu a idea de uma fonte ou algo similar. Atendendo a que esse tipo de objectos que vemos no Second Life não têm muito a ver connosco nem com a nossa cultura, a ideia foi procurar algo que nos faça lembrar o nosso povo, a nossa cultura. Uma picota pareceu-nos realmente ser o que pretendíamos. Muito rapidamente as mangas foram arregaçadas e os elementos necessários construídos.
Mysa Randt « Investigar no Second Life
Home - Learning in 3D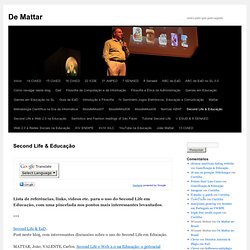 Second Life & Educação
Lista de referências, links, vídeos etc. para o uso do Second Life em Educação, com uma pincelada nos pontos mais interessantes levantados. Second Life & EaD. Post neste blog, com interessantes discussões sobre o uso do Second Life em Educação. MATTAR, João; VALENTE, Carlos. Second Life e Web 2.0 na Educação: o potencial revolucionário das novas tecnologias.
SL Roundtable Transcripts
This site provides links to transcripts of the weekly meeting of the SL Education Roundtable. All transcripts will open in a new tab or window. Questions or Corrections? Contact Joe Essid, University of Richmond, at: iggyo -at- gmail -dot- com or in-world: Ignatius Onomatopoeia Back to Virtual Worlds Education Main Page