Second Life
Oculus VR Share (Beta)
03 - Controlando a camera pelos botões de rotação e direcao
02 - Como modificar a qualidade de visualizaçao - qualidade grafica
01 - como entrar em modo avancado
SLOODLE TOUR
Fire Centaur (Paul Preibisch) SLoodle Tour @ SLangauges 2011
warburton.typepad.com/disruptive/documents/SL_handout.pdf
net.educause.edu/ir/library/pdf/ERB0717.pdf
www.abed.org.br/congresso2008/tc/532008123812PM.pdf
net.educause.edu/ir/library/pdf/ERM0850.pdf
Second Life of Spiff Whitfield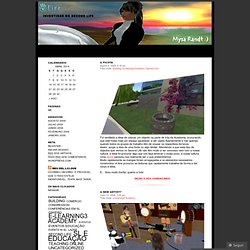 A Picota Foi ventilada a ideia de colocar um objecto na parte de trás da Academia, procurando que este fosse mais um espaço agradável, a ser usado fluentemente e não apenas quando todos os grupos de trabalho têm de ocupar os respectivos terrenos.
Mysa Randt « Investigar no Second Life
Home - Learning in 3D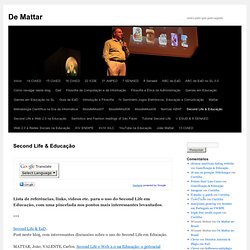 Second Life & Educação
Lista de referências, links, vídeos etc. para o uso do Second Life em Educação, com uma pincelada nos pontos mais interessantes levantados.
SL Roundtable Transcripts
This site provides links to transcripts of the weekly meeting of the SL Education Roundtable.