Foires
Welcome to VIENNAFAIR The New ContemporaryVIENNAFAIR The New Contemporary is the most important international platform for contemporary art originating from Central, Eastern and South-eastern Europe. In recent years, it has been established as an incomparable springboard for galleries and artists, with the exciting space it creates for thought-provoking dialogue and events. With its location in Vienna, VIENNAFAIR The New Contemporary has become an attractive meeting point for visitors, artists, curators, collectors and buyers, and it is also now a fixed date in the international schedule of important art fairs.
VIENNAFAIR 2012 - Internationale Messe für zeitgenössische Kunst mit Fokus Zentral- und Osteuropa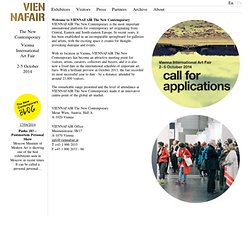 PULSE Contemporary Art Fair - New York ~ Miami ~ Los Angeles
Dublin Contemporary 2011 - Welcome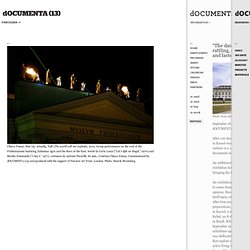 September 16, 2012 marked the final day of the dOCUMENTA (13) exhibition. After 100 days open to the public the total number of visitors in Kassel was 905,000, amounting to 110,000 additional visitors or a 14% increase from the previous edition of documenta in 2007. An additional 27,000 people visited the dOCUMENTA(13) exhibition held in Kabul from June 20 to July 19, 2012, bringing the total number of visitors to 887,000. An exhibition is an unfolding organism, like a vegetable bud. It comes from intuitions, then it forms an instinct, then an opinion, then a knowledge; like a plant—which contains in itself many other living entities—it has roots, buds and fruit.
Fiera Internazionale di Arte Contemporanea - Arte Fiera 2012
Conversazione e visita guidata alla mostra Il Piedistallo vuoto sabato 8 marzo, ore 11 presso il Museo Civico Archeologico Arte Fiera 2014: un successo, sfiorate le 50mila presenze Vincente la scelta di aprire all''800 e alla fotografia; boom di visite e fan su web e social Il vincitore di Academy Now La giuria ha nominato vincitrice della prima edizione l'artista turca Fatma Bucak per il video 'Blessed Are You Who Come'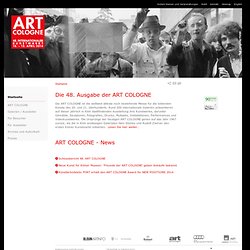 Die ART COLOGNE ist die weltweit älteste noch bestehende Messe für die bildenden Künste des 20. und 21. Jahrhunderts. Rund 200 internationale Galerien präsentieren auf dieser jährlich in Köln stattfindenden Ausstellung ihre Kunstwerke, darunter Gemälde, Skulpturen, Fotografien, Drucke, Multiples, Installationen, Performances und Videokunstwerke. Die Ursprünge der heutigen ART COLOGNE gehen auf das Jahr 1967 zurück, als die in Köln ansässigen Galeristen Hein Stünke und Rudolf Zwirner den ersten Kölner Kunstmarkt initiierten.
Home
Art Amsterdam 2011 | Home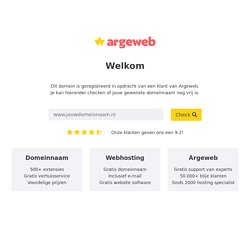 Art Amsterdam ondergaat een metamorfose. De kunstbeurs wordt in 2012 exclusiever en compacter. Art Amsterdam 2012 wordt van 20 tot en met 23 september gehouden.
The Armory Show - Home
Art Paris Art Fair 2012
Art-Brussels
SHOW OFF PARIS foire d'art contemporain / SHOW OFF ART FAIR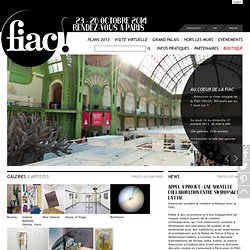 Swarovski soutient la création artistique avec la FIAC. Fidèle à ses convictions et à son engagement de chaque instant auprès de la création contemporaine, qui l'ont notamment conduite à développer des opérations de soutien et de partenariat avec des institutions aussi importantes et prestigieuses que le Palais de Tokyo à Paris, la Whitechapel Gallery à Londres ou la Biennale d'architecture de Venise, entre autres, la maison Swarovski s'implique plus avant dans le domaine des arts visuels en s'associant à Paris avec la FIAC (Foire Internationale d'Art Contemporain) et son parcours Hors les Murs.