Books
On this site you can read and download free books online in pdf format. It's database covers an extensive array of pdf books in different languages that describe all types of subjects and topics. For those who're looking for free e books online, this site has made it easier for readers to search for what they want, through their built-in search engine and the additional filters. After typing the search engine keywords, you can also filter the size of the downloadable book, the page count and the language so they can trim down the results to fit what they're actually looking for.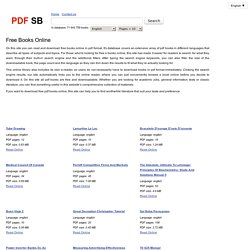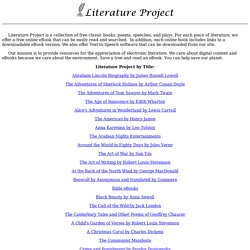 Literature Project is a collection of free classic books, poems, speeches, and plays. For each piece of literature, we offer a free online eBook that can be easily read and searched. In addition, each online book includes links to a downloadable eBook version. We also offer Text-to-Speech software that can be downloaded from our site. Our mission is to provide resources for the appreciation of electronic literature.
Products tagged with dark complex epic fantasy
The Second Pass
Monday, November 28th, 2011 Programming Note The Second Pass is on hiatus at the moment. When and how it will return is up in the air, but I've started a very exciting new job as the web producer for the books section of the New York Times.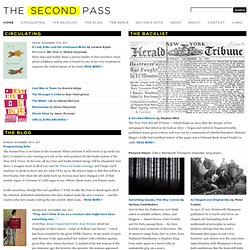 Even Unto the Fourth Generation: On "Semantic Polarities and Psychopathologies in the Family: Permitted and Forbidden Stories" by Valeria Ugazio The phrase "semantic polarities" could be profitably switched out for the drama of becoming, because this is what Ugazio describes. Everyone wants not only to acquire certain material or sensual benefits but also to become the sort of person who would acquire these benefits, and to be seen as this precise sort of person in the eyes of others. An apartment in a rich neighborhood, an enviable spouse, a job conferring high income and prestige -- all of these are in a sense only decoration, or the material manifestation of the metaphysical desideratum -- to become a "winner" in life.