OpenCourseWare
Educators Can Save Time When They Stop Reinventing the Wheel with OER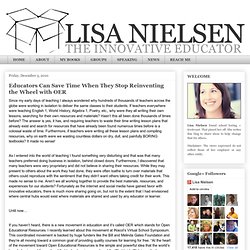 Since my early days of teaching I always wondered why hundreds of thousands of teachers across the globe were working in isolation to deliver the same classes to their students. If teachers everywhere were teaching English 1, World History, Algebra 1, Poetry, etc., why were they all writing their own lessons, searching for their own resources and materials? Hasn't this all been done thousands of times before? The answer is yes, it has, and requiring teachers to waste their time writing lesson plans that already exist and search for resources that have already been found numerous times before is a colossal waste of time.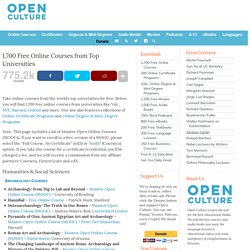 Get free online courses from the world's leading universities – Stanford, Yale, MIT, Harvard, Berkeley, Oxford and more. This collection includes over 875 free courses in the liberal arts and sciences. You can download these audio & video courses (often from iTunes, YouTube, or university web sites) straight to your computer or mp3 player. Over 30,000 hours of free audio & video lectures, await you now. Humanities & Social Sciences Art & Art History Courses
Learning Technology & Software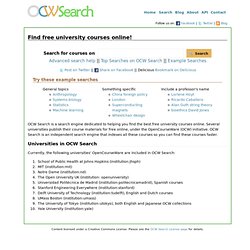 OCW Search is a search engine dedicated to helping you find the best free university courses online. Several universities publish their course materials for free online, under the OpenCourseWare (OCW) initiative. OCW Search is an independent search engine that indexes all these courses so you can find these courses faster. Currently, the following universities' OpenCourseWare are included in OCW Search: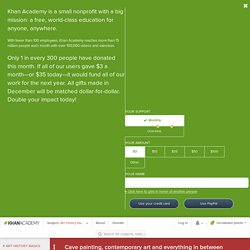 Are you an art historian, archaeologist or conservator? Look at a Trello Board of most needed content and "claim" an essay to write! If something important is missing, let us know. Contact us to be added to the Trello Board: beth[at }khanacademy.org or steven[at ]khanacademy.org. We anticipate more than two million visitors from around the globe for the fall 2013 semester. Let's make sure strong, global art history content is freely available to students everywhere!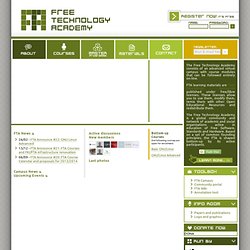 FTA - Main page | FTA - Free Technology Academy
The Free Technology Academy consists of an advanced virtual campus with course modules that can be followed entirely on-line. FTA learning materials are Free Educational Resources published under free/libre licenses. These licenses allow you to use them, modify them, remix them with other Open Educational Resources and redistribute them. The Free Technology Academy is a global community and network of academic and social organisations active in education of Free Software, Standards and Hardware. Based on a set of common founding principles, the FTA is shaped bottom-up by its active participants.
NIXTY - Empowering Education for Everyone
June Ahn Research Partner June is a human computer interaction researcher at University of Maryland. He was brave enough to get involved with this crowd and is helping us make all our data available to everyone. John Britton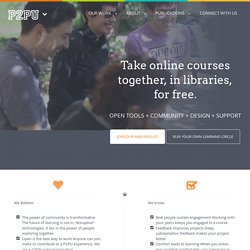 OER Commons