Recetas
Receta de flan de manzana. Hoy tenemos un postre que resulta ser ideal para esta época.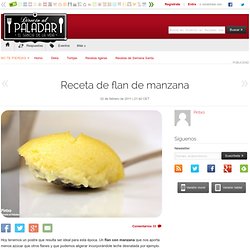 Un flan con manzana que nos aporta menos azúcar que otros flanes y que podemos aligerar incorporándole leche desnatada por ejemplo. Además podemos sustituir el azúcar por la misma cantidad de un vino dulce, como por ejemplo un moscatel. Después de cocinarlas el nivel de alcochol se habrá reducido considerablemente. In the kitchen with: best of dessert. While reading through Jo Metcalf Scott & Co.'s sneak peek on Monday, I was delighted to discover a link to her flat mate's friend's cake business, Rhubarb and Rose.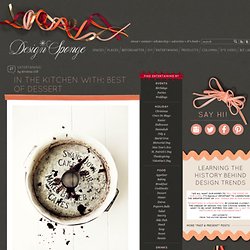 Normally, I don't need any encouragement to go out and seek great cake, but something about this cake and the happy mom-to-be just made me so happy, I have been thinking about cake non-stop. I thought it would be a great chance to highlight some of the most popular cakes featured on the In the Kitchen With column over the past few years. I've had the chance to make and eat most of these, and they are really really really fantastic. Thanks to the many talented people who have shared their recipes with us. In the kitchen with: julia vandenoever's fudge brownies with chocolate frosting. Brownies were one of the first desserts I learned to make using the recipe from the Hershey's Cocoa label.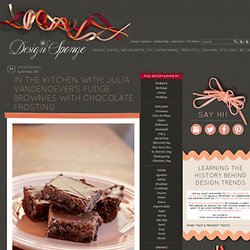 SOOOOO good. I am tempted to say they are foolproof, but they really aren't. In the kitchen with: the best of winter baking. I'm still craving sweets, and it's still cold out, so I thought this would be the perfect week for a "best sweets" round up from our archives.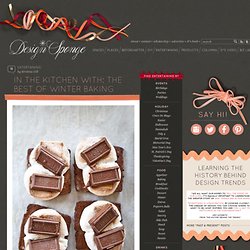 These recipes are perfect for curling up with something or someone warm! Now that Design*Sponge has a Pinterest page, I've created an In the Kitchen With pinboard for a quick and visual way to find the recipes in our archives. Keep warm! In the kitchen with: patricia scarpin's brazilian carrot cake. Carrot cake is one of those desserts that I am always tempted to try wherever I see it on the menu.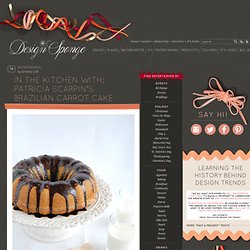 I'm always on the hunt for the perfect recipe, and I've already found a couple, from Saveur and from Marcel Desaulniers (the "24″ carrot cake that doesn't turn dark!). This week, Brazilian food blogger Patricia Scarpin shares her nearest and dearest recipe for a moist Brazilian Carrot Cake with a twist! It is reminiscent of the wonderful cakes in Harry Eastwood's Red Velvet & Chocolate Heartache, which use vegetables for moisture and sweetness. In the kitchen with: lindsey and chloe's winter cookies. I'll confess, I've been listening to Christmas music since July ("Baby, It's Cold Outside," sung by Johnny Mercer and Margaret Whiting, is on now), and I'm about to watch Love Actually to officially kick off the Christmas month.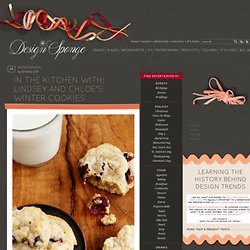 I'm not sure I actually like Christmas, but I like the music, sappy movies and, of course, the sweets! After last week's eggnog, I thought a cookie recipe that you could use for holiday parties would be good. This recipe for White Chocolate, Cranberry and Almond Cookies is by the Paris-based American cookie company, Lola's Cookies, run by Lindsey Tramuta and Chloe Hayim. My husband was already asking for more after he finished the first batch in two days, so the oven is warming for a second batch. I'm sure your friends and family will have the same reaction! In the kitchen with: amanda hesser. I live in Italy.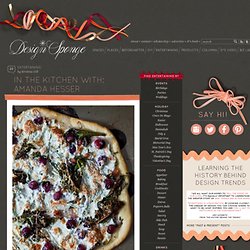 I love pizza. I don't know if one has anything to do with the other, but both are true! I've been thinking about a pizza recipe for the column ever since mud australia explained how they actually bake their pizzas on mud dinner plates. However, this week's guest beat me to the punch. In the kitchen with: coffee-flavoured cake. My former boss was from Adelaide, and she looovveed to cook, bake and try new restaurants.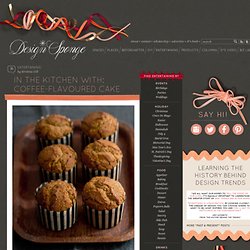 She knew I did, too, so she always shared typical Australian things with me, like the Green and Gold Cookery Book, or the book that this week's recipe came from, the South Australian Country Women's Association Calendar of Cakes: A Cake a Day for 365 Days. And I shared things with her, like Junior League Cookbooks from regions of the US with very typical cuisines (like New England, the West, Texas, the South).
We had a bit of a recipe swap going on when she was my boss. This week's recipe is a bit of a cheat because it is the recipe for November 4th, instead of the November 11th recipe; however, the November 11th recipe required a cup of yeast, and I don't know where to get that. So we must thank Mrs. In the kitchen with: johnny battles' trio of truffles. I can't decide which was more fun this week: making the truffles or corresponding with Eric "Johnny" Battles, chocolatier and founder of Sweeteeth in North Charleston, South Carolina.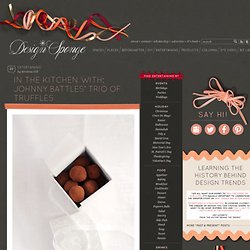 I was so curious when Johnny offered a series of flavors, none of which I had ever considered pairing with chocolate. As luck would have it, Grace, Amy and I all chose the same three flavors from Johnny's list, and that's what we're bringing to you this week, a trio of truffles: Rosemary and Vanilla Bean, Star Anise and Rose-Peppercorn, and Toasted Coriander Truffles. I thought featuring something easy and unique that could function as a gift would be great.
An assortment of truffles is what my husband plans to give his family members . . . if he doesn't eat them all first. Cinnamon and white chocolate soufflé. If you guys learn one thing from this blog, I want it to be this: Soufflés are not hard!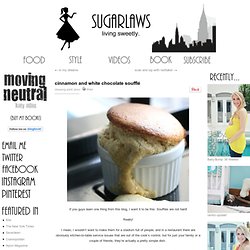 Really! I mean, I wouldn't want to make them for a stadium full of people, and in a restaurant there are obviously kitchen-to-table service issues that are out of the cook's control, but for just your family or a couple of friends, they're actually a pretty simple dish. And holy cow, just wait until you see your guests' faces when you whip up one of these babies! Or one of these, or these, or these! Sesame shrimp skewers. I hope that each and every one of you have a bottle of sesame oil in your kitchen. In everything from stir-fry to cookies, it's an incredibly delicious, unique flavor. I used to go to Chinatown in New York for $2 bottles, but by now, they're readily available at any good grocery store. These are literally a five-minute dish — I bought the shrimp raw and already skewered, and just marinated them for about twenty minutes before cooking.
These can be sauteed for barely three minutes, total, flipping once, so you can't really get much more low-maintenance than that. For a quick weeknight dinner over some rice or a salad, or just on their own as a low-carb snack. The Manwich. There are some days where you just want something mean. Something rough, tough & utterly satisfying. Say hello to The Manwich. Man.wich - Noun: Two large hunks of crusty bread, surrounding gooey melting cheese, thick juicy steak, peppery rocket & lashings of mustard. Eaten with two hands. Not to be shared.
MarsBar Melts. There are two reasons you'll fall in love with these MarsBar Melts 1. They only need 4 ingredients 2. They only take 7mins to bake Fast, fabulous & utterly filthy! Hot & Melty Baked Camembert. Recipes» Hot & Melty Baked Camembert Trust me when I say, there is nothing more decadent than this spicy, sweet, salty, smokey, wooden box of gooey goodness.It's one of the easiest starters you will ever make, and I guarantee you will be greeted with oohs and aahhs as you place it on the table, followed by a satisfied silence as your guest(s) tuck in.
Serve with crusty bread & really great wine for the ultimate winter treat. Yes, a melted cheese GIF! You are welcome. Fat Free Shrimp Salsa. This is one of my all time favourite dips. Whenever the girls come over for a movie session it's first on their list of requests (the second is anything featuring Ryan Gosling, but come on... he is a dream boat). It's jam packed with flavour, but only has around 100 calories per serving. The boys love it too because it's salty, spicy & tastes like something you'd have on a beach in Mexico. Epic Fish Tacos. Story Deli, Shoreditch. Red, White & Blueberry. Something for the weekend. Oh, you tart! Cookstr. Punchfork - The best new recipes from top food sites - StumbleUpon.
---