ThinkFood
Gourmet Fury | Food, Travel, Recipe Blog in Vancouver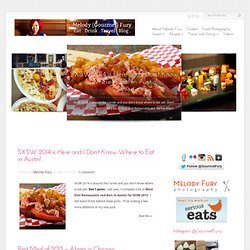 SXSW 2014 is Here and I Don't Know Where to Eat in Austin! SXSW 2014 is around the corner and you don't know where to eat yet! Don't panic. Last year, I compiled a list of Must Visit Restaurants and Bars in Austin for SXSW 2013.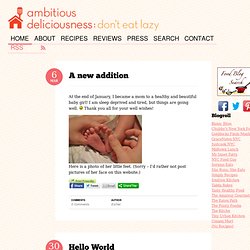 Is it just me, or does Mother's Day seem like a bigger deal than Father's Day? I think both parents are equally important in a child's life, and dads deserve a lot of credit as well. In honor of Father's Day, I'm partnering with Oreo to give a lucky reader a care package! As a young girl, I lived in Korea with my mom and sister, while my dad lived in New York. I don't remember a lot, but I do remember being obsessed with Oreo cookies. I think came to associate Oreos with my dad, since he brought Oreos as treats for us.
Ambitious Delicious(ness)
Anne's Food
It was a cold, windy Sunday afternoon. We were all, more or less, bored. Husband was engrossed in some sort of online game, all I really wanted was to watch the latest episode of Pretty Little Liars, and the kids.. well, they just wanted to do something. Ideally something involving something sweet to eat, and/or making a mess.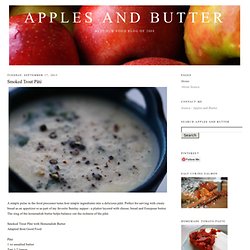 Well hello there. So. It's been more than a little while since I last posted. 10 months to be exact.
Apples and Butter
the arugula files
Much like that Jean Claude Van Damme video, this roast chicken will blow your mind. This was my first roast chicken and it was the easiest piece of meat I've ever cooked. How did I do it? I followed most of Thomas Keller's instructions, taking the chicken out of the plastic, washing and patting it dry, and letting it sit in my refrigerator for a day in a half (this drys out the skin a bit).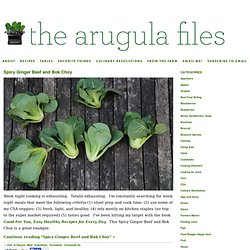 Best Fruit Now | Become a smarter fruit shopper!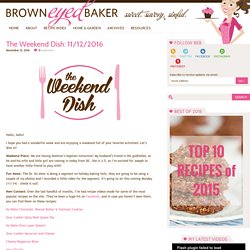 Happy Saturday! I hope you had a fabulous week and are ready to enjoy some relaxing down time. We have some car shopping planned for today, and tomorrow I have a baby shower for an old friend. It's been so long since I've been to a shower, I don't know what to do with myself! The weather should be pretty nice here, so I might be able to bust out a cute spring dress! As always, you'll find a recap of what was posted to the site this week as well as some bookmarked recipes from other blogs.
Brown Eyed Baker | Sweet. Savory. Sinful.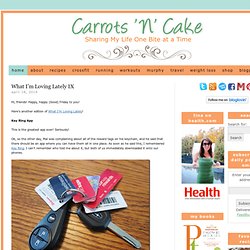 Hi, friends! Happy, happy (Good) Friday to you! Here's another edition of What I'm Loving Lately! Key Ring App
Carrots 'N' Cake - A Blog Devoted to a Healthy Balance
Sometimes, I struggle with the desire for a Sunday-worthy meal on a busy weeknight. A classic roast chicken, for example, is something I crave time and time again. To be honest, what I really crave are the 'rotisseries' I grew up eating in Paris. Chickens are roasted whole on large metal rods, and gently turn as the skin gets crispy and the meat stays nice and juicy, The fat from the chicken drips down and most butchers cook potatoes -- and sometimes lardons (strips of bacony goodness) -- under the roasting chickens so they get flavoured while they cook.
Chocolate Shavings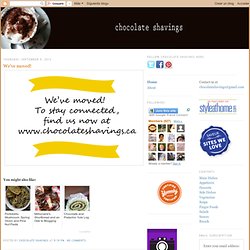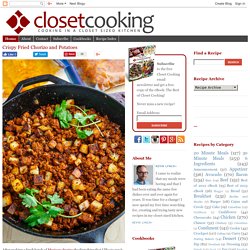 At the end of March I had the pleasure of being flown out to Ventura California to tour a strawberry field by the California Strawberries to learn more about California strawberries! Strawberries are one of my favourite foods so it was a thrill to be able to visit a strawberry farm! Although strawberries are grown year round in California I tend to see them as one of the first signs of spring and they are at their peak during spring. Given that it was still snowing here in Toronto the day before I left, I was pleased to see a warm sunny day in California and to be able to tour a strawberry farm while snacking on as many strawberries as I could eat!
Closet Cooking
Cooking with Amy: A Food Blog
Daily Unadventures in Cooking
Pretend your ass is glued to the desk chair. Decide you need some coffee. Talk yourself out of coffee. Find a Post-It you wrote a few weeks back that says "I am my varicose veins. I am my thrashed breasts."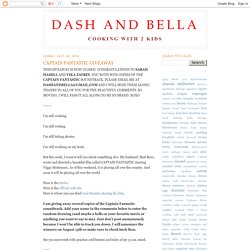 dash and bella
Dixie Caviar — Country chic cookin'
First and foremost, let me just start by saying this coconut cake is my masterpiece . But it didn't come easy. What you see here took lots (and lots) of licked fingers, too many slices to count, and a few more tears than I'd like to admit.
Eclectic Recipes
Today is Bengali New Year. A new beginning. Wishing everyone a wonderful year ahead, filled with happiness, calm and peace. Continue reading Shubho Noboborsho!… April brings showers, but in my heart, April also brings in sweet nostalgia of Poila Boishak or Bengali New Year.
The Recipe Blog
Every time I make a stuffed mushroom recipe, I have to research the correct spelling – portobello or portabella. Have you ever Googled this topic? It's more debated than most health information.
Fake Food Free
Food Blogga
The other day at Sprouts, a local grocery store, a woman saw me selecting baby eggplant. She asked, "Do you like those?" "Oh, I adore them," I said. "They're much sweeter and more tender than large eggplants."
Food Loves Writing
For the love of cooking
Greedy Gourmet - food blog, home cooking recipes of internationa
Wild Yeast
Hangry Pants
tastes like home
The Healthy Everythingtarian
Healthy Meals and food for Healthy Kids
Herbivoracious - Vegetarian Recipe Blog With A Fine Dining Twist
casual dining, cooking, travelling & unbottled banter | The Suga
Katiecakes
stonesoup
Welcome - La Note Restaurant
A Southern Fairytale — Where Food and Family Come Together
Laurel On Health Food | Health Food, Healthy Eating, and Nutriti
shelterrific
The Left Over Queen
Seriously Good
Lisa's Kitchen | Vegetarian Recipes | Cooking Hints | Food & Nut
Sassy Radish
— Local Appetite
Pink Bites
Project Foodie
Healthy. Happy. Life.
off the (meat)hook ::: lifestyles of the carnivorous and fabulou
Off The Broiler
My Cooking Hut | Asian & French Recipes
The Way the Cookie Crumbles...
My Sweet Vegan by Hannah Kaminsky - passionate about dessert
napa farmhouse 1885™