Big data
Real-Time Analytics Platform | Big Data Analytics | MPP Data Warehouse. Exadata | Database. Oracle Exadata Database Machine X4-2 The Oracle Exadata Database Machine X4-2 ccomes in eighth, quarter, half, and full rack configurations to meet varying application requirements and to enable you to easily scale as your requirements change.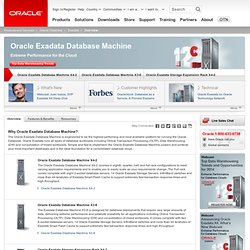 The Full rack comes complete with eight 2-socket database servers, 14 Oracle Exadata Storage Servers, InfiniBand switches and more than 44 terabytes of Exadata Smart Flash Cache to support extremely fast transaction response times and high throughput. NetWeaver Business Warehouse Accelerator. Data Warehouse Appliance, Data Warehouse Appliances, and Data Warehousing from Netezza. SQL Server 2008 R2 Parallel Data Warehouse. Capabilities Built for Big Data with PolyBase PolyBase provides a fundamental breakthrough in data processing by enabling integration between traditional data warehouses and "Big Data" deployments.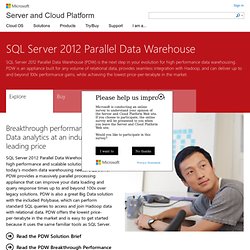 Standard SQL queries (instead of MapReduce) to access and join Hadoop data with relational dataQuery Hadoop data without IT having to pre-load data first into the warehouseNative Microsoft business intelligence integration allowing analysis of relational and non-relational data with familiar tools like ExcelRead the SQL Server 2012 PDW Solution Brief Next-generation performance at scale. Data Appliance, Data Warehouse, Business Intelligence –Teradata. JavaScript support is required for a full-featured experience on the Teradata website.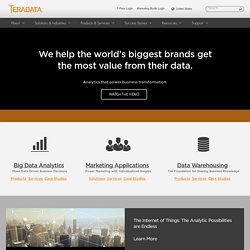 Announcing unprecedented technologyInnovation and new data analytics power Learn More Teradata financial services solutions allow you to know more and do more. Win big through greatermarketing efficiency, reduced attrition, and customer engagement. In an evolving dataeconomy, Teradata is a Market leader. Network Storage, Data Recovery, Information Management. Automate Networker backup from linux client I am trying to script a networker backup that will run from client side when disk mount reaches 90% then delete the ...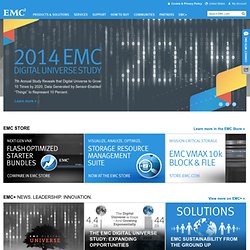 April 18, 2014. Alex Hamwey. Rick Schreiber. Greenplum: Driving The Future Of Data Warehousing And Analytics.
---