They changed the web
Their creations have radically changed how we use the web, so they deserve a pearltree :)
You'll find here some info about these great people who have had a great impact on the web.
Zuckerberg. Jimmy Wales. Christopher 'moot' Poole. Aaron Swartz. BitTorrent Turns 10: Happy Birthday! When Bram Cohen first revealed BitTorrent on a public message board on July 2nd 2001, he never imagined it would quickly become one of the main generators of Internet traffic.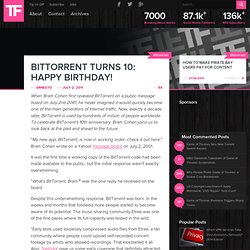 Now, exactly a decade later, BitTorrent is used by hundreds of million of people worldwide. To celebrate BitTorrent's 10th anniversary, Bram Cohen joins us to look back at the past and ahead to the future. "My new app, BitTorrent, is now in working order, check it out here," Bram Cohen wrote on a Yahoo! Message board on July 2, 2001. It was the first time a working copy of the BitTorrent code had been made available to the public, but the initial response wasn't exactly overwhelming. The Pirate Bay Will Stop Serving Torrents. In a month The Pirate Bay will no longer offer downloads of .torrent files.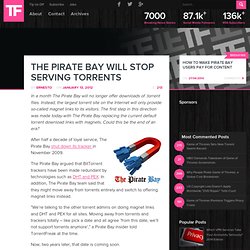 Instead, the largest torrent site on the Internet will only provide so-called magnet links to its visitors. The first step in this direction was made today with The Pirate Bay replacing the current default torrent download links with magnets. Could this be the end of an era? After half a decade of loyal service, The Pirate Bay shut down its tracker in November 2009. The Pirate Bay, Now Without Torrents. Today marks the end of an era for The Pirate Bay.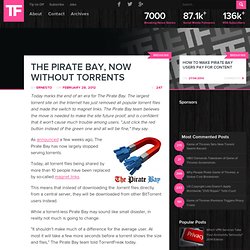 The largest torrent site on the Internet has just removed all popular torrent files and made the switch to magnet links. The Pirate Bay team believes the move is needed to make the site future proof, and is confident that it won't cause much trouble among users. "Just click the red button instead of the green one and all will be fine," they say. As announced a few weeks ago, The Pirate Bay has now largely stopped serving torrents.
---
kapfija Apr 18 2012

Thank you very much for your Comment. At the moment I discover here everything on Pearl I love it. And your Pearls are interresting to^^
---