Scrubs
Scrubs - Touchstone TV's Official Site. Scrubs wikipedia. "Scrubs" (2001) Scrubs - Home. "The View," recipient of the 2003 Daytime Emmy® Award for "Outstanding Talk Show," is ABC Daytime's morning chatfest, featuring a team of dynamic women of different ages, experiences and backgrounds discussing the most exciting events of the day.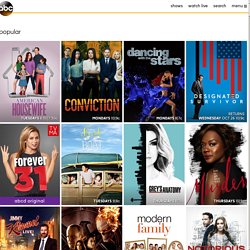 The program has received critical acclaim since premiering August 11, 1997. It's broadcast live weekdays from New York City (11:00 a.m.-12:00 noon, ET; CLOSED-CAPTIONED; broadcast in stereo; TV-14). "The View" features Barbara Walters, Whoopi Goldberg, Sherri Shepherd and Jenny McCarthy. "The View" consists of hot topics in the news, the best experts in their field, celebrity interviews and general entertainment. The program is now in its 17th season on ABC.
Best moments. Scrubs' characters.
---