Facebook & Privacy
Privacy, Free Expression And The Facebook Standard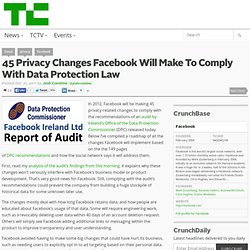 In 2012, Facebook will be making 45 privacy-related changes to comply with the recommendations of an audit by Ireland's Office of the Data Protection Commissioner (DPC) released today. Below I've compiled a roadmap of all the changes Facebook will implement based on the the 149 pages of DPC recommendations and how the social network says it will address them. First, read my analysis of the audit's findings from this morning.
45 Privacy Changes Facebook Will Make To Comply With Data Protection Law
How FB is Redefining Privacy
By Jon Swartz, USA TODAY SAN FRANCISCO — Just as it seeks to influence lawmaking in Washington, Facebook has moved into California's state capital to protect its interests. And despite hiring its first lobbyist in Sacramento only seven months ago, Facebook already has flexed its muscle there. The company spent more than $6,600 lobbying California officials to kill a proposed Social Networking Privacy Act, which would impose civil penalties on social networks displaying home addresses and phone numbers of users under 18 years old, according to disclosures filed with the California secretary of State. The bill was introduced by Sen.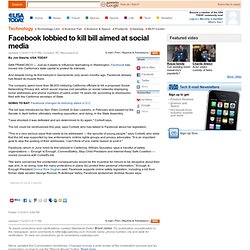 Facebook lobbied to kill bill aimed at social media
The Apologies of Zuckerberg: A Restrospective - Liz Gannes - Social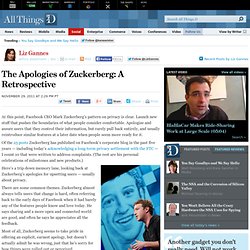 At this point, Facebook CEO Mark Zuckerberg's pattern on privacy is clear. Launch new stuff that pushes the boundaries of what people consider comfortable. Apologize and assure users that they control their information, but rarely pull back entirely, and usually reintroduce similar features at a later date when people seem more ready for it. Of the 25 posts Zuckerberg has published on Facebook's corporate blog in the past five years — including today's acknowledging a long-term privacy settlement with the FTC — I count 10 that were written to address complaints.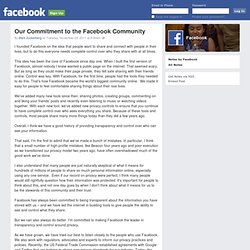 Our Commitment to the Facebook Community
I founded Facebook on the idea that people want to share and connect with people in their lives, but to do this everyone needs complete control over who they share with at all times. This idea has been the core of Facebook since day one. When I built the first version of Facebook, almost nobody I knew wanted a public page on the internet. That seemed scary. But as long as they could make their page private, they felt safe sharing with their friends online. Control was key.