Christopher 'moot' Poole
Christopher Poole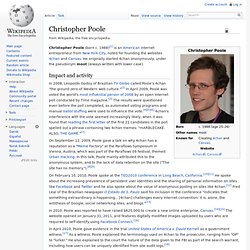 Christopher Poole (born c. 1988)[1] is an American internet entrepreneur from New York City, noted for founding the websites 4chan and Canvas.
4chan is an English-language imageboard website.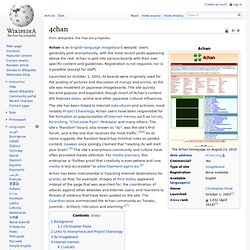 2009 - The World's Most Influential Person Is...
In a stunning result, the winner of the third annual TIME 100 poll and new owner of the title World's Most Influential Person is moot. The 21-year-old college student and founder of the online community 4chan.org, whose real name is Christopher Poole, received 16,794,368 votes and an average influence rating of 90 (out of a possible 100) to handily beat the likes of Barack Obama, Vladimir Putin and Oprah Winfrey. To put the magnitude of the upset in perspective, it's worth noting that everyone moot beat out actually has a job. Since moot launched 4chan.org in 2003, the site has given birth to Internet memes as diverse as Lolcats and Rickrolling. 4chan averages 13 million page views a day and 5.6 million visitors a month; by some estimates it is the second largest bulletin board in the world.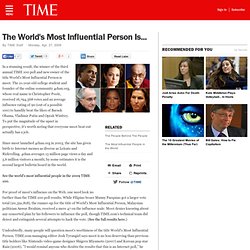 The hackers of 4Chan have succeeded in completely gaming Time Magazine's online poll for its Time 100 list of the most influential people on the planet.
Time Magazine Throws Up Its Hands As It Gets Pwned By 4Chan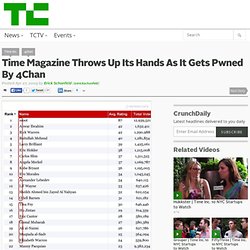 Even if you've never clicked on 4chan, you've felt its influence— LOLcats, FAIL blog, and Rickrolling are just a few of the Internet memes that incubated there. Yet visiting 4chan—especially the site's most-active board, /b/ —can be a little offputting.
4chanomics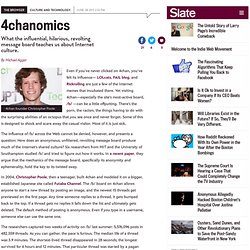 Christopher "moot" Poole: The case for anonymity online
4chan founder Christopher "moot" Poole goes legit with Canvas, his new venture-backed image site.Photo: Jon Snyder/Wired.com AUSTIN, Texas — If anyone knows social networking, it is Christopher Poole.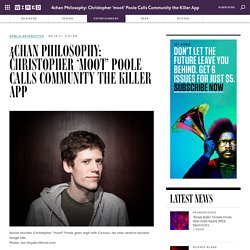 4chan Philosophy: Christopher 'moot' Poole Calls Community the Killer App