Christopher 'moot' Poole
Christopher Poole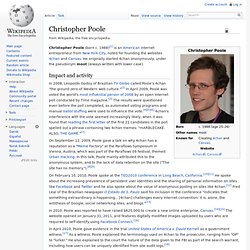 Christopher Poole (born c. 1988)[1] is an American internet entrepreneur from New York City, noted for founding the websites 4chan and Canvas. He originally started 4chan anonymously, under the pseudonym moot (always written with lower case). Impact and activity On September 12, 2009, Poole gave a talk on why 4chan has a reputation as a "Meme Factory" at the Paraflows Symposium in Vienna, Austria, which was part of the Paraflows 09 festival, themed Urban Hacking.
4chan is an English-language imageboard website. Users generally post anonymously, with the most recent posts appearing above the rest. 4chan is split into various boards with their own specific content and guidelines. Registration is not required, nor is it possible (except for staff). Launched on October 1, 2003, its boards were originally used for the posting of pictures and discussion of manga and anime, as the site was modelled on Japanese imageboards. The site quickly became popular and expanded, though much of 4chan's content still features otaku, anime and other Japanese cultural influences.
4chan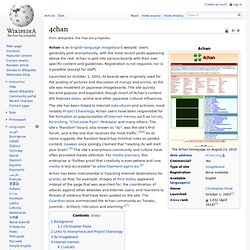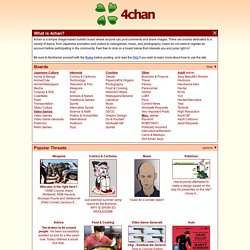 4chan is a simple image-based bulletin board where anyone can post comments and share images. There are boards dedicated to a variety of topics, from Japanese animation and culture to videogames, music, and photography. Users do not need to register an account before participating in the community. Feel free to click on a board that interests you and jump right in! Be sure to familiarize yourself with the rules before posting, and read the FAQ if you wish to learn more.
4chan
2009 - The World's Most Influential Person Is...
In a stunning result, the winner of the third annual TIME 100 poll and new owner of the title World's Most Influential Person is moot. The 21-year-old college student and founder of the online community 4chan.org, whose real name is Christopher Poole, received 16,794,368 votes and an average influence rating of 90 (out of a possible 100) to handily beat the likes of Barack Obama, Vladimir Putin and Oprah Winfrey. To put the magnitude of the upset in perspective, it's worth noting that everyone moot beat out actually has a job. Since moot launched 4chan.org in 2003, the site has given birth to Internet memes as diverse as Lolcats and Rickrolling. 4chan averages 13 million page views a day and 5.6 million visitors a month; by some estimates it is the second largest bulletin board in the world.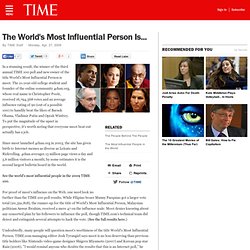 The hackers of 4Chan have succeeded in completely gaming Time Magazine's online poll for its Time 100 list of the most influential people on the planet. At the top of the list is Christopher Poole, aka Moot, the founder of the 4Chan online forum, whose members used some coding to get his name to the top of the list. Not only did they help moot win the poll, but they also arranged the next 20 names to spell out "Marblecake, also the game." Marblecake is a lewd sexual reference, but is also supposedly the name of the chat room where one of 4Chan's online collective actions, Project Chanology, originated.
Time Magazine Throws Up Its Hands As It Gets Pwned By 4Chan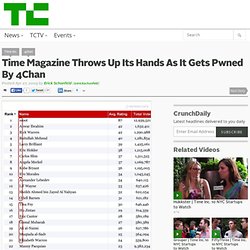 Even if you've never clicked on 4chan, you've felt its influence— LOLcats, FAIL blog, and Rickrolling are just a few of the Internet memes that incubated there. Yet visiting 4chan—especially the site's most-active board, /b/ —can be a little offputting. There's the porn, the racism, the things having to do with the surprising abilities of an octopus that you see once and never forget. Some of this is designed to shock and scare away the casual visitor. Most of it is just sick. The influence of /b/ across the Web cannot be denied, however, and presents a question: How does an anonymous, unfiltered, revolting message board produce much of the Internet's shared culture?
4chanomics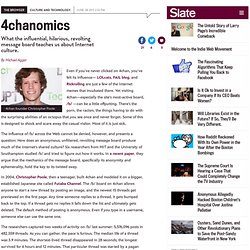 Christopher "moot" Poole: The case for anonymity online
4chan founder Christopher "moot" Poole goes legit with Canvas, his new venture-backed image site.Photo: Jon Snyder/Wired.com AUSTIN, Texas — If anyone knows social networking, it is Christopher Poole. As founder of message board site 4chan, Poole, aka "moot," maintains a community of 12 million unique visitors every month, who come to swap images, launch memes, talk trash and raise hell. [eventbug id="sxsw2011"]But at a conference buzzing about location-aware apps and social-networking platforms, South by Southwest keynoter Poole presented his latest venture, Canvas, as a fairly simple website that lets people play with pictures and create online. It's not exactly a new 4chan, but it's not a Facebook killer, either. Wired.com caught up with Poole following Sunday's keynote here to get his take on why online communities are important, what helps them grow and why not everyone should rush to build platforms.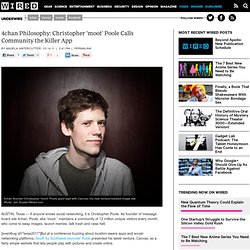 4chan Philosophy: Christopher 'moot' Poole Calls Community the Killer App