Spirituality
MrSikhNet
Mana O Kahiko LLC.
Mysticism and Comparative Religion
Tarology by L. A. Lothian TAROLOGY FORECASTS Today is Mar 30 October Click your number if you know it: 1 2 3 4 5 6 7 8 9 ARTICLES by L. A.
Tarology - L. A. Lothian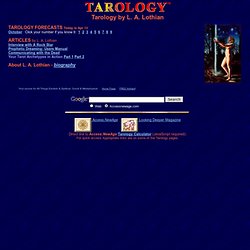 2012 Group: Home
Ancient Hawaiian Magical Shamanism & Healing
New Century Foundation - Total Wellness for the 21st Century
2010
You may not be able to visit this page because of: an out-of-date bookmark/favourite a search engine that has an out-of-date listing for this site a mistyped address you have no access to this page The requested resource was not found. An error has occurred while processing your request. Please try one of the following pages: If difficulties persist, please contact the System Administrator of this site and report the error below..