Tutorials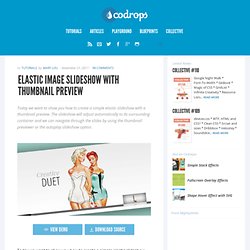 Today we want to show you how to create a simple elastic slideshow with a thumbnail preview. The slideshow will adjust automatically to its surrounding container and we can navigate through the slides by using the thumbnail previewer or the autoplay slideshow option.
Ultimate Guide To Setting Up Your First Online Shop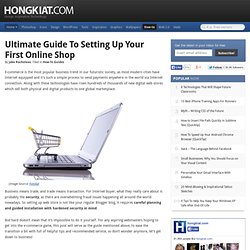 E-commerce is the most popular business trend in our futuristic society, as most modern cities have Internet equipped and it's such a simple process to send payments anywhere in the world via Internet connection. Along with these technologies have risen hundreds of thousands of new digital web stores which sell both physical and digital products to one global marketplace.
Hacking Google Analytics: Ideas, Tips and Tricks
Web analytics is a powerful tool made accessible to all of us through awesome free software such as Google Analytics. These tools are designed to satisfy the general needs of every kind of website out there.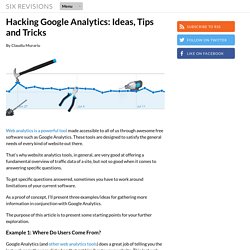 A few days ago we created an awesome post featuring some of the great jQuery Animation tutorials which was appreaciated by our visitors those are in the professions of designing and developing. This article clearly shows that how flash is getting out-dated and JavaScript frameworks are taking place when someone want to create animations. This article has also shown that jQuery is becoming favorite for many web developers and designers out there and using this JavaScript framework for creating stylish animations for websites, web apps, stylish effects and much more.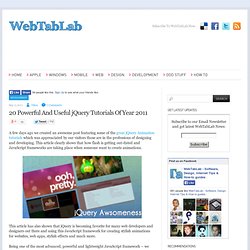 20 Powerful And Useful jQuery Tutorials Of Year 2011
Infographics have become an increasingly popular inclusion in the blog posts of many respected experts within the online promotional content industry in recent years.
How to Create Credible Infographics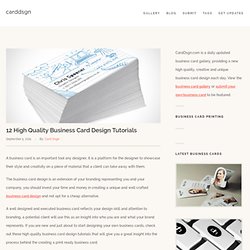 A business card is an important tool any designer, it is a platform for the designer to showcase their style and creativity on a piece of material that a client can take away with them.
12 High Quality Business Card Design Tutorials « Business Card Gallery – CardDsgn.com
Share this Episode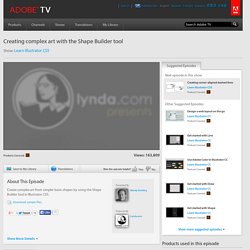 Learn Illustrator CS5 - Creating complex art with the Shape Builder tool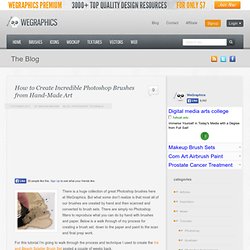 How to Create Incredible Photoshop Brushes from Hand-Made Art
There is a huge collection of great Photoshop brushes here at WeGraphics. But what some don't realize is that most all of our brushes are created by hand and then scanned and converted to brush sets.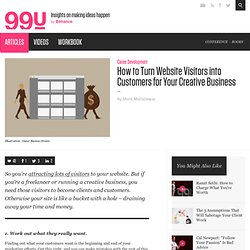 How to Turn Website Visitors into Customers for Your Creative Business
So you're attracting lots of visitors to your website. But if you're a freelancer or running a creative business, you need those visitors to become clients and customers. Otherwise your site is like a bucket with a hole – draining away your time and money. 1. Work out what they really want. Finding out what your customers want is the beginning and end of your marketing efforts.
One of the best things about Photoshop is that you never stop learning. I've been working with the software for about 12 years, and I always stumble across something I didn't know, whether it be a new feature, or just a new, better way of doing something.