Inspiration
Letters of Note. Design Seeds®: For All Who Love Color. 21 Excellent Portfolios and Design Agency Websites. It has been a while since we last showcased Design Related Websites here, so today we decided to check out how is it that design firms, designers, and other creative agencies are presenting their work.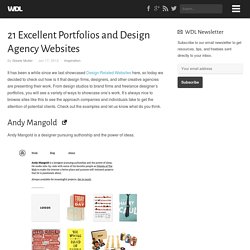 From design studios to brand firms and freelance designer's portfolios, you will see a variety of ways to showcase one's work. It's always nice to browse sites like this to see the approach companies and individuals take to get the attention of potential clients. Check out the examples and let us know what do you think. 20 Beautiful And Inspirational iPhone App Website Designs. There are so many iPhone applications available for download today.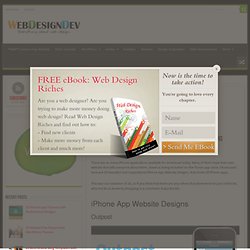 Many of them have their own website that tells everyone about them, aswel as being included on the iTunes app store. Showcased here are 20 beautiful and inspirational iPhone App Website Designs, that show off iPhone apps. This was our selection of 20, so if you think that there are any others that deserve to be part of the list, why not let us know by dropping in a comment. Creative Uses of Illustration in Web Design. Jan 26 2012 Using illustration in web design has become quite trendy these days.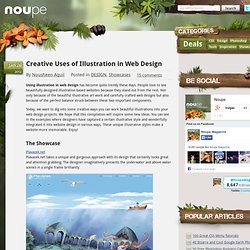 People love to see beautifully designed illustration based websites because they stand out from the rest. Not only because of the beautiful illustrative art work and carefully crafted web designs but also because of the perfect balance struck between these two important components. Today, we want to dig into some creative ways you can work beautiful illustrations into your web design projects. We hope that this compilation will inspire some new ideas. Using Negative Space Effectively In Logos | Design, Inspiration.
Negative space is the space around and between the solid colored graphics (subject) of any image.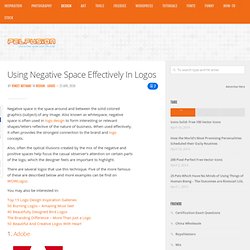 Also known as whitespace, negative space is often used in logo design to form interesting or relevant shapes/letters reflective of the nature of business. When used effectively, it often provides the strongest connection to the brand and logo concepts. Also, often the optical illusions created by the mix of the negative and positive spaces help focus the casual observer's attention on certain parts of the logo, which the designer feels are important to highlight.
Inspiring Typography in Print Ads. Here at WDL we love to show our readers inspiration from different media, especially inspiration involving typography.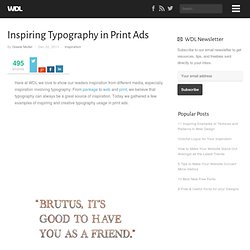 From package to web and print, we believe that typography can always be a great source of inspiration. Today we gathered a few examples of inspiring and creative typography usage in print ads. 25 Beautiful Websites Using Subtle Textures. Textures can serve as a prominent element in a design, or they can subtly add character to a design without drawing much attention.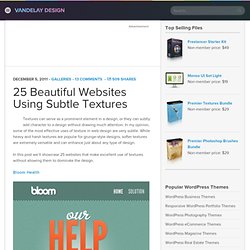 In my opinion, some of the most effective uses of texture in web design are very subtle. While heavy and harsh textures are popular for grunge-style designs, softer textures are extremely versatile and can enhance just about any type of design. In this post we'll showcase 25 websites that make excellent use of textures without allowing them to dominate the design. If you are interested in using subtle textures in your own designs, these resources from Vandelay Premier can help: 21 Inspiring Blog Designs. It could be said that with all the themes available to design a blog it's getting harder to find new and authentic blog designs.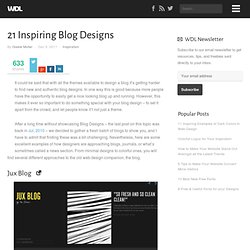 In one way this is good because more people have the opportunity to easily get a nice looking blog up and running. However, this makes it ever so important to do something special with your blog design – to set it apart from the crowd, and let people know it't not just a theme. After a long time without showcasing Blog Designs – the last post on this topic was back in Jul, 2010 – we decided to gather a fresh batch of blogs to show you, and I have to admit that finding these was a bit challenging. 99 Excellent Examples of Forced Perspective Photography | Photography.
Forced perspective is a technique that employs optical illusion to make an object appear farther away, closer, larger or smaller than it actually is.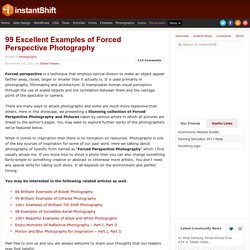 It is used primarily in photography, filmmaking and architecture. It manipulates human visual perception through the use of scaled objects and the correlation between them and the vantage point of the spectator or camera. There are many ways to attack photography and some are much more expensive than others. Here in this showcase, we presenting a Stunning collection of Forced Perspective Photography and Pictures taken by various artists in which all pictures are linked to the author's pages. 23 Inspiring Single Page Designs. A website should be designed to accommodate it's content.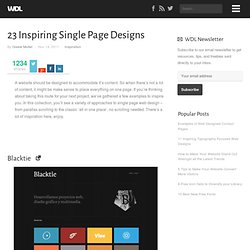 So when there's not a lot of content, it might be make sense to place everything on one page. If you're thinking about taking this route for your next project, we've gathered a few examples to inspire you. In this collection, you'll see a variety of approaches to single page web design – from parallax scrolling to the classic 'all in one place', no scrolling needed. There's a lot of inspiration here, enjoy. Blacktie. 20 Examples Of Creative Typography In Web Design. Typography is one of the most important aspects of web design.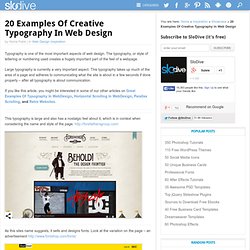 The typography, or style of lettering or numbering used creates a hugely important part of the feel of a webpage. Large typography is currently a very important aspect. This typography takes up much of the area of a page and adheres to communicating what the site is about in a few seconds if done properly – after all typography is about communication. If you like this article, you might be interested in some of our other articles on Great Examples Of Typography In WebDesign, Horizontal Scrolling In WebDesign, Parallax Scrolling, and Retro Websites. Advertisement. Sliders in Web Design : 45 Creative Examples. Using slideshows or sliders within a web design is an effective method of highlighting your portfolio, projects, ecommerce products or even key site related messages and information.
As the current slider trend dictates, they are typically found above the fold on the homepage. For this article, we have found some high quality, beautifully designed and inspirational examples of sliders. Enjoy :) Backyard Burgers Feeling hungry? 35 Really Cute Chibi Anime And Manga Characters. Email Share 57 Email Share Chibi drawings and characters usually have a small body and a big head. Sometimes other features are added like bunny, cats, or fox ears. 20 Inspiring Navigation Menus. Navigation is certainly a very important part of web design and an important aspect to think about while designing a page. Today we gathered a few examples of navigation menus to show you. From clean and simple typography based menus to colorful and fixed positioned ones, there are a lot of examples to inspire you.
In Motion In Motion is using nice and colorful icons to navigate the page. zoo. 32 Beautiful Text Art Creations. Text isn't just limited to language, it can be also used to create unique, unusual pieces of art. This roundup features a selection of creative imagery composed entirely with text. All About hand Created in Illustrator, this demonstrates how text can be used to make the ordinary seem dynamic and unique. Mos Def Lyric Portrait A beautiful mix of style and various typefaces give this Lyrical portrait a multi-cultural vibe that really make it 'pop'. Decoding the superhero color palette. Facebook founder Mark Zuckerberg's personal stationery. Minimalist Vs. Complex Websites. Showcase Of Hand-Drawn Web Designs - Web Design Blog – DesignM.ag. 35 Eye-Catching Portfolio Website Designs. 33 Beautiful Uses of Icons in Web Design.
50 Great CSS Awarded Websites and Works Of Designers,Design Agencies and Studios | Design Inspiration-Resources for Design and Development. 25 Examples of Footers in Web Design. 25 Beautiful Examples of Silhouette Photography. Newsletter Design: 50+ Great Examples. Resume Inspiration: 30 Of The Best Résumé Designs. Showcase of Character & Mascot Use in Web Design. 100 Inspirational Digital Art Wallpapers - 3D, Anime, Concept art, Fantasy, Illustrations, Scenery/Landscapes, Sci-fi, Space, Videogames, wallpaper.
20 Inspiring Examples Of Textured Websites. 55 Inspiring Quotations That Will Change The Way You Think. Showcase of Beautiful and Creative Branding Works.
---