Health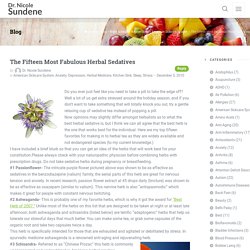 Do you ever just feel like you need to take a pill to take the edge off? Well a lot of us get extra stressed around the holiday season, and if you don't want to take something that will totally knock you out, try a gentle relaxing cup of sedative tea instead of popping a pill.
Natural Pain Remedies from Your Kitchen
As a little girl I mixed up shampoos and lotions in my laboratory, trying to improve on the toiletries we had. I never came up with anything worth mentioning, but I did once get scolded for spilling my mom's shampoo all over the bathroom rug. A friend of mine told me about the "laboratory" she'd had at age 12, in which she created, among other things, the cure for AIDs.