Audiovisual
ART & MUSIC MAGAZINE - Peter Wix
PETER WIX: I have always been a bit of a synesthete. Synesthesia is the condition - or gift - by which stimulation of one cognitive pathway switches on an involuntary secondary sensation or thought-image, a neurological mix and match process that can be fun, most definitely poetic, although occasionally tedious.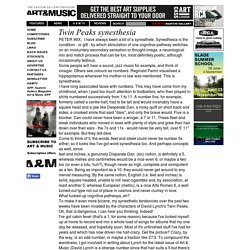 The Art Of Sound
Audio Visual - R&B | Halo - Beyonce HD!
Max Neuhaus
Fake Swimming Pools
Creative art installation by Leandro Erlich features what appears to be a real swimming pool with people walking beneath the surface of the water . To make the illusion , thin layer of water (only 10 cm deep) was suspended over glass. Below the glass, there is an empty room that visitors can enter.
= Musicworks 74 on Powerlines =