Social pysch
The idea that global evaluations about a person bleed over into judgements about their specific traits. The 'halo effect' is a classic finding in social psychology. It is the idea that global evaluations about a person (e.g. she is likeable) bleed over into judgements about their specific traits (e.g. she is intelligent). Hollywood stars demonstrate the halo effect perfectly. Because they are often attractive and likeable we naturally assume they are also intelligent, friendly, display good judgement and so on. That is, until we come across (sometimes plentiful) evidence to the contrary.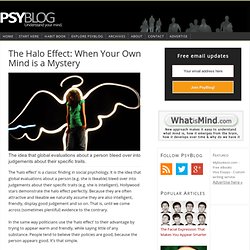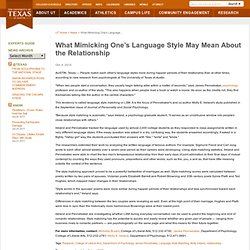 Oct. 4, 2010 AUSTIN, Texas — People match each other's language styles more during happier periods of their relationship than at other times, according to new research from psychologists at The University of Texas at Austin. "When two people start a conversation, they usually begin talking alike within a matter of seconds," says James Pennebaker, psychology professor and co-author of the study. "This also happens when people read a book or watch a movie. As soon as the credits roll, they find themselves talking like the author or the central characters."
Breaking down human behavior into rules might seem like a gross simplification. But even with the complexities, it is easy to fall into the same mistakes. I'd argue that many heated fights, lost sales and broken hearts are caused by a few critical errors. If you make the wrong assumptions, you've lost before you begin. By keeping in mind these rules, you can avoid repeating the same mistakes.
Four Rules to Understand What Makes People Tick - Stepcase Lifehack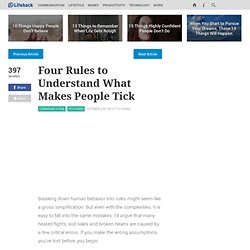 Small-Talk: Tipps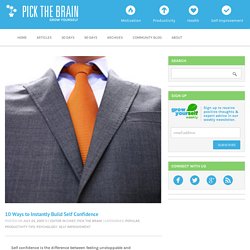 Self confidence is the difference between feeling unstoppable and feeling scared out of your wits. Your perception of yourself has an enormous impact on how others perceive you. Perception is reality — the more self confidence you have, the more likely it is you'll succeed. Although many of the factors affecting self confidence are beyond your control, there are a number of things you can consciously do to build self confidence.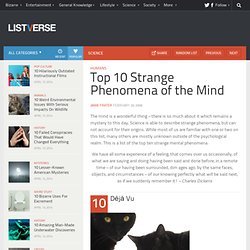 The mind is a wonderful thing – there is so much about it which remains a mystery to this day. Science is able to describe strange phenomena, but can not account for their origins. While most of us are familiar with one or two on this list, many others are mostly unknown outside of the psychological realm. This is a list of the top ten strange mental phenomena. We have all some experience of a feeling, that comes over us occasionally, of what we are saying and doing having been said and done before, in a remote time – of our having been surrounded, dim ages ago, by the same faces, objects, and circumstances – of our knowing perfectly what will be said next, as if we suddenly remember it! – Charles Dickens
Our body language exhibits far more information about how we feel than it is possible to articulate verbally. All of the physical gestures we make are subconsciously interpreted by others. This can work for or against us depending on the kind of body language we use. Some gestures project a very positive message , while others do nothing but set a negative tone.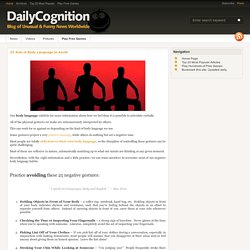 Selbsttest: Smalltalk-Profi?
Die von Ihnen gewählte Adresse / URL ist auf unserem Server nicht oder nicht mehr vorhanden. Möglicherweise haben Sie einen veralteten Link beziehungsweise ein altes Lesezeichen (Bookmark) verwendet. Bitte versuchen Sie, den von Ihnen gewünschten Inhalt über unsere Homepage oder über unser Archiv zu finden. Wenn Sie einem Link in unserem Angebot gefolgt sind, versuchen Sie es bitte in einigen Minuten noch einmal. Sollten Sie nicht an das gewünschte Ziel gelangen oder weitere Fragen haben, dann schreiben Sie uns gerne eine E-Mail .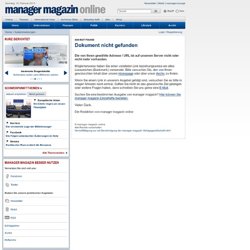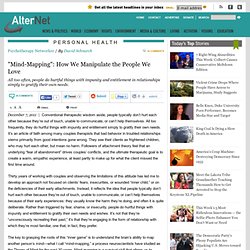 "Mind-Mapping": How We Manipulate the People We Love
December 7, 2011 | Like this article? Join our email list:
Face Memory Game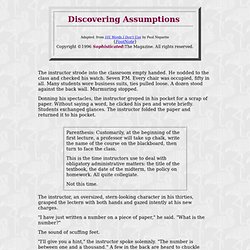 The instructor strode into the classroom empty handed. He nodded to the class and checked his watch. Seven P.M. Every chair was occupied, fifty in all. Many students wore business suits, ties pulled loose. A dozen stood against the back wall.
Positive Psychology Center
It is interesting to consider why we instinctively respect some people, but others can be very hard to appreciate. Respect doesn't necessarily mean we have to agree with everything they say; respect comes from people's inner life, and the values and beliefs they hold. If someone is sincere, honest and self effacing it is easy to respect them, even if they believe in a different life philosophy.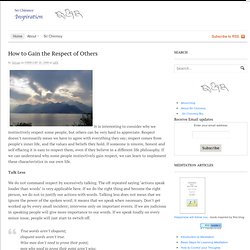 WHEN A PERSON THINKS a negative thought and tries to get rid of it , that person is thinking positively negatively. Daniel M. Wegner of Trinity University in San Antonio, Texas, has conducted a long string of experiments that show the futility and actual danger of trying to get rid of thoughts. In some of the experiments, Wegner told his subjects, "Try not to think about a white bear." The subjects were then asked to say aloud everything that came to mind.
Confidence is a tool you can use in your everyday life to do all kinds of cool stuff, not least to stop second-guessing yourself, manage your fears and become able to do more of the things that really matter to you. But not many people realise that their self-confidence works just like a muscle – it grows in response to the level of performance required of it. Either you use it or you lose it.
You've heard of freewriting, certainly. At its most basic, it's about forcing your internal editor to stay away while you splash your most raw and unusual thoughts onto the page. In Accidental Genius: Using Writing to Generate Your Best Ideas, Insights, and Content (2nd edition, revised & updated), Mark Levy tells how he uses freewriting, not only to loosen up his writing muscles, but to solve business problems of all kinds. Levy, author, writing teacher, and marketing strategist, shares a few "secrets" for making freewriting an indispensible tool: