Images
"Earth From Above" is the result of the aerial photographer Yann Arthus-Bertrand's five-year airborne odyssey across six continents. It's a spectacular presentation of large scale photographs of astonishing natural landscapes. Every stunning aerial photograph tells a story about our changing planet. Coal mine in South Africa Sha Kibbutz, Israel Military cemetery in Verdun, France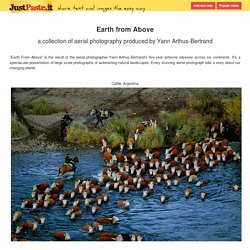 Make: Online : Huge Lego Europe relief map with monuments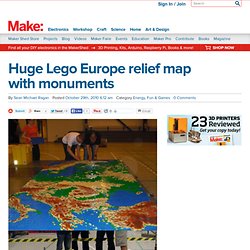 The Euromap project is the brainchild of Bruno Kurth and Tobias Reichling. Vanessa Graf, Tanja Kusserow-Kurth, and Torsten Scheer helped them actually build the thing. The map itself, without the monuments, uses 53,500 Lego elements, and is 12.5 ft (480 studs) on a side. [via Microbricks] BY Sean Michael Ragan I am descended from 5,000 generations of tool-using primates.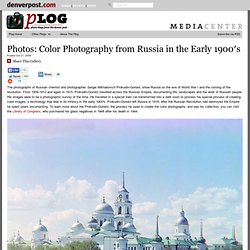 Posted Oct 21, 2009 Share This Gallery inShare58 The photographs of Russian chemist and photographer, Sergei Mikhailovich Prokudin-Gorskii, show Russia on the eve of World War I and the coming of the revolution. From 1909-1912 and again in 1915, Prokudin-Gorskii travelled across the Russian Empire, documenting life, landscapes and the work of Russain people. His images were to be a photographic survey of the time.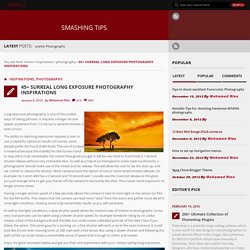 Long exposure photography is one of the coolest ways of taking pictures. It requires a longer shutter speed, anywhere from 1/2 sec up to several minutes or even a hour. The ability to take long exposures requires a user to use a tripod for optimum results (of course, some people prefer the hand shake look). The use of a tripod is essential because the inability for the human hand to stay still is truly remarkable. No matter how good you get, it will be very hard to hand hold a 1 second shutter release without very noticeable blur. As well as a tripod (or monopod in some cases could work), a photographer should make use of the timed shutter release.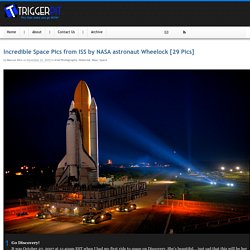 Go Discovery! It was October 23, 2007 at 11:40am EST when I had my first ride to space on Discovery. She's beautiful… just sad that this will be her last voyage. Looking forward to climbing aboard the flight deck when Discovery arrives at the Space Station in November. (9-23-2010). Incredible Photos from Space: Larry Tanner, NASA. Special thanks: Bethbeck's blog