History
Best of History Web Sites, created by EdTechTeacher Inc, is an award-winning portal that contains annotated links to over 1200 history web sites as well as links to hundreds of quality K-12 history lesson plans, history teacher guides, history activities, history games, history quizzes, and more. Best of History Web Sites has been recommended by The Chronicle of Higher Education, The National Council for the Social Studies, The New York Public Library, the BBC, Princeton University, -- and many others. EdTechTeacher Learning Futures Summit Join educators from around the world at Chicago's Navy Pier, July 28-30, 2014, for three days of workshops and conference sessions dedicated to exploring the future of learning. We have an incredible line-up of keynote speakers and featured presenters including Will Richardson, Jennie Magiera, Wes Fryer, Richard Byrne, Sylvia Martinez, and members of the EdTechTeacher Team. Early Bird Registration and the Call for Proposals are now OPEN!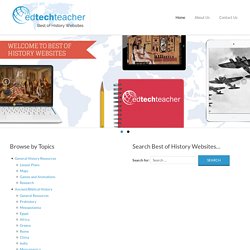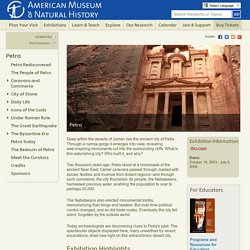 Deep within the deserts of Jordan lies the ancient city of Petra. Through a narrow gorge it emerges into view, revealing awe-inspiring monuments cut into the surrounding cliffs. What is this astonishing city? Who built it, and why? Two thousand years ago, Petra stood at a crossroads of the ancient Near East. Camel caravans passed through, loaded with spices, textiles and incense from distant regions--and through such commerce, the city flourished.
Three Lectures by Hans Bethe IN 1999, legendary theoretical physicist Hans Bethe delivered three lectures on quantum theory to his neighbors at the Kendal of Ithaca retirement community (near Cornell University). Given by Professor Bethe at age 93, the lectures are presented here as streaming videos synchronized with slides of his talking points and archival material. Intended for an audience of Professor Bethe's neighbors at Kendal, the lectures hold appeal for experts and non-experts alike. The presentation makes use of limited mathematics while focusing on the personal and historical perspectives of one of the principal architects of quantum theory whose career in physics spans 75 years.