Games
GeoGuessr - Let's explore the world!
Www.minijuegosgratis.com/flash1234/no_hotlink/cubefield.swf. New Steampunk Influenced Game. In-between waiting for Bioshock Infinite and slaying the last few dragons in Skyrim, there doesn't seem to be much coming out in the way of video games.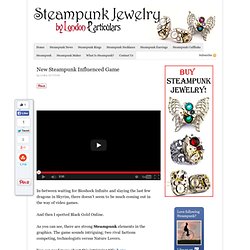 And then I spotted Black Gold Online. As you can see, there are strong Steampunk elements in the graphics. The game sounds intriguing; two rival factions competing, technologists versus Nature Lovers. Silk — Interactive generative art. Free games - The MagicBox Forums. This is a post taken from Blizz Boards .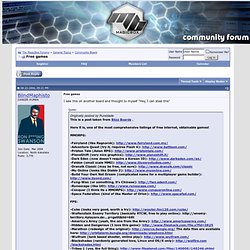 Here it is, one of the most comprehensive listings of free internet, obtainable games! -Fairyland (like Ragnarok): -Adventure Quest (try it, requires Flash 6): -Priston Tale (Asian RPG): -PlaneShift (very nice graphics): -Dark Eden (now doesn't require a Korean ID): -Faldon (small scale MMO): -Dransik Classic (may be free, not sure): -Mu Online (looks like Diablo 2): -Build Your Own Net Dream (complicated name for a multiplayer game builder): -Fung-Wan (or something, it's Chinese): -Runescape (like UO): -Conquer (I think its a MMORPG): -Space Federation (kind of like Master of Orion): City Creator - Build. Play Coma : Max Games. Top 10 most relaxing online casual games. 1Music Catch When ever things start getting to me - whether it be looming deadlines at work, an aggressive boss or horrible events taking place in the world - there is one game I turn to.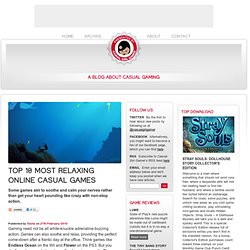 Magically, after a few minutes play, all my worries fade away and I feel relaxed and revived and full of new optimism. No, the game is not called Heroin. The game is Music Catch, a fun puzzle game where you collect yellow and purple music notes while avoiding the nasty red notes, accompanied the whole time by some of the best music I have heard in a Flash game. The Little Girl Who Was Forgotten By Absolutely Everyone (Even The Postman) Machinarium. Create Face Online, Create Your Portrait Caricature Online. Valia-Winds! Adoptable fantasy creatures, adopt today! | Wix.com.
Community Blog. Ten more games that will make you think about life. Life, eh?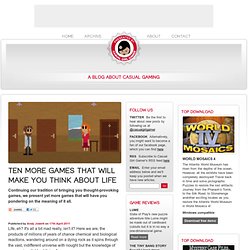 It's all a bit mad really, isn't it? Here we are, the products of millions of years of chance chemical and biological reactions, wandering around on a dying rock as it spins through the vast, indifferent universe with nought but the knowledge of our own inevitable oblivion for company. A sobering thought. And sobering thoughts will sure as sugar turn you to drink. Air Pressure. - StumbleUpon. Play Sprout. Check your security settings Connection issues are typically caused by security settings on your network or computer.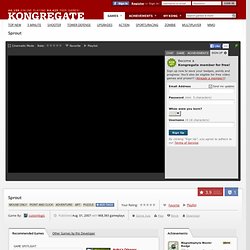 Check that your firewall or router has port 5222 open and allowing traffic. If you are on a school or office network, you may need to contact your network administrator to make the necessary changes. BioMotionLab. Super Obama World Game — Play Here! Echogenesis - A Drexel Digital Media Senior Project. Bizarre Websites On Which You Can Kill Time With Style - Smashing Magazine. Advertisement Modern Web-building technologies allow designers to realize their most daring and creative ideas.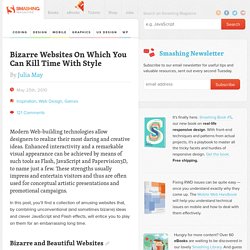 Enhanced interactivity and a remarkable visual appearance can be achieved by means of such tools as Flash, JavaScript and Papervision3D, to name just a few. These strengths usually impress and entertain visitors and thus are often used for conceptual artistic presentations and promotional campaigns. In this post, you'll find a collection of amusing websites that, by combining unconventional (and sometimes bizarre) ideas and clever JavaScript and Flash effects, will entice you to play on them for an embarrassing long time.
Draw a Stickman. Elements. Free online fantasy card game. Seaquence. Carnal fury .com by rafaël rozendaal, 2011, commisioned by kunstverein wiesbaden. Liquid Particles - spielzeugz.de canvas experiment. Experiment 17 | Gamenert | Only The Best Free Online Games. Games Flash Action.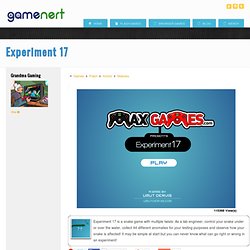 ---