Graphic design
Jocelyn Cottencin. Imagethemusic.it. Graphisme. Catalogtree 4.0. LUST | Graphic and Interactive Design | Grafisch en Interactief Ontwerp. Four Random Files - Experimental Jetset. POLY-XELOR-ROCK'N-ROLL. Luna Maurer.
The works of Edo Paulus. Jonathan Puckey - Conditional Design. Roosje Klap. Etapes.com | Le magazine du design graphique. Graphisme et interactivité, un blog par Geoffrey Dorne. Papier peint intissé & panoramique, store, nappe, chemin de table design - gaf - Deco maison moderne. Méthode Bernadette, ÉSAAB. Killian loddo. Manuel Zenner Graphic design and research. Thomas Couraut • Hello! Graphic design Kevin Bray. Adrien Borderie. Bely - Poster for the promotion of the new typeface "Bely" designed by Roxane Gataud.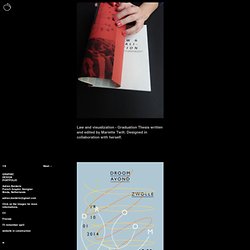 The poster is made from a poem by Andrei Bely. @1 month ago with 1 note. Site de Thomas Bouville. Menu : thomasoudin. Graphiste et Webdesigner freelance à Nevers | Ambroise Maupate. FULGURO. Sting One. Nike / House of Hoops - Miami Second illustration of LeBron James for the Nike / HOH store in Miami.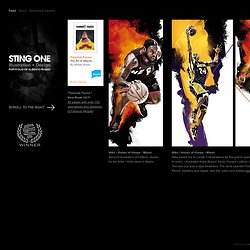 Nike / House of Hoops - Miami Nike asked me to create 5 illustrations for the grand opening of their House of Hoops store in Miami. In order, I illustrated Kobe Bryant, Kevin Durant, LeBron James and Dwyane Wade. The last one was a type treatment. Etienne Mineur archives. Dans ce billet je me propose de parler de l'édition en ligne et de son avenir (si c'est possible).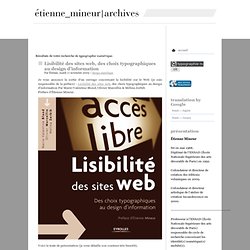 Il s'agit de mes notes préparant une conférence sur la presse en ligne qui aura lieu ce 7 avril (organisée par e-artSup). --> un lien vers le pdf de présentation de cette conférence. Petites précisions avant de commencer : • Ce billet est particulièrement long et le format vertical de ce blog est particulièrement mal adapté à ce genre de texte. Justement ce texte parle de ce problème, donc, faites ce que je dis mais pas ce que je fais;-) • je ne parlerai pas du fond et de la pertinence des articles des journalistes, je vais me focaliser essentiellement sur les formes et les usages de notre « consommation » de l'information en ce début du XXIe siècle. Raphaël Bastide ▬ Work. Fanette mellier .: graphiste :.
A is a name. Apeloig. Christophe gaudard. Superscript² / Typographie — Typography. Bienvenue en Château-vacant ! Ottoboni.
---