Événementiel
The Top Meetings Technology Trends to Watch for in 2014. These are exciting times.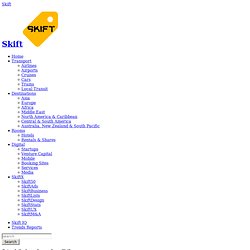 The rate of technology change is accelerating with thousands of ideas, apps and innovations bubbling up to help meeting planners, exhibitors, venues and other meeting participants to do their jobs better. This annual review covers many of the major events tech trends to watch for this coming year. 1. Crowdsourcing and a crowd sharing will be more widely used for events.
Crowdsourcing is the process of obtaining services, ideas, answers or content from a large group of people (typically an online community) rather than from traditional suppliers. Dear Speaker, I Loathe You. Sincerely, Your Event Planner. July 1, 2013 | AUTHOR: Julius Solaris | POSTED IN: event management This is a follow up to the article Dear Event Planner, I Hate You.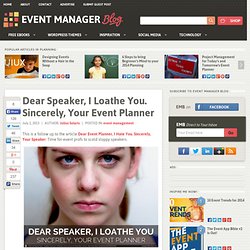 Sincerely, Your Speaker. Time for event profs to scold sloppy speakers. As I mentioned in the first passage of this minefield I decided to adventure in, I feel entitled for this writeup as I have been both event professional and speaker. This peculiar position does not give me the privilege of telling others what to do, but rather helps me to mediate between two worlds that do not speak enough to themselves.
Www.afitep.org/files/documents-lies/lacible/articles1/C105-morin-gbodossou.pdf. 5 Secrets to Use Storytelling for Brand Marketing Success. Trend Spotted: A Masquerade-Ball Theme. 10 Events Where Guests Created the Decor. It's one thing for designers to create an environment that fits a brand's identity, but it's quite another to fashion a decorative look and then let guests add their own personal touches during an event.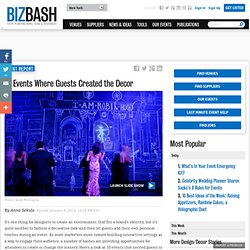 As more marketers move toward building interactive settings as a way to engage their audience, a number of bashes are providing opportunities for attendees to create or change the scenery. Here's a look at 10 events that invited guests to paint the walls, control projections, and tie written messages to a tree. Top 20 Trends in 2013 Forecast - 2013 Trend Report from Trend Hunter. L'ITHQ RELANCE LA... Want To Make Conference Learning Stick? Try Gamification! Want to make your conference education more fun and memorable?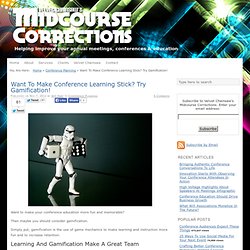 Then maybe you should consider gamification. Simply put, gamification is the use of game mechanics to make learning and instruction more fun and to increase retention. 1026973 - vcab1_1_21.pdf / Page 1. Event Manager Blog » The first blog for event lovers. Ritz-Carlton Insurance Advisory Board discusses trends at its annual meeting | Financial/Insurance Meetings content from Meetings Net. Candid conversations about industry trends characterized the largest-ever Ritz-Carlton Insurance Advisory Council, held at The Ritz-Carlton, Amelia Island, in August.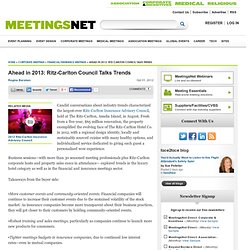 Fresh from a five-year, $65 million renovation, the property exemplified the evolving face of The Ritz-Carlton Hotel Co. in 2012, with a regional design identity, locally and sustainably sourced cuisine with many healthy options, and individualized service dedicated to giving each guest a personalized wow experience. Business sessions—with more than 30 seasoned meeting professionals plus Ritz-Carlton corporate hosts and property sales execs in attendance— explored trends in the luxury hotel category as well as in the financial and insurance meetings sector. Takeaways from the buyer side: •More customer events and community-oriented events. Financial companies will continue to increase their customer events due to the sustained volatility of the stock market.
Celebrity Chefs Don't Cut It, and 5 Other Trends for 2013. Chef en Vous - Carte et directions. À 5 minutes du centre-ville !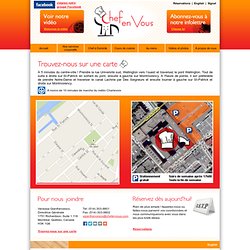 Prendre la rue Université sud, Wellington vers l'ouest et traversez le pont Wellington. Tout de suite à droite sur St-Patrick en sortant du pont, ensuite à gauche sur Montmorency. À l'heure de pointe, il est préférable de prendre Notre-Dame et traverser le canal Lachine par Des Seigneurs et ensuite tourner à gauche sur St-Patrick et droite sur Montmorency. À moins de 10 minutes de marche du métro Charlevoix. Location de Salle de Réception – Location de Salle à Louer à Montréal. Demo Video Mastering Comp 1080SOUND Brightcove Youtube. APOLLO L'AGENCE. Théâtre Rialto Le théâtre Rialto est d'une rare beauté.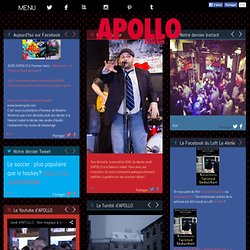 Les détails élégants et les proportions gracieuses de son architecture sont à couper le souffle. Construit en 1923-1924 selon les plans de l'architecte montréalais Joseph-Raoul Gariepy, le Rialto s'inspire de l'un des plus prestigieux bâtiments néobaroques du 19ème siècle, l'Opéra Garnier de Paris. Ses plafonds peints, ses dorures, son magnifique dôme de verre Tiffany composent un décor qui n'a pas de semblable ailleurs au Québec.
Réouvert depuis mars 2010, le théâtre Rialto est l'un des joyaux du patrimoine historique de Montréal. Othentika. The Tunnel Of Love. Petit retour sur cette étonnante installation et expérience lumineuse immersive imaginée par les créatifs du studio Vollaerswart basé à Rotterdam en Hollande.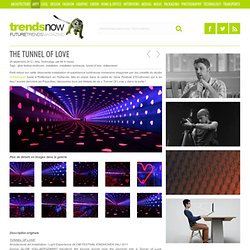 Mis en place dans le cadre du Glow Festival d'Eindhoven qui a eu lieu l'année dernière au Pays-Bas, découvrez tous les détails de ce « Tunnel Of Love » dans la suite ! Plus de détails en images dans la galerie Description originale. Evenement 2.0 - Comment integrer les reseaux sociaux dans un evenement. Corporate Event Trends for 2013, Part 2: Keeping up with the Millennials « Montreal Event Planners. This entry was posted on Tuesday, August 28th, 2012 at 2:10 pm and is filed under Corporate Events.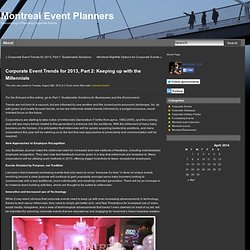 For the first part of this article, go to Part 1: Sustainable Solutions for Businesses and the Environment. Trends are not born in a vacuum, but are informed by one another and the current socio-economic landscape. So, as with green and locally focused trends, so too are millennial-related trends informed by a budget-conscious, result-oriented focus on the future. Corporations are starting to take notice of millennials (Generation-Y births from aprox. 1982-2000), and this coming year will see many trends related to this generation's entrance into the workforce. 2013 Event Planning Trends | Manina Productions | Blog. Thankful for Friends Party! » Simply Rosie Photography. Participez aux festivals sans remords. Au Québec, l'été, c'est sans aucun doute le temps des festivals!
Peu importe le festival auquel vous participez, il y a des gestes simples à poser pour réduire votre empreinte écologique et aider les organisateurs des festivals à en réduire les impacts environnementaux. 1. Transport Saviez-vous que le transport des festivaliers peut représenter l'une des plus grandes sources d'émission de gaz à effet de serre pour un festival? Ce que vous pouvez faire : Www.lisabel.ca/wp-content/uploads/2012/06/locationgalerie.pdf. Show Canada à l'ouverture des Jeux de Londres | Actualités | Rive-Nord. LAVAL - Projections de grandes qualité, jeux de lumière, écrans géants, statues imposantes, planchers amovibles, ascenseurs de scène… Rien n'est trop compliqué à concevoir pour Show Canada. Conceptrice de la scène officielle d'ouverture des présents Jeux Olympiques de Londres, l'entreprise lavalloise est en pleine expansion, tellement qu'elle devrait s'ouvrir une usine en Chine d'ici quelques mois.
Il aura fallu le travail de plus de 500 personnes pour la construction de l'équipement scénique de la scène principale et la montagne de Glastonbury de la cérémonie d'ouverture des Jeux de Londres. «Ce sont entre 100 et 200 employés qui ont participé à la fabrication, 35 qui ont suivi le matériel jusqu'à Londres et nous avons engagé quelque 350 Londoniens pour assurer la mise en place de tout cela», explique Jean Labadie, président de Show Canada.
CelloGraff. CelloGraff© Tous droits réservés 2010, photos© PGC,ODV 2010 Concept et marque déposés. Tout commence en Mars 2006, avec la création du collectif "Poétiquement correct" composé de. Speakerfile : une plateforme sociale pour les conférenciers. Speakerfile est une plateforme sociale qui met en relation des conférenciers et des organisateurs d'événements. Chaque conférencier qui s'inscrit sur la plateforme a l'occasion de se créer un profil détaillé et enrichi (background, expérience, style de présentation, domaines d'expertise, etc.). Vous pouvez vous inscrire rapidement en connectant votre compte LinkedIn à votre compte Speakerfile. Speakerfile appraît donc comme un réseau social de niche, mais orienté vers les besoins concrets des conférenciers et des organisateurs d'événement. Speakerfile peut en effet s'avérer utile si vous cherchez un conférencier pour votre prochain colloque, ou si, en qu'en tant que conférencier vous cherchez une occasion de faire valoir vos talents d'orateur ou votre expertise.
MARIANIK : stratégie médias sociaux — Montréal, Quebec, Canada. Événements et congrès | Blogue officiel de Tourisme Laval. Photo : Scène 1425 Ambiance feutrée, vitres teintées et fauteuils tout confort : on entre à la Salle André-Mathieu comme dans un lounge huppé. La nouvelle aire d'accueil de la célèbre salle de spectacle lavalloise a fait peau neuve récemment, et se démarque par son offre corporative.
Les objets connectés : l'avenir de l'événementiel. Toronto Special Events.
---